Our new Travel Specialist, Michelle Barth, spent 2 months traveling throughout Southeast Asia. Continue on the journey with her as she recalls some of her favorite meals from Ubud, Bali.
Before my travels to Bali a few key travel words come to mind: surf, temples, monkeys, ex-patriots, rice fields, and massage.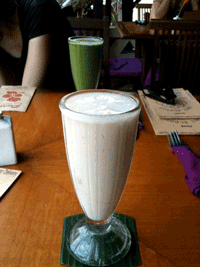 Living in San Diego, there is no shortage of international food options. With an abundance of Thai and Vietnamese, I figured the cuisine of Bali would be similar featuring a variety of noodle and rice dishes. Yes, there are plenty of rice and noodle dishes to indulge in but I was taken back by the intricate layers of flavor I was exposed to. Ubud has no shortage of traditional restaurants and an array of creative fusion restaurants that are worth a taste.
Traveling Southeast Asia for two months, I figured having a salad was out of the picture. I was going to have to stick to eating cooked and steamed vegetables; I was wrong. There is a range of creative fusion restaurants featuring local organic food, produce, meats, and baked goods with a touch of traditional flare, scattered throughout Ubud. Two weeks into my travels, salad less, I stumbled upon Bali Buddha. This locally owned restaurant and food store has been serving up healthy dishes since 1994. Located just off the main road, it is a great way to start your day. Sit back in this open air restaurant, relax to the soft kirtan music, sip on a green super food smoothie and watch the local kids play in the street below. It is a great way to start your morning or enjoy the afternoon. If staying on the main roads is more your style or you want to enjoy some great health food after going to Monkey Forrest, Kafe or Clear Cafe are also great lunch options.