In four trips with Global Basecamps, Myra Silverstein found the authenticity she seeks in travel
"Authenticity was the major driver," says Myra Silverstein, when asked why she chose to travel--not once, not twice, but four times--with Global Basecamps over the last four years.
While many of us were holed up throughout the covid pandemic, either out of choice or necessity, Silverstein, along with her husband Ira, ventured to Iceland with us in July 2021, at the height of the pandemic, and again traveled, in September 2022, to Singapore and Indonesia. Those were trips three and four with Global Basecamps for the Silversteins, who previously visited Morocco in February 2019 and South Africa and Botswana in July 2018.
We specialize in providing exactly the kind of intimate cultural exchanges that give visitors a window into a world that they would otherwise never know exists–exactly the kind of authenticity Silverstein craves.
That happened in spades one day in Bali when she and Ira visited the home of a Balinese man, Mr. Dewa, expecting a cooking class. What they got instead was a deep dive into the culture, history, religious beliefs, sexual practices, and daily life of this man and his village. "I felt more like an anthropologist," she said. "We were invited for a lesson in cooking traditional Balinese food followed by dinner at his home. He explained the traditional Balinese way of life to us as we worked beside him chopping vegetables, making chicken dumplings in banana leaves, and creating coconut milk from grated coconut."
The Silversteins learned from Mr. Dewa that his home, which currently houses four generations of his family, had been in his family for 1300 years. His village enforces rules governing how the land must be apportioned (30% of the plot for living space, 10% for a family temple, and the rest for a garden). There are also rules about how much livestock a family may possess and how often they may slaughter it. This results in a kind of communal structure where everyone can provide for themselves and money is not necessary, Mr. Dewa said.
The Silversteins were later obliged to silently eat the dinner (which was delicious) they helped prepare. "Custom dictates silence during dinner because at the end of a workday people have likely accumulated negative energy. Therefore it is better to keep the negative energy away from the food so it is not further ingested. Family members speak after the meal but not during it," she explained.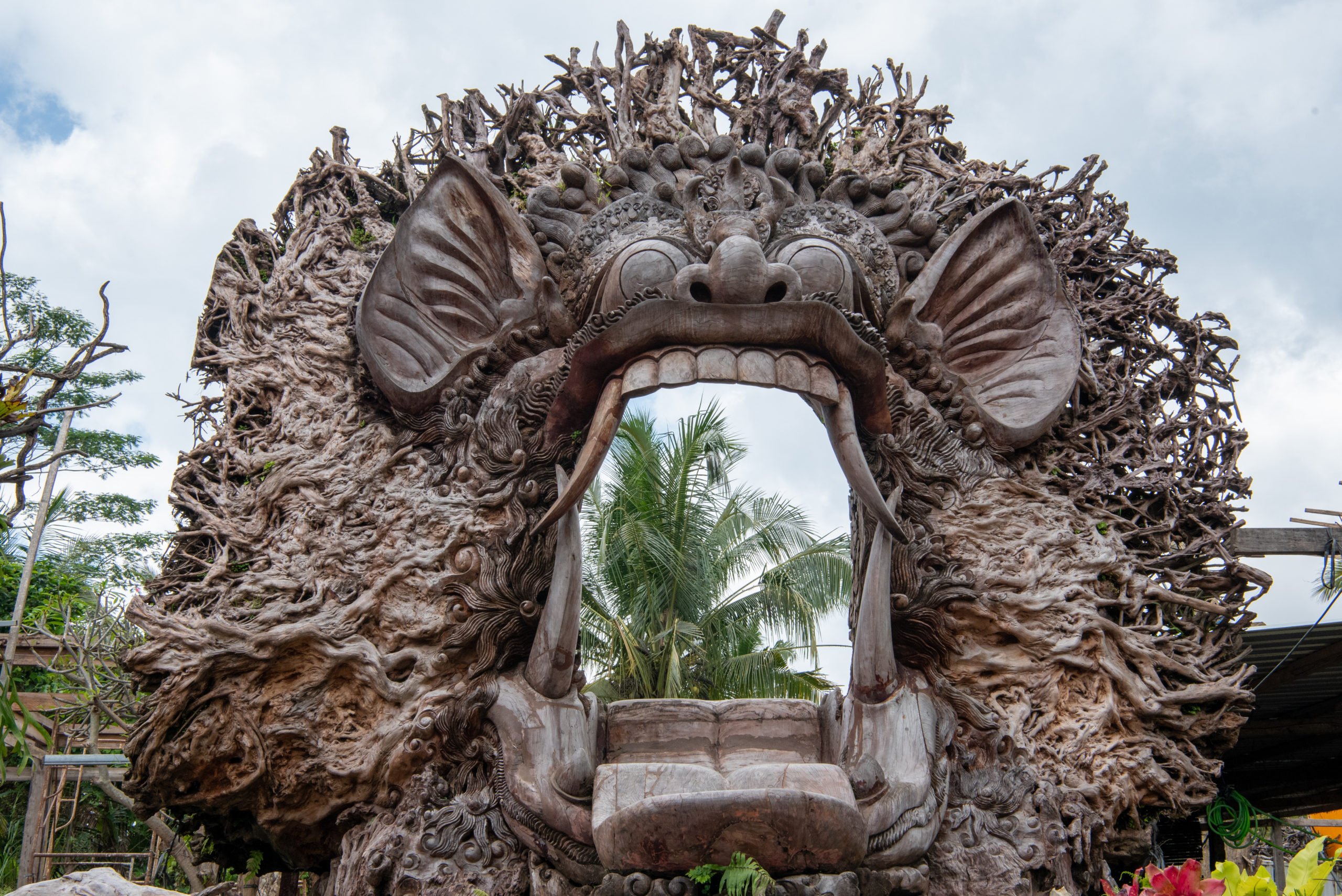 Wood sculpture made from roots of lychee trees, Ubud, Indonesia. Photo by Myra Silverstein.
When we spoke to Silverstein in mid-November, she was still filled with excitement about the trip and happy to share memories with us. (To read more about her experience with Mr. Dewa and the rest of Indonesia and Singapore, and see her wonderful intimate photos of his home and garden, visit her travel blog.)
She also has vivid memories of the other GBC journeys that provided her with multiple opportunities to experience different cultures and ways of life. In Iceland, the Silversteins cruised through a glacial lagoon that is in the process of breaking up into smaller icebergs. "It was like a trip through an abstract sculpture garden," she says. They went whale watching off Husavik, the former center of the Icelandic whaling industry. They saw a puffin colony, hiked through otherworldly lava fields in Myvatn, and visited hauntingly beautiful Diamond Beach, where the icebergs glow like gems on the black sand. At the eerily beautiful Reynisfjara Beach, visitors are cautioned not to turn their backs to the sea, lest they be overtaken by a "sneaker wave." These deadly waves can rise up spontaneously, snatch up unsuspecting visitors, and drag them out to sea.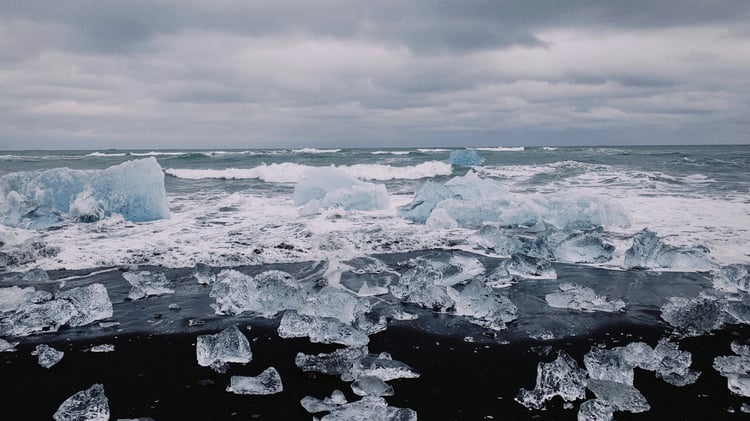 Diamond Beach, Iceland. Photo by Zheyun Wu on Unsplash,
If Iceland was about dramatic and extreme nature, Morocco, with its rich mix of history and cultures–Spanish, Jewish, Arab, to name a few–was a feast of colors, food, and markets selling everything from food to rugs to electronics. In Fes, an artisan's capital, the labor is mostly done by hand, a portal into a pre-industrial way of life. "We stopped in at a pottery where three men were working on kick wheels, kilns were loaded, and several people were painting intricate patterns on bisque ware. At the oldest tannery in Morocco, tanners stand in the blazing sun dipping skins into huge vats of dye. Donkeys cart the skins to the tannery for processing."
In Africa, the Silversteins were able to sleep out in magnificent isolation under the stars in the Makgadikgadi Salt Pan, "a landscape that's as surreal as it is sublime and as mysterious as it is magical." The Makgadikgadi Salt Pan is one of the largest salt flats in the world. The pan is all that remains of the formerly enormous Lake Makgadikgadi, which once covered an area larger than Switzerland, but dried up tens of thousands of years ago. Empty of most life and vegetation, the pan is nonetheless an overwhelmingly majestic experience. With the lodge staff carrying beds, tables, stoves, food, and other gear for a group of 15 or so, the Silversteins got ready for the experience, which Myra describes as "magical, very special, filled with stars, brimming with stars, overflowing with stars." An experience she won't forget anytime soon.
All our trips can be customized based on your preferences. To plan your perfect trip, contact us at travel@globalbasecamps.com.