Danielle is an international peace advocate and Co-founder of the nonprofit Kids for Peace who recently graduated from Harvard with degrees in Religion and Sociology. From summer 2011-2012, Danielle will spend nearly a year traveling in Asia and Africa. Her blog documents her experiences as she seeks out new adventures, learns about other ways of life, and studies issues related to vulnerable children and conflict resolution.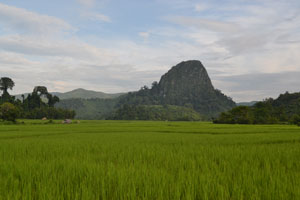 After four years of hard work completing my undergraduate degrees, I decided to treat myself to a trip I had dreamed about since my youth. Southeast Asia beckoned me with images of orange clad monks, golden Buddha statues, and seemingly endless rice paddies. With the highest proportion of practicing Buddhists on the planet, I went to experience peace: to meditate in temples, contemplate beauty from the peaks of Laotian mountains, learn and connect.
One month of travel took me to the magnificent temples of Siem Reap, Cambodia, rural villages of Northern Laos, and tranquil beaches of Koh Samui, Thailand. As part of my personal mandate to experience the fullness of life, I sought not only experiences that foster peace and joy, but those that could teach me about human suffering—the key component of the Four Nobel Truths that form the basis of religious practice and culture for much of the region. I designed a trip that would go beyond touring the temples and art I admired and delve into the depths of the human experience, embracing too the suffering true of our existence.