Temple in Luang Prabang Photo by Molydar SOUAMA on Unsplash
Visit this under-the-radar destination before the rest of the world catches on
If you're looking for an authentic travel experience, Laos is a good place to start. Although it's been known to adventurous travelers for decades, Laos still flies under the radar. With a high of 4.8 million visitors in 2019, Laos's tourism numbers are dwarfed by the 40 million who visited Thailand and 18 million who traveled to Vietnam in that year.
But the country, the poorest in Southeast Asia, is dedicated to building out the tourist sector. What's exciting is that it has pledged to build in a sustainable way that ensures the country's natural beauty and cultural heritage are preserved for future generations.
In 2016, the country signed the Luang Prabang Declaration on Sustainable Tourism, committing itself to promoting sustainable tourism, including preserving its natural resources, reducing its carbon footprint in all its activities, cutting down on food and water waste, and working with local communities to promote sustainable tourism practices.
Laos offers all the natural beauty, deep history, culture, and incredible cuisine of its more visited neighbors, but with fewer big crowds. So take advantage of the opportunity to visit this little Southeast Asian gem full of friendly people, delicious food, and outrageous beauty before the rest of the world catches on. The pristine jungle habitat means you might still run into an elephant on your way to breakfast!
Laos Highlights
Laos is a country of stunning and largely unspoiled natural beauty. It is landlocked, but makes up for its lack of ocean with majestic waterfalls, lush rainforests, tranquil lakes, and the undulating Mekong River, which traces a path through the country from north to south. Visitors can also explore the many cave systems that dot the landscape. Below are some must-see sites to give you a taste of the variety of activities and sites that the country offers. There are many more options but we can't fit them all here! Check out our Laos tours page to see more of what Laos offers visitors. Remember any of our tours can be customized to fit your needs.
Kong Lor Caves–They are not easy to reach but these caves are considered one of Southeast Asia's geological wonders. At about 4.5 miles long, Kong Lor is one of the longest cave systems in the world. Take a boat and watch the stalagmites and stalactites as you paddle through karst mountains and millions of years of geologic history.
Luang Prabang–A UNESCO World Heritage Site, Luang Prabang is renowned for its rich architectural and artistic heritage, a fusion of Lao traditional building styles with those of the French colonial era.
Vang Vieng–A beautiful town surrounded by stunning limestone cliffs and home to many adventure activities, including rock climbing, trekking, and kayaking.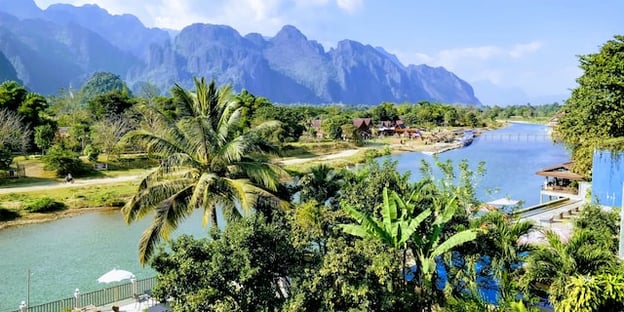 Vang Vieng Photo by Pascal Müller on Unsplash
Plain of Jars–One of the most important prehistoric sites in Southeast Asia. Dating from 1240 to 660 BC, clusters of thousands of stone jars dot the landscape and are believed to have been connected to funerary practices.
Kuang Si Falls–A three-tiered waterfall with stunning turquoise waters perfect for a swim. Otherworldly beauty.
Wat Phou–A temple complex located at the base of a mountain and dating back to the 5th century.
When to Visit
Laos has a tropical monsoon climate with two distinct seasons: May to October is the rainy season and November to April is the dry season. It gets the hottest in March and April when temperatures can reach 100°F (38°C). The lowest temperatures, usually in December, are around 59°F (15°C). The average rainfall is around 47-87 inches per year and can vary around the plains and mountains.
Food
Not surprisingly, Lao cuisine has many similarities to the food of neighboring Thailand and Vietnam. And it's just as delicious. Sticky rice (Khao Niaow) is a national staple eaten at almost every meal. Laap (minced meat or fish with lime juice, garlic, onions, mint leaves, and chilies similar to the Thai dish larb) and Tam Maak Hu (a spicy salad made of green papaya) are other very popular dishes. Vegetarian food is widely available, a reflection of the country's Buddhist traditions.
Lao cuisine is also known for its fresh herbs and vegetables. Mint, coriander, basil, and lemongrass are used frequently for both flavor and aroma. In addition, fresh vegetables like cucumbers, lettuce, and herbs like sawtooth coriander are often served as accompaniments to dishes.
Cultural Diversity
Connecting with locals while traveling can be a magical experience. In Laos, people are friendly, helpful, and enjoy interacting with foreigners. But Laos is a conservative society with different behavior and dress norms than you're probably used to. People generally dress modestly and while there you should follow their lead. It is advisable to wear pants and skirts that fall below knee length. Bare shoulders are not recommended. More formal dress codes apply for visiting temples or any other religious sites. In general, covered shoulders and legs are the rule while visiting religious sites, while shoes and hats should be removed. Respecting these Lao traditions will go a long way toward establishing trust with the local people and having a successful trip.
If you're ready to experience lovely Laos, contact us at travel@globalbasecamps.com to get started or click the link below.