Indonesia Is A Dreamy and Magical Destination for Kids and Adults
As I folded swim trunks, tucked sandals into suitcase pockets, and made sure to include the "good" bug spray, excitement for my boys exploring the world mingled with a bit of that "first big trip post-pandemic" worry that many of us have experienced this past year.
While not my first visit to Indonesia, it was the first time there for the rest of my family. My four-year-old was thrilled about the long plane ride, while my six-year-old was looking forward to the birthday cake the Indonesia Team had waiting for us in Jakarta. The pandemic put a lot of travelers on edge. How would things change? Would the world be welcoming to tourism again?
A VIP airport transfer whisked us through customs and our journey began in earnest. We spent our first night in Jakarta to rest post-flight, followed by an early domestic flight to Pangkalan Bun Airport in Indonesian Borneo. We met our guide, Tina, and traveled to the river to board our houseboat where we'd stay for the next two days. Saying the kids took to Tina is an understatement. They adored her. She routinely carried my younger one on her hip as we walked the jungle paths to the orangutan feeding stations and pointed out animals, plants, and mushrooms to both along the way.
Orangutans were the focus of our trip through Tanjung Puting National Park, and we were fortunate enough to also see macaques and proboscis monkeys, locally nicknamed "Dutch monkeys" as a little jab at their old colonizers. When we weren't pulling up to the dock or walking to see the wildlife, we were spotting animals in the trees while we floated down the Sekonyer River.
Macaques in the Monkey Forest. Photo courtesy of Laura Hagler.
After our time in Borneo, we had a short flight back to Java for a stay at the sprawling Plataran Borobudur Resort & Spa. The highlight of our arrival was the welcome massage that had the staff giggling at my four-year-old smiling dreamily throughout. The resort sits hillside, overlooking Borobudur Temple, the largest Buddhist temple in the world. In the morning, our guide led us around the UNESCO complex explaining its history and the significance of the decorative reliefs and statues. We also enjoyed a horse-cart tour through Candirejo Village where we tried locally produced cassava chips, learned about their traditions and products, chased chickens around the fields, and had an amazing lunch prepared by the villagers.
The next stop on our island-hopping adventure was the ever-popular Bali. We based for several days at the Kajane Mua, a great option for families set back off the main road for a peaceful respite from the hustle of Ubud. About an hour outside of the city lies Bakas Village where we spent a day with Little Wayan. Wayan, who was born and raised in Bakas, introduced us to some of his neighbors as we made our way along paths and past farms. He stopped to show the boys how to make toys from seed pods as he did as a child, cut a papaya from a tree for us, and lamented how the passion fruit was ripening soon but the monkeys would be the first to know and would steal them. We petted oxen and newly hatched chicks, tried our hand at climbing a coconut tree, and cooled down by splashing in a channel off the river. The remainder of the day was packed with kite-making, weaving traditional offerings, playing with village kids, learning traditional dancing and music, and dining at Little Wayan's home. The whole experience was fun-filled and we felt like we were visiting family friends.
Making friends with neighbors at Bakas Village. Photo courtesy of Laura Hagler.
Our next day had us taking part in a purification ritual at Tirta Empul and wandering the lovely grounds of Goa Gajah temple. Everyone was excited to see the macaques at Monkey Forest and the grounds were shaded and cool with plenty of macaques to hold our attention. Tourists can take "monkey selfies" that the local staff arrange for safe interactions. But be careful if you take a seat anywhere! I sat briefly and promptly became a seat myself for a mid-sized macaque. Fortunately, I've bumped shoulders with many a monkey, so knew to keep still and avoid eye contact while he played with my earrings until he got bored and leaped away.
After our culture- (and simian-) centered time in Bali, we had a two-night cruise through Komodo National Park. The staff on our private boat were phenomenal. They kept a keen eye on the boys, played chess, let them steer–and even encouraged my husband and me to escape for a few quick snorkeling sessions to see manta rays and sea turtles while they played onboard and on beaches together.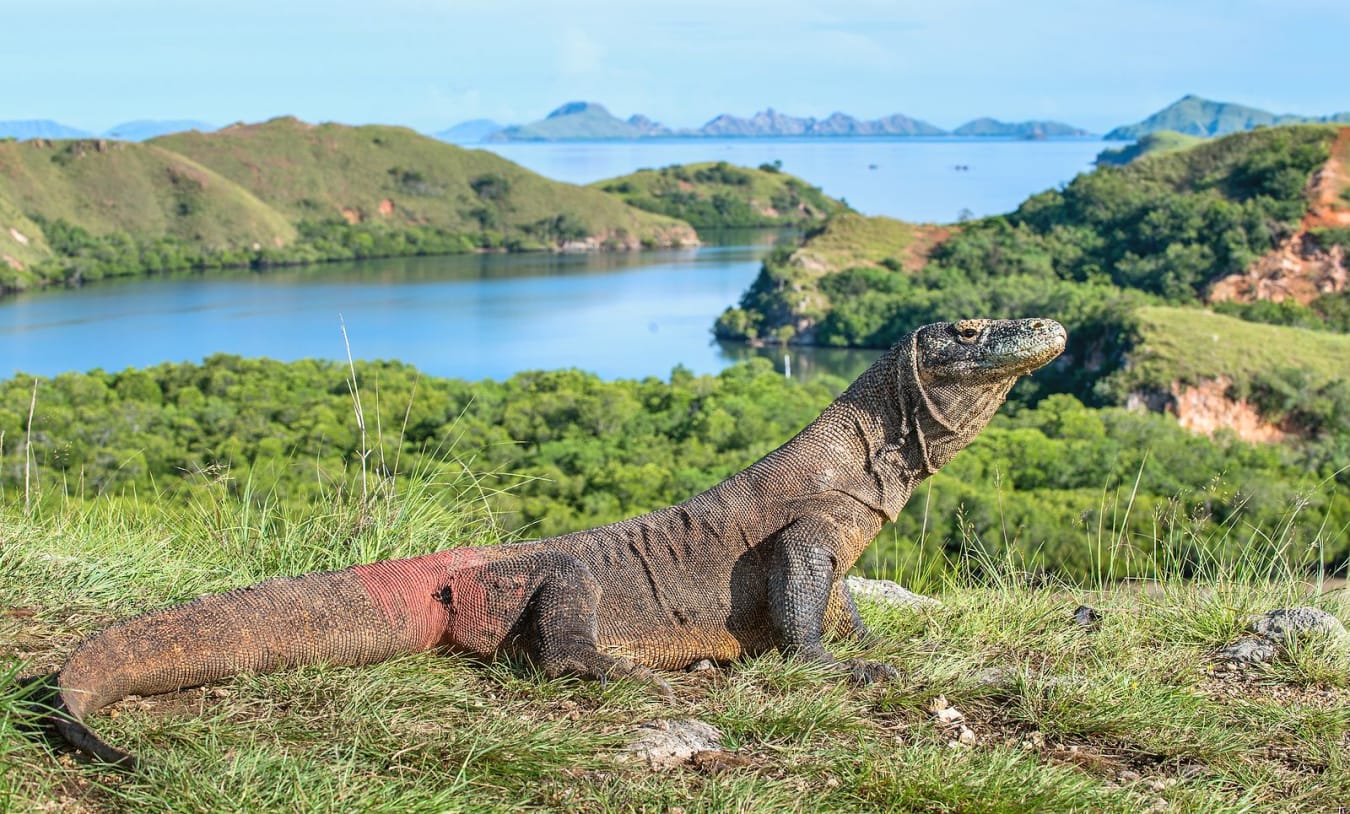 A Komodo dragon poses for the camera. Photo courtesy of Laura Hagler.
The island guide and a few members of the boat crew headed out on the Komodo Island paths with us pointing out dragons en route. Upon finding out that my youngest is obsessed with mushrooms, they took it upon themselves to find handfuls of local fungus to bring him again and again. We lucked out and saw six dragons including a massive female sauntering along the beach.
Canggu, back in Bali, was our final stop. We spent the late afternoon on the beach with friends as the sun set and our kids played in tidal pools together. It was a perfect send-off. In retrospect, I need not have worried. Indonesia's incredibly friendly culture hasn't changed and communities are excited to have tourists return. My family made some wonderful memories and we look forward to returning to explore more of Indonesia in the future.
Interested in learning more about our Indonesia tours? Contact us for more information at travel@globalbasecamps.com
---
Now's the Time…
...for planning your summer trip to Europe. The whole continent is in demand, and booking now is imperative if you want to be sure of getting tickets for Italy, Portugal, Spain, Finland, Iceland, and Turkey.
The harbor at Porto, Portugal. Photo by Nick Karvounis on Unsplash.
Contact us today at travel@globalbasecamps.com to secure your spot now.