"Sustainable" can be a squishy concept. So we're telling you exactly what we mean. (Psst, it's the same thing the U.N. means.)
When we launched Global Basecamps in 2008, we knew that we wanted to be part of the nascent movement in the travel industry that conceived of travel as a force for positive change in the world. Instead of exploiting communities for their maximum economic value, we wanted to find a way to travel that respected the culture, history, and values of the destination while contributing to its continued well-being. With the global tourism industry responsible for one in ten jobs, we knew that there was a lot of economic power available to create that change. But at that time, sustainability was seen as a fringe concern that didn't meet the needs or desires of the vast majority of travelers.
But as travelers ourselves, we met a lot of people who had a desire to travel in a different way, a way that prioritized creating meaningful contacts with people from foreign cultures and environments, and that led to mutual understanding and respect and left each side richer for the exchange. We knew that there was an unmet desire to experience foreign cultures in an intimate way, unmediated by corporate events and tours. We knew passionate foodies who wanted to taste delicious new foods cooked by locals for locals not diluted for foreign palates.
We knew many people who preferred to buy their wares from local artisans instead of at an outpost of a global chain at an airport duty-free store. We knew people who wanted to respectfully enjoy the natural environment and wildlife and protect them from the damage that can come from unfettered mass tourism. In other words, we knew many others besides ourselves who not only didn't want to harm but actively wanted to help these destinations and leave them better for having extended their hospitality to us.
We knew our friends and our friends' friends shared this desire and we believed that it was a much more common interest that the tourism market had not tapped.
Fifteen years later we know we were correct. Since we launched, sustainable tourism has become a mainstream concern for many travelers and is the fastest-growing segment of the travel industry. In a 2022 survey, over 80 percent of global travelers said that sustainable tourism is important. And the trend shows no signs of slowing down. According to a report by Allied Market Research, the global sustainable tourism market was valued at $3.3 trillion in 2022, and is projected to reach $11.4 trillion by 2032, growing at a CAGR [compound annual growth rate] of 14% from 2023 to 2032. Yes, folks, that's "trillion" with a "t". That's a lot of market power to apply to these goals.
But just like in any other area of the economy "sustainability" in tourism is an elastic term that can be misused and abused. (See "greenwashing.") Our definition of sustainability is that it's a holistic approach to traveling "that takes full account of its current and future economic, social and environmental impacts, addressing the needs of visitors, the industry, the environment, and host communities." This also happens to be the definition of the U.N. Environment Program and the U.N. World Tourism Organization.
We believe that by creating customized culturally respectful travel experiences that bring together diverse cultures and peoples to enhance mutual understanding and care for each other and the planet we are fulfilling the U.N. definition. Here are some specifics of how we travel sustainably:
Positive Impact on Destination
One of the fundamental principles of sustainable tourism is the belief that tourism can help local communities rather than merely extract value from them. We wholeheartedly support that belief. We partner with local communities and operators to support crucial projects that improve life in the local community and bring more economic and other resources to them.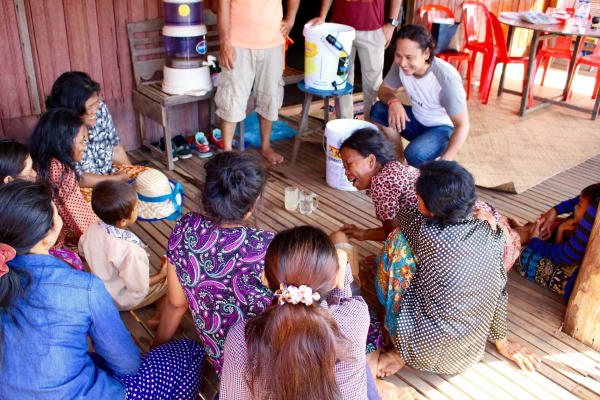 Our clients participate in an important project to bring clean water to Kampong Khleang village in Cambodia.
We also provide opportunities for our clients to be involved in these projects as well. Global Basecamps supports a project to bring clean drinking water to 105 families in Kampong Khleang village on Tonle Sap Lake in Cambodia. Travelers with our Vietnam and Cambodia Cultural Exploration can participate in the project by leaving space in their luggage for a water filter and spending an afternoon helping to install it in the community. The water filters are donated by our partners at Waves for Water, a nonprofit committed to providing universal access to clean water.
Local Providers
In keeping with the goal of retaining community wealth in the community, we actively seek out local sources of goods and services. Often the companies we hire then hire local guides, interpreters, and employees as well, which provides employment opportunities and income stability for the local population–a virtuous circle that keeps more tourism-generated revenues in the community and prevents the "economic leakage" that occurs when profits go to large foreign-owned businesses.
As these businesses in the communities grow, it promotes overall economic development that can build the community's financial vitality and resilience. A more vibrant local economy produces more economic stability for individuals and families that in turn can provide greater access to education, health care, and other basic necessities.
Focus on Personal Relationships
Global Basecamps has invested many years in building personal relationships with partner operators around the world who share our values, and we work together to ensure we have only positive impacts on our destination communities.
Most regions that host our tours are relatively traditional and conservative societies compared to those more urbanized areas of Europe, North America, and the other regions of the world where most international travelers hail from. We encourage cross-cultural interactions that produce mutual understanding and respect for each other's traditions and practices. When we travel and seek connection with others with sensitivity and genuine curiosity about their ways of life, we are helping preserve and advocate for these beautiful cultures. We regularly support a variety of global initiatives that serve the people and areas our tours visit, as well as in and around our local community of Encinitas on the Southern California coast.
Environmental Stewardship and Conservation
We believe it is of utmost importance to care for the natural world and the humans and other creatures that live here. We try to make a positive contribution to the communities we visit by contributing to and/or encouraging our clients to participate in community-based projects to maintain the health of the natural environment. In 2014 and 2015, Global Basecamps, along with local partners, financially supported a project for the planting of Queuña trees in a blighted area around Cusco, Peru, where over-foresting and non-native invasive species have all but wiped out the native trees that once thrived there. Reforestation projects are one of the best ways to reduce the amount of carbon dioxide in the atmosphere. Additional benefits of this project include: preventing flash floods in the area of the Lares watershed; providing firewood for the local communities; and job creation, as members of the community are paid to plant and care for the growing trees. Interested in visiting Peru and/or participating in this project? Click here to see our Peru trips or email travel@globalbasecamps.com to ask for more information.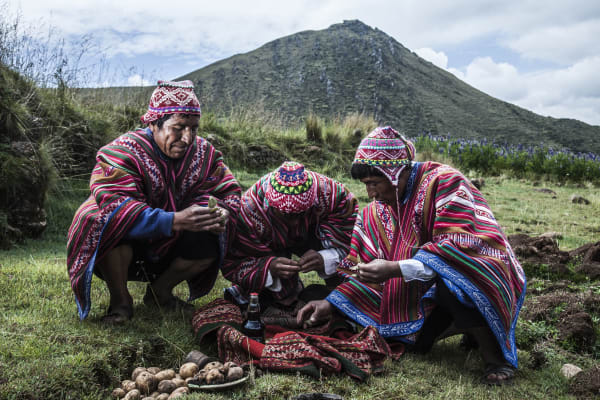 Over-foresting and non-native, invasive species have all but wiped out the Queuña trees that once thrived in the Peruvian Andes. So we partnered with a nonprofit to plant 10,000 new trees.
Wildlife Preservation
Wildlife the world over is suffering the stress of global warming and climate change. Some species are threatened with extinction. And we know that unregulated tourism–crowds, noise, flashing cameras–can be an added stressor for these animals. To address this problem, we take great care to make sure our trips are sensitive to the animals' needs while we're in-country. We travel in small groups. We are aware of mating or nesting seasons and times when we need to be particularly mindful of animals' need for privacy and quiet. We pride ourselves on using the most knowledgeable and passionate local guides and tour companies who share these values.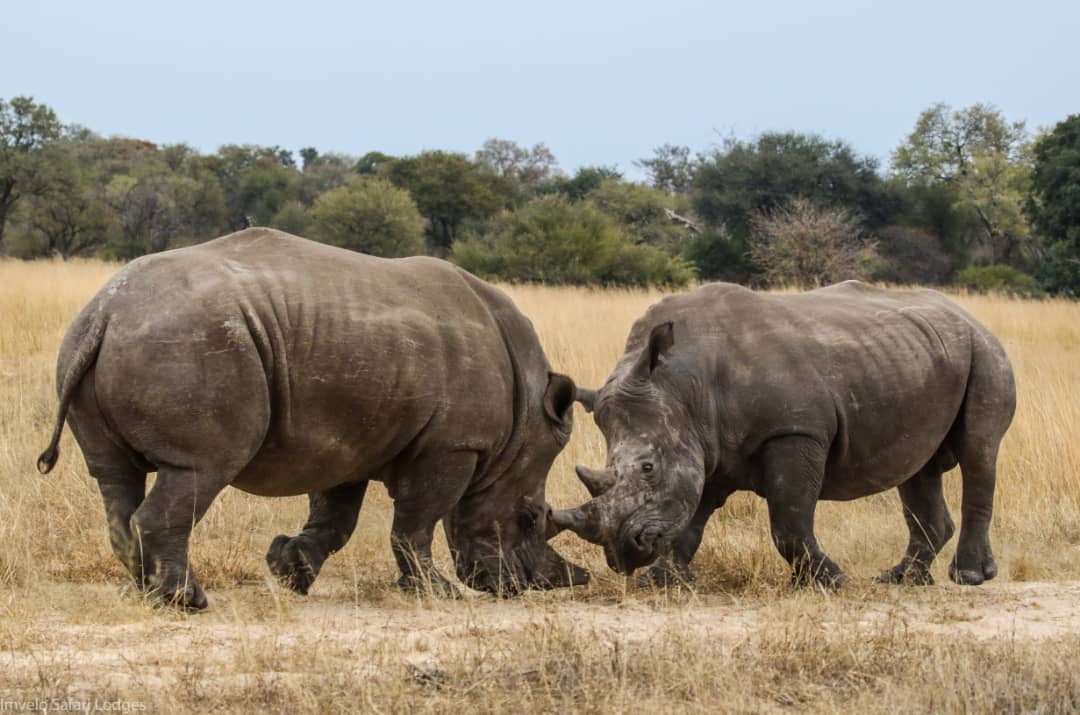 Thanks to the Community Rhino Conservation Initiative, you can visit Thusa and Kusasa, the first two white rhinos reintroduced to Hwange National Park after the species was eradicated there by poaching.
We also proactively participate in wildlife preservation projects meant to protect these precious animals. In Zimbabwe, for example, our partner, Imvelo Safari Lodges, runs the Community Rhino Conservation Initiative, a groundbreaking project responsible for reintroducing white rhinos back into Hwange Natural Park where they had been eradicated by poaching. Thanks to this project, our clients have the rare privilege of seeing Thusa and Kusasa, the first two white rhinos to roam Hwange in nearly 20 years, in their new home in the 500-acre Imvelo Ngamo Wildlife Sanctuary.
In Ecuador, we support the Condor Huasi Project. This project is dedicated to saving the Andean condor, which has suffered greatly from being in captivity and human interaction, and reintroducing it to the wild. Just as important, the project aims to educate the local community on how to protect and conserve these wonderful birds.
Want to learn more about the culturally sensitive, sustainable trips we offer? Contact us at travel@globalbasecamps.com.
---
Now's the Time…for Uganda, Rwanda, and South Africa
If you're thinking that 2024 is the year for a safari to Uganda, Rwanda, or South Africa, now is definitely the time to book that trip.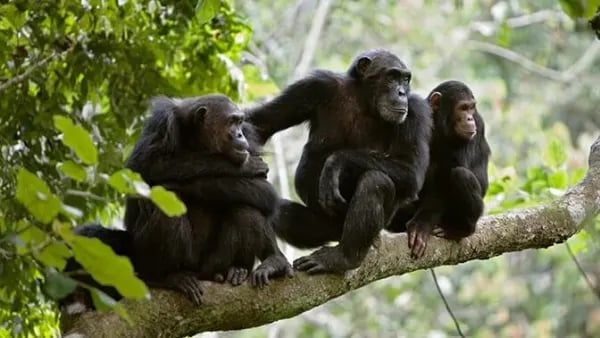 These guys are waiting to greet you!
These destinations are extremely sought after and book up fast. In Uganda and Rwanda there are two dry seasons. Mountain gorilla and chimp treks are best from June through September while mid-December to February is best for viewing game. In South Africa, April through September is prime safari season.
You may still be able to catch Morocco this spring
There is still some availability this spring for this popular destination. But flights are disappearing quickly. Contact us for more information and to get started booking at travel@globalbasecamps.com.