The country is a stunning, delightful, and safe destination again
Despite Hollywood's obsession with Pablo Escobar (and don't get me wrong, I'm a huge fan of Narcos and Pedro Pascal), I'm here to tell you that Colombia has emerged from its shadowy past and is a stunning, delightful, and safe travel destination. I had the pleasure of visiting recently to check out the main cities of Bogota, Medellin, and Cartagena. I traveled with our local ground operator and was able to experience many of the unique day tours and activities that Global Basecamps can arrange here as part of a custom private tour to Colombia. I also had the opportunity to inspect many hotels and meet our amazing local guides and drivers. It was my first overseas trip post-pandemic and Colombia welcomed me with open arms, a warm heart, and of course, plenty of fresh coffee.
After landing in a cloudy and slightly rainy Bogota and getting an informative city briefing from our guide on the way to the hotel, we quickly settled into our room before venturing out on our own to grab a bite to eat. We felt very safe walking around the leafy, upscale neighborhood surrounding our hotel (La Zona Rosa) and found a plethora of cafes and restaurants (with cuisine from around the world) to choose from for dinner. It wasn't until the next morning, waking up to blue skies and sunshine, that we were able to truly comprehend the surrounded-by-green-mountains setting (8,600 feet above sea level) of this capital city of 11 million people. Bogota gets a bad rap for its weather (often misty, cloudy or in the 50s-60s F), but the cooler temperatures were a nice break after coming from a long hot summer in the USA.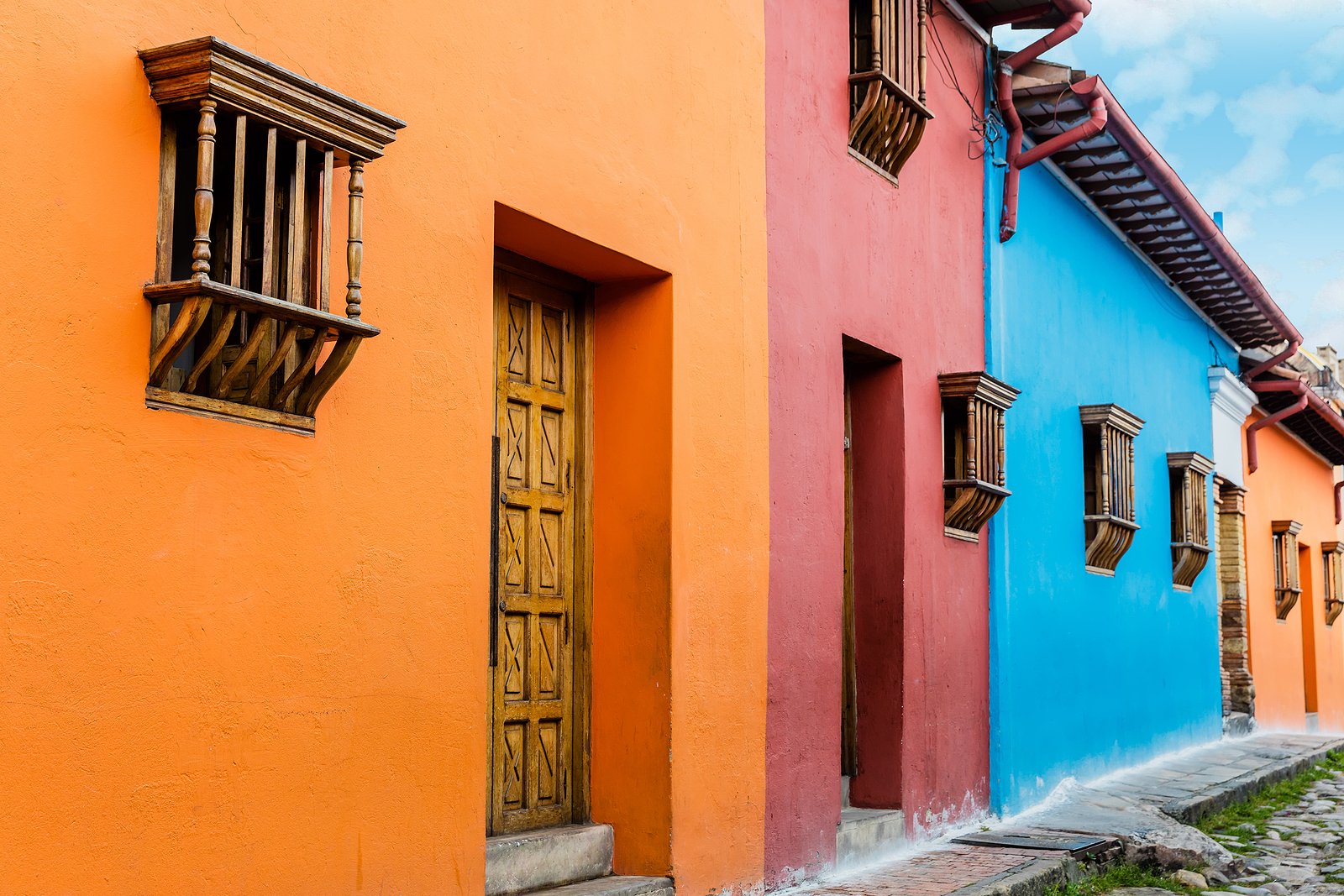 A typical street in La Candelaria, the oldest section of Bogota.
Highlights of our time in Bogota included visiting Paloquemao Market, the second largest market in the city. With over 750 merchants and a labyrinth of stands it offers a large variety of fruit, vegetables, meats, and flowers. We also loved all the street art and historic architecture in La Candelaria, the oldest part of the city, and wandered into many beautiful churches. Our history buff guide was an amazing asset to visit the Gold Museum with, as he was able to navigate us to the most important exhibits and provide important context. The Botero Museum was another highlight, featuring the quirky art of Colombia's most famous artist, Fernando Botero. We also enjoyed our first traditional Colombian food, Ajiaco, a chicken, potato, and corn soup that is served with a side of avocado, rice, sour cream and capers. Bogota is also home to a number of microbreweries and we capped our stay with a cerveza while enjoying the sunset from our hotel's rooftop bar.
Then we were off to Medellin (pictured above), my favorite stop, the second largest city in Colombia and known as the "city of eternal spring." Contained in a bowl-shaped valley between two mountain skylines, Medellin's crowded urban sprawl reaches up into the skies around you. What was once the setting for the drug violence of the 80s and 90s is now home to a peaceful population and prosperous economy. The moderate climate and hopeful energy of the city are quickly apparent. Our lovely local guide Adriana took us on a tour of the city, including Botero Square, where more of Botero's large sculptures adorn the downtown square and the botanical gardens. We also visited Comuna 13 barrio, home to a social development project that has transformed the neighborhood. Escalators built into the hillside take us through the barrio, past lots of colorful street art and local musicians, and local shops. Another highlight of Medellin was riding on the public gondolas that lift people high above the city to their homes in the surrounding hills.
We were able to do a day trip into the countryside from Medellin, and it was wonderful to experience life outside of the city, in the green rolling hills, past flower farms and small towns. We climbed up the 649 steps of El Penol, a monolithic rock formation that towers over a series of beautiful lakes with a mountain backdrop. We also visited the colonial village of Guatape, filled with painted houses, cobblestone streets, and a charming church.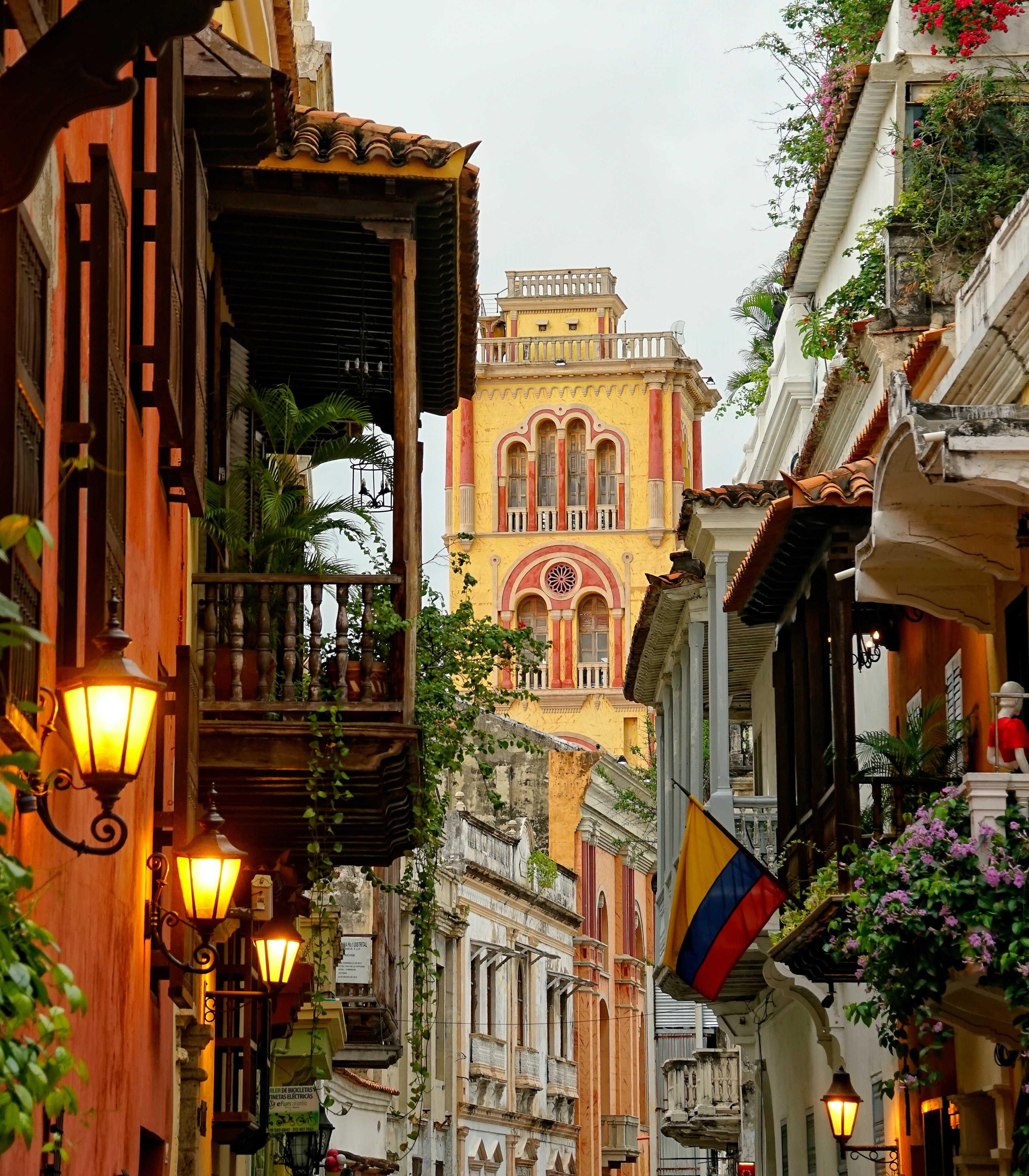 Cartagena is a beautifully preserved time capsule with a marimba soundtrack. Photo by Ricardo Gomez Angel @Unsplash
Our last stop found us stepping off the plane into a more humid sea-level Caribbean climate. Rivaling Cusco, Peru, for its colonial atmosphere, Cartagena is a beautifully preserved time capsule with a marimba and drum-based soundtrack. The Spanish colonial architecture is some of the most impressive and best preserved in South America with its imposing merchant's houses, narrow streets, flower-bedecked balconies, stunning civic buildings, and beautiful churches. The city is dotted with many squares and public spaces which are now home to sidewalk cafés and restaurants where Colombians, and visitors alike, relax and enjoy the magic of this amazing city. Here we enjoyed a walking tour of the old walled city and a street-food-tasting tour. Exotic tropical fruits like lulo, granadilla, nispero, papaya and guayabana; fried arepas, papas rellenas, empanadas, and caribañolas; bollo de mazorca; agua de coco; raspao; cocadas, arequipe and enyucado; and much more!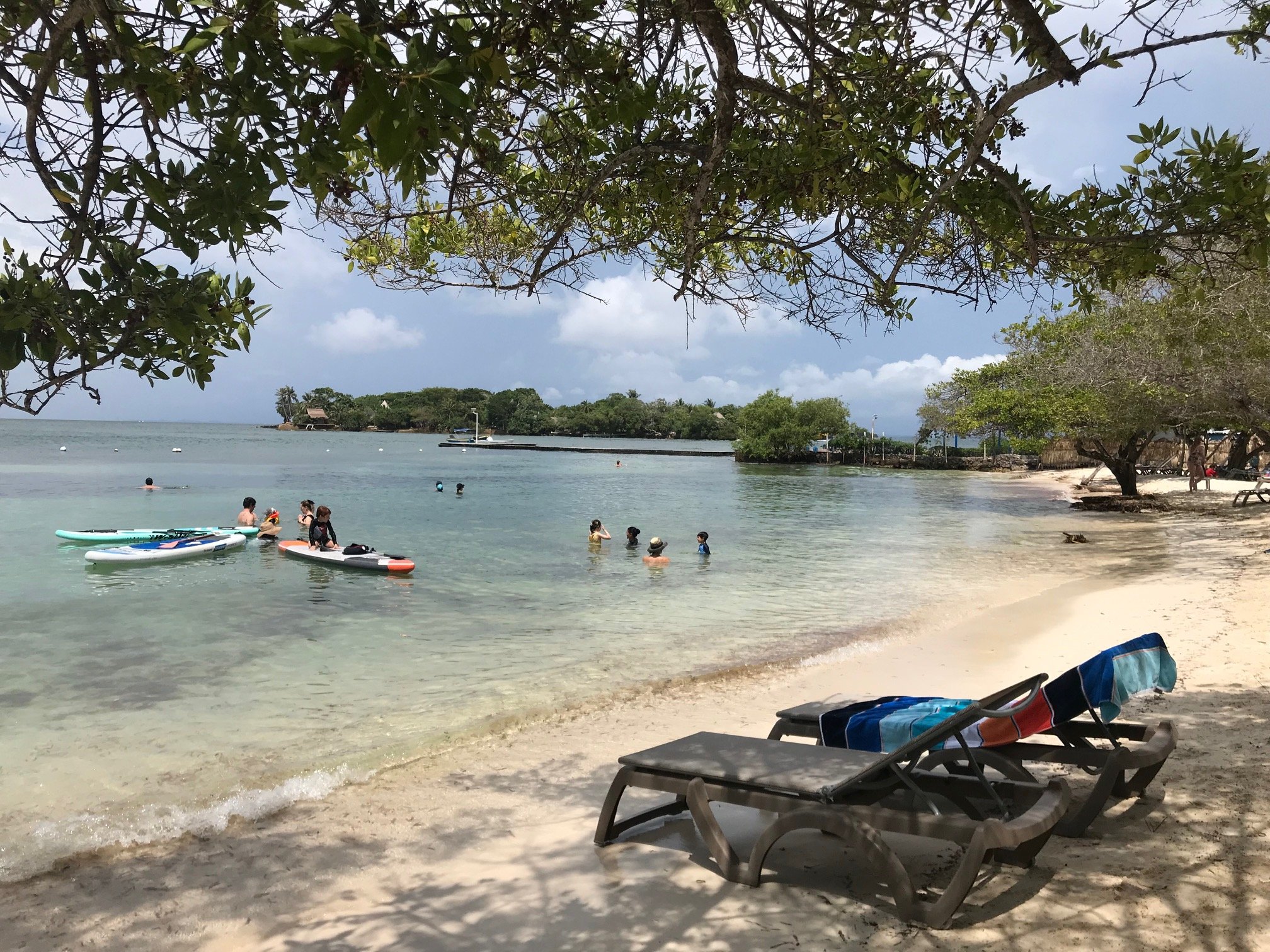 Relaxing on Isla Gente de Mar off the coast of Cartagena. Photo by Laura Roundy
The beaches in Cartagena are filled with high-rise hotels, so most of our clients prefer to either do a day trip by speedboat or spend a few nights on one of the Rosario islands off the coast of Cartagena if they want to enjoy a tropical beach or resort stay. We did the day trip over to Isla Gente de Mar, and spent a peaceful day on the white, sandy beach and swimming in the aquamarine water. Snorkeling options are possible, too. We ended our Cartagena (and Colombia) journey with a fantastic rum and chocolate tasting experience at the historic Sofitel Legend Santa Clara hotel.
Colombia is known for nature and wildlife, a passionate and diverse culture, amazing outdoor adventures, coffee regions, beaches, and so much more. Do not hesitate to visit this fascinating and beautiful country. Let one of our Global Basecamps Colombia travel specialists help you plan a memorable custom trip to Colombia today!
And don't forget to check out our free Colombia Travel Guide to learn more about Colombia's many charms and practical information for visiting.
---
Now's The Time…Japan 2024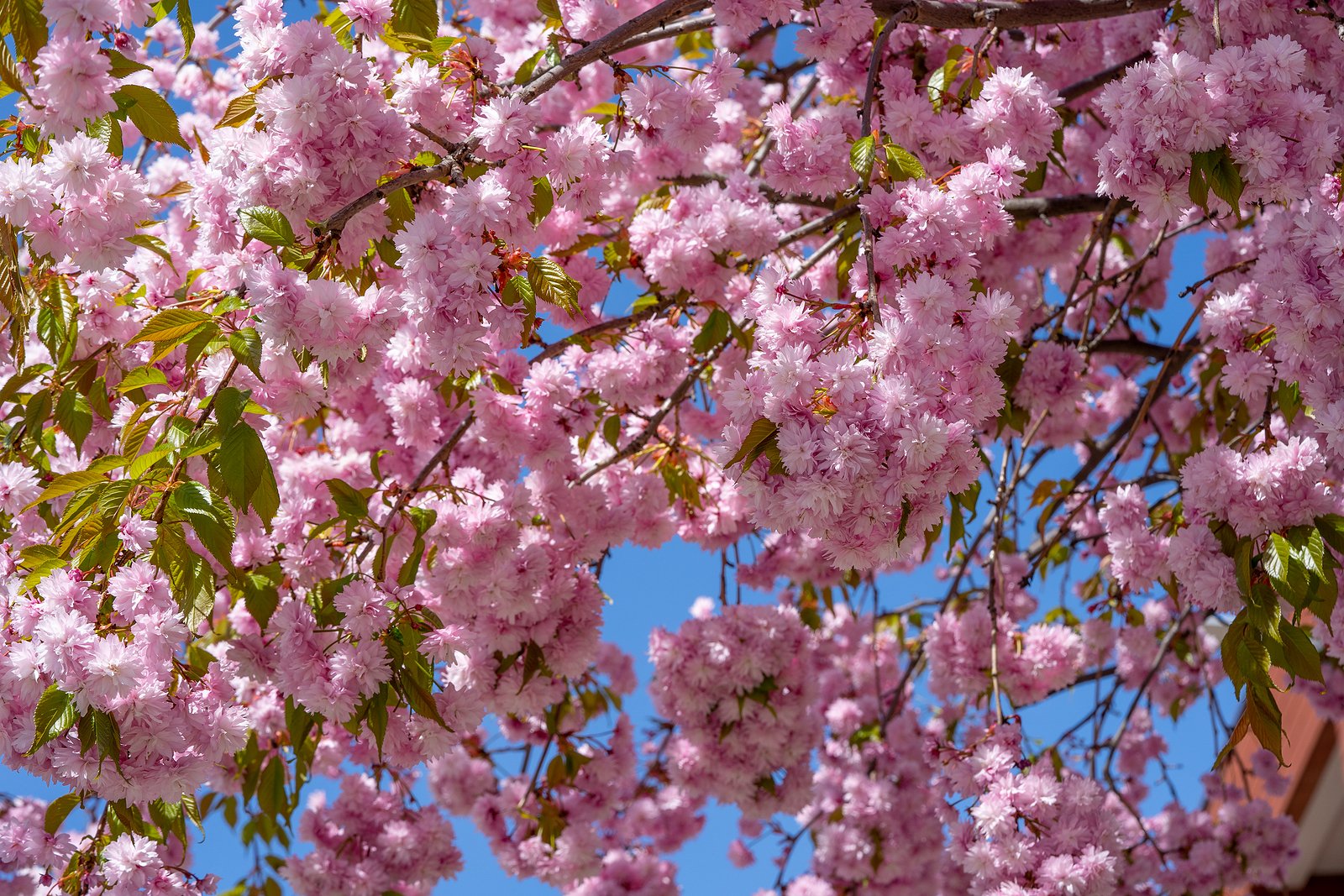 Believe It Or Not, It's Already Time To Book Your 2024 Japan Cherry Blossom Trip
If you want to experience cherry blossoms in person, now is the time to make your plans.
As a major highlight of Japan's spring, cherry blossom season books up quickly. Known as hanami or flower viewing, the season begins in mid-January in Okinawa, with peak bloom about a week after the blossoms first appear. Southern cities like Kumamoto start the ball rolling on Honshu with mid-March openings. As the cherry blossom wave moves north, the first blooms get progressively later until early May, when they begin on Japan's northernmost island, Hokkaido. Tokyo is in the middle of the season, with a typical bloom of late March. No matter where or when you decide to see the Sakura, make your plans soon. Contact one of Global Basecamps' Japan travel experts to learn more.