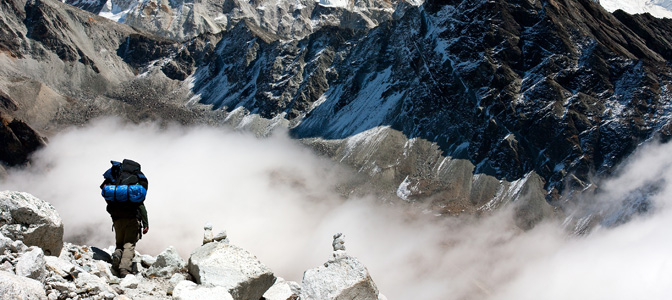 Rebecca is a Global Basecamps MVP traveler who has trekked all over the world and back again. Having gained knowledge and experience packing for her various treks, she was kind enough to offer her tips for future travelers! In our "Packing for Treks" series, Rebecca will give general tips, as well as destination-specific tips for Nepal, Tanzania and Peru!
All About Jackets
If you are Everest Base Camp-bound, or planning to trek in Khumbu, there are preparations to be made. With all the focus on gear for the trail, it might surprise you to learn that one of the coldest locales along the journey will probably be the the interior of your lodge. The communal dining room might be warm(ish), but unless you stray no more than two inches from the yak-dung burning stove, I guarantee you will be cold. This is where a medium weight down or synthetic equivalent mid-layer (with hood) proves invaluable (I suggest the Patagonia ultralight down hoody or Arc'teryx Atom LT hoody). These stay warm enough to insulate you from the elements without causing any overheating, yet are light enough to avoid the oppressive feeling of a heavy coat, especially after a long day of trekking and carrying your pack. This same mid-layer can serve double-duty as an outer layer when out on the trail when the weather turns suddenly and clouds roll up the Khumbu valley; it is light, highly pack-able (it will often come with its own little carry bag to take up minimal space) and is easy to stash in your pack.
Boots in Nepal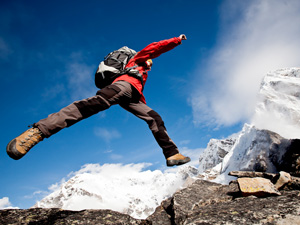 I have already mentioned the importance of solid trekking boots, but it bears repeating that for Himalayan trekking, you will be well served in a boot with a thick midsole for full trail support and shock absorption (forget anything sneaker-like). Given the varied terrain, particularly all the broken boulders on the glacial moraine, you will appreciate boots with decent ankle support. Speaking of varied terrain, loose rocks are not the only hazard on the trail. Remember you are in yak territory - so this would be an opportune time to extol the virtues of the gaiter. Gaiters serve many functions (not least of which is that cool, just summited Everest look), including keeping small stones and other debris out of your hiking boots, protecting your hiking pants from getting ragged and keeping your hiking pants relatively mud (and yak-dung) free. Gaiters also provide additional insulation and gortex gaiters are actually quite breathable so you won't overheat. Outdoor Research has a range of options.
Finally, consider your footwear off the trail. This is where you can finally break out your running shoes or lightweight hiking shoes to give your feet a much-needed break. You will be infinitely more comfortable wearing a light weight alternative to your heavy duty hiking boots when exploring the mountain villages, heading out for yet another cinnamon roll or simply resting at your lodge. A second pair of shoes should not be viewed as a luxury here.
Water Bottles for Trekking
Finally, some thoughts on the use of water bottles in Khumbu. I am definitely a fan of the wide-mouth (BPA-free) nalgene-type water bottle, for a variety of reasons. First, this design makes it easy to fill and clean the bottle and to purify water, particularly if you are using a UV sterilizer, and to decant into your camelbak (you can always add a splashguard if you are concerned about spillage). Also, nalgene bottles are extremely durable (in case you drop it while taking yet another picture of a yak crossing a bridge and it rolls down the trail), do not dent (as metals bottles can) and can withstand extreme temperatures. Finally, you will reuse your nalgene bottle, which is a far more environmentally friendly option than buying bottled water, and goes a long way to help conservation efforts in Khumbu. In addition, your humble nalgene is not only a hydration device, but given that you cannot burn yak-dung patties in your room or tent, if you fill your nalgene with hot water at night (simply ask at your lodge) and put it in your sleeping bag, you will be one toasty trekker!