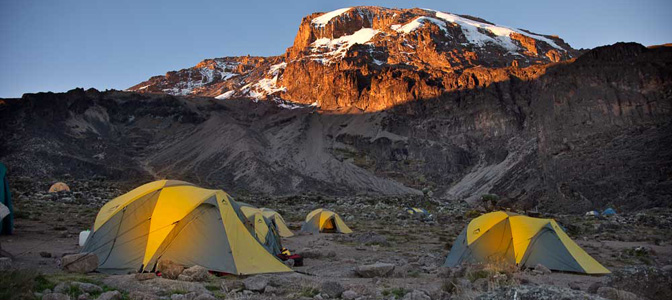 Rebecca is a Global Basecamps MVP traveler who has trekked all over the world and back again. Having gained knowledge and experience packing for her various treks, she was kind enough to offer her tips for future travelers! In our "Packing for Treks" series, Rebecca will give general tips, as well as destination-specific tips for Nepal, Tanzania and Peru!
Now that you have planned your custom trek with Global Basecamps, and in order to maximize the return on all your planning, it is important to select suitable gear. While it's true that Mallory and Irvine climbed Everest in gabardine and not Gore-Tex, appropriate gear can make your trip infinitely more comfortable and safe, not to mention more stylish. You don't want to be a blot on the beautiful landscape, do you? Careful selection of your gear is also a fun part of getting ready for your trip - you read that right - gear is fun!
The goal of this four-part blog series is first: to provide a general overview of some key pieces of gear that apply wherever one is lucky enough to trek, and second: to highlight key tips, borne of personal experience, for some of the most popular trekking destinations, including Nepal, Tanzania and Peru. Each destination has its own climate and unique terrain and I will highlight gear that is specific to the region in question. But first, a quick introduction to footwear and outerwear.
Finding Good Trekking Boots
If you are familiar with life in cold climates, you have heard the expression "your coat is your car." Similarly, if you are trekking, your boots are your 4x4. Your hiking boots are really the primary interface between you and the outside world, so your footwear is of the utmost importance. You'd be amazed how something as minor as a blister or slight discomfort in your shoe can cripple even the most intrepid adventurers. Happy feet are warm, dry, supported, protected and comfortable. A number of elements go into keeping feet happy - and the process starts long before your feet hit the trail.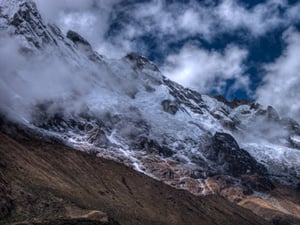 Personally, I am a fan of hiking boots that lean towards rugged rather than light. At a minimum, your boots should have the following features:
A thick enough outsole to provide traction
A midsole for shock-absorption and cushioning
Gore-Tex for waterproofing
Brands such as Scarpa and La Sportiva have an excellent range of boots.
Finding the sock combination that works best for you and your boots can take some experimentation. It can also take time to find the best way to tie your laces so your boots remain secure and supportive but still allow blood circulation (especially important in cold weather). And finally, it takes time to "break in" your boots so they mold to your feet, so you should sort out your footwear well ahead of time to find the system that works best for you.
In fact, given the fundamental importance of your hiking boots, I advise that you don't pack your boots in your checked luggage, but rather wear them on the plane or keep them as part of your carry-on baggage. Luggage is frequently delayed (or lost) with connections, so if you are catching connecting flights or are trekking in remote locales, your boots will be the most difficult item to replace or substitute if they go on their own adventure. While you may be able to rent shoes in some places (such as Kilimanjaro) apart from the "ick" factor, now is hardly the time to try walking in someone else's boots.
Remember, if your feet are not happy, chances are you won't be either.
Trekking Jackets: What to Look For
If your boots are your 4x4 then your jacket is your house. This is what separates you not only from the animals, but also from the elements. When it comes to jackets, it is most definitely not one size fits all (people or purposes).
A single jacket cannot:
Keep you at the optimal temperature in every climate
Keep you dry in a monsoon or a light sprinkle
Fend off wind in all weather conditions
Keep you ventilated and color coordinated
Chances are you will need a combination of layers and jackets to deal effectively with the elements. First are base-layers (one to two depending on the conditions and level of activity). Second are a variety of mid-layers ranging from fleeces (wool or synthetic) to mid-layer jackets (these may double as outer-layers in less extreme weather) And third are outer-layers, which could comprise some combination of a hardshell (for wind and water protection) to an insulating layer, or combination of both waterproofing and insulation.
So we are talking about several different layers/combinations that will ultimately depend on the specific temperature, weather conditions and level of exertion applicable to your particular trek. The climate and temperature during the season in which you will be trekking are key factors you should research well in advance, so you can pick the appropriate gear for the conditions you are likely to face. Experiment with layering techniques to find what works best for you. With the right combination, you will be more comfortable, warm or cool (as necessary), dry and safe (and of course more stylish) so you can focus on enjoying your trek!
Happy packing!