Myanmar tours promise adventure, views of some of the most beautiful scenery in the world, as well as the chance to learn about and meet various tribes and ethnic groups throughout the country to better understand the richness of their culture. You can converse with Kayan women known for their brass coil body modification which gives their distinctive long neck appearance. Sample the flavorful thoke (salads) that differ in each region. Our local guides help you to better understand the country's fascinating yet sometimes tragic history while also teaching you about cultural norms and unique adventures available in this alluring country.
Faith in Myanmar
Religion is imbued throughout many facets of life in Myanmar. Traditional ceremonies held at temples, seasonal festivals, daily almsgiving, and altars/shrines in individual homes are commonplace. Burmese folk religions are practiced by some villages and tribes with animistic beliefs, while many nationwide still participate in the indigenous worship of nats (spirits of everything from non-sentient objects to people, animals, and more). Christianity, Islam, and Hinduism are represented to a smaller degree, however, the overwhelming majority of the people of Myanmar are adherents of Buddhism.
Theravada Buddhism is followed by approximately 90% of the population, and the kindness of the people and safety of travel throughout the country is often attributed to their precepts and system of morality.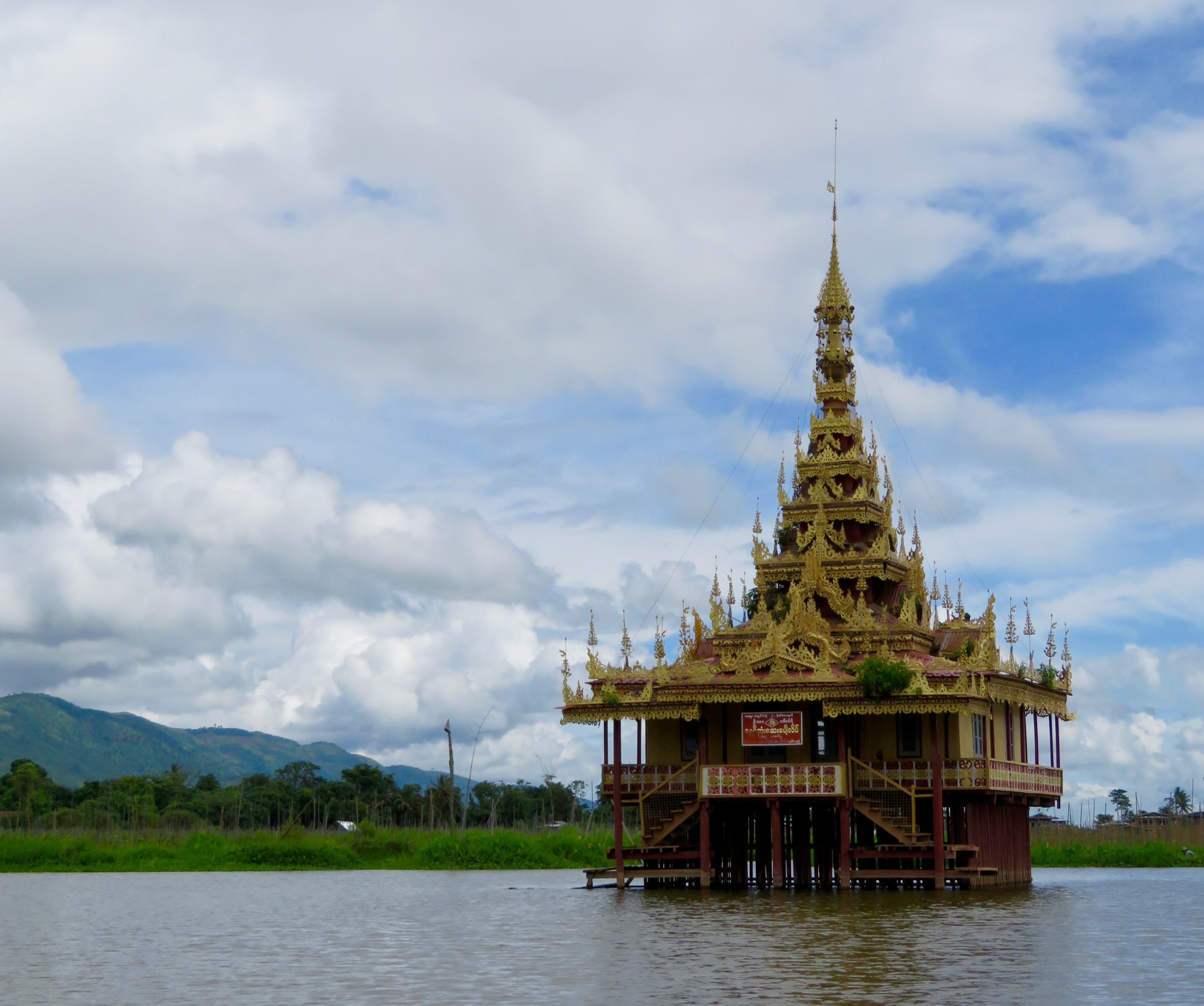 Temple on Inle Lake, Shan State. Photo by Laura Hagler
Far Reaching Influence of Buddhism
Male adherents are supposed to enter the monkhood two times during their lives often for just a few weeks or months, once as a young novice, and again as an ordained monk after they turn 20. Shinbyu (novitiation ceremony) refers to the celebrations and rituals marking a young boy entering the Sangha (monastic community) such as a festival and feast, procession to the monastery/temple, hsan cha (shaving of the head), recitation of the precepts, and so forth.
Due to the practice of shinbyu, during your travels, you will most definitely catch sight of young boys bedecked in saffron robes along with older monks and Thilashin (female lay renunciants, mistakenly referred to as "nuns") in their distinct pink robes. The collection of alms can be observed in the early morning in some areas of the cities and countryside. Young novices are often excited to chat with foreign visitors and are usually very friendly. I've been fortunate to chat with a group of young Thilasin as well as be redirected after I'd gone astray searching for a rural pagoda by a group of laughing novices. These children are an infectiously joyful part of life and travel in Myanmar.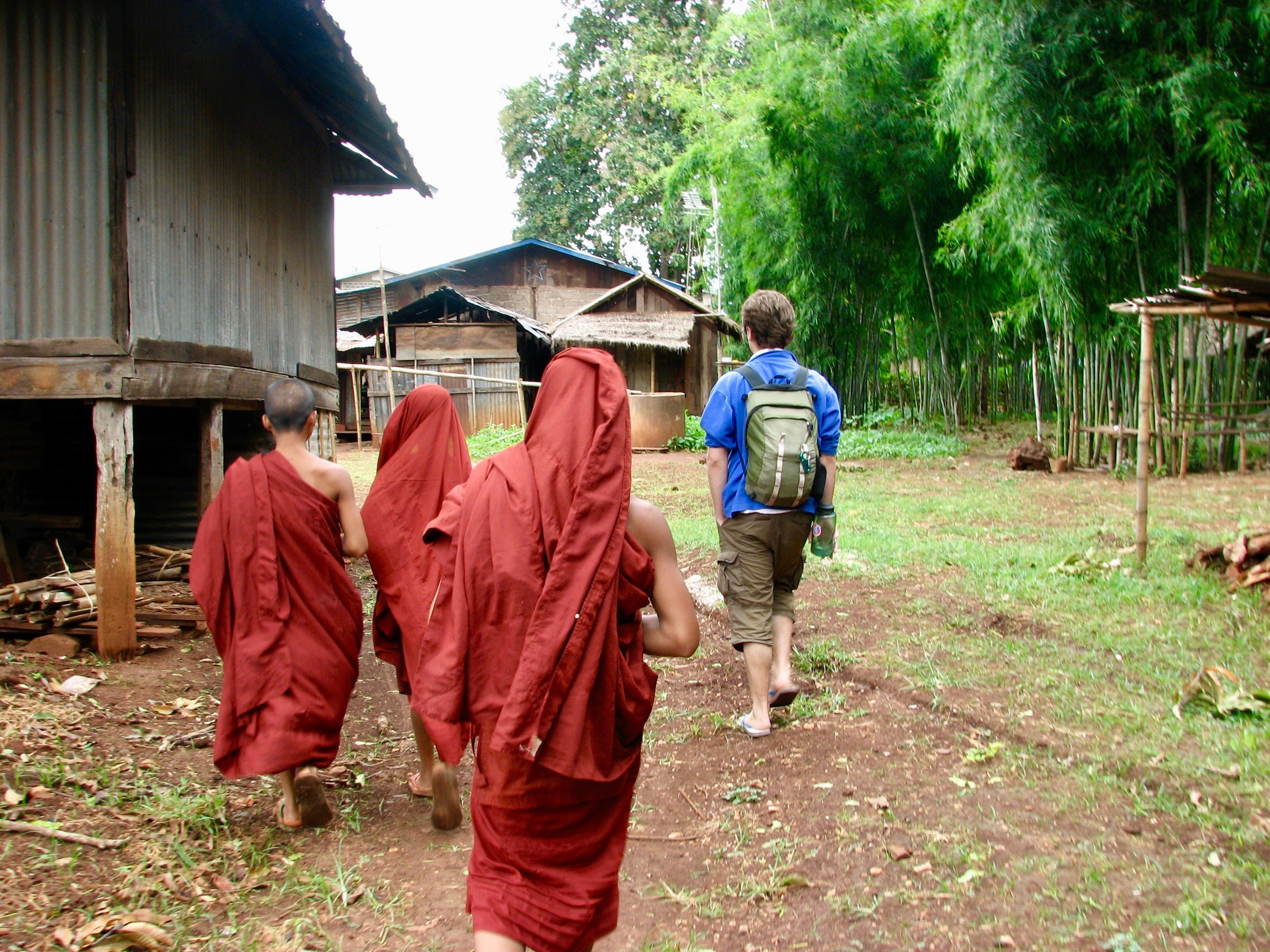 Novices helping us locate a pagoda away from the main sites in Indein, Shan State. Photo by Laura Hagler
Buddhist Architecture Nationwide
In addition to influences on cultural practices and everyday life, Buddhism has left an indelible mark on the country with famous sites like Kyaiktiyo Pagoda perched atop the Golden Rock in Mon State and the numerous stone brick temples and pagodas of Mrauk U in Rakhine State. Buddhist sites are found throughout the country and serve as centers for the community to hold ceremonies, worship, and socialize.
From Shwedagon Pagoda's gilded stupa to Chaukhtatgyi Buddha Temple's Reclining Buddha, Yangon offers a chance to dip your toes into the local culture. Learn more about nat worship, have a reading from a local fortune teller, or partake in the ritual of pouring water over your astrological sign's representative statue. Guides share their wealth of knowledge about the temples, Buddhism, and how they are woven into Myanmar society.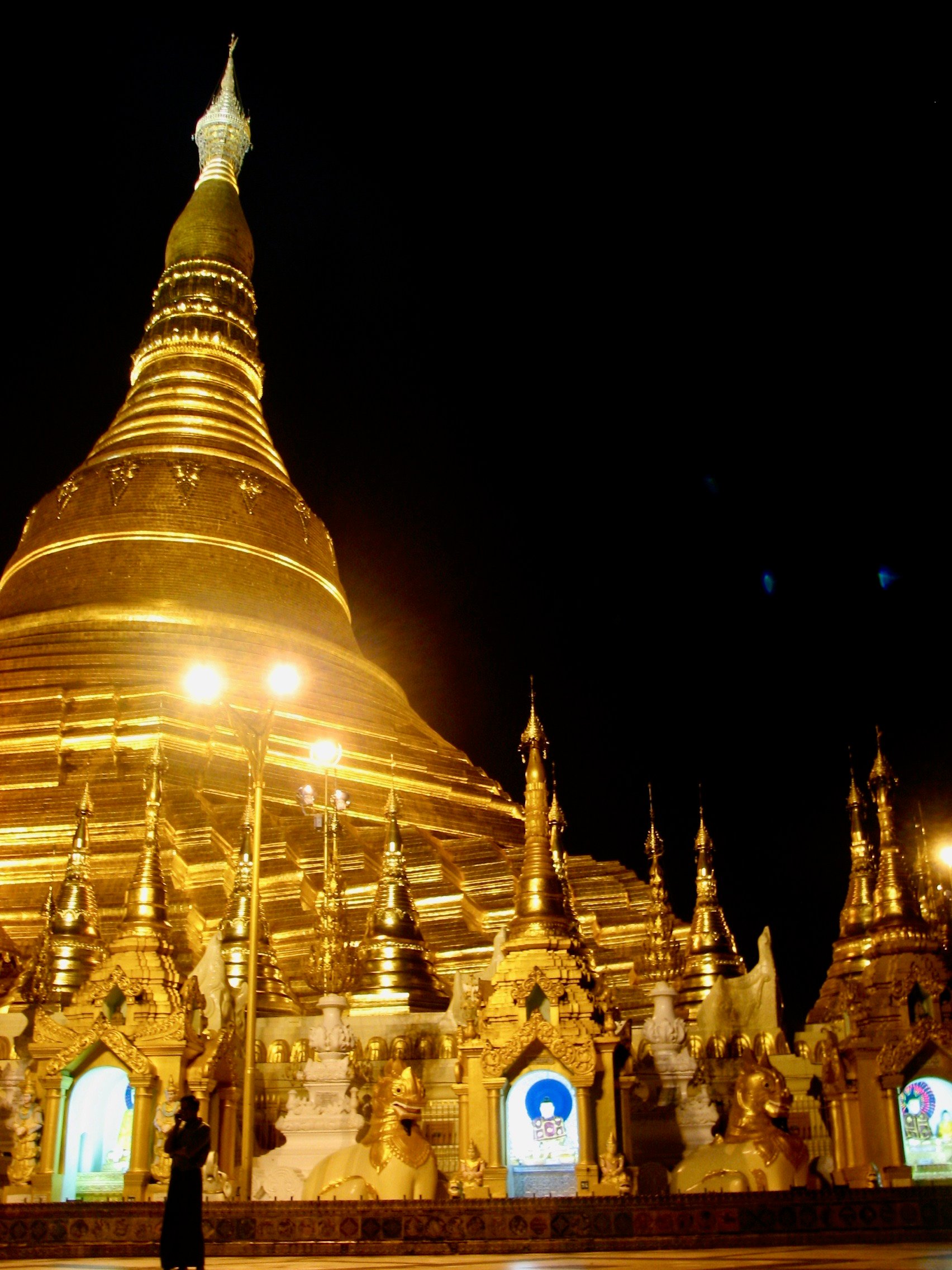 Shwedagon Pagoda by night, Yangon. Photo by Laura Hagler
Bagan Temples
For good reason, most Myanmar tours will include several days to explore the Bagan temples and countryside. The area's Archaeological Zone is a UNESCO World Heritage site rivaling Angkor Wat. In Bagan, pagodas and temples numbering in the thousands dot the expanse of plains along the eastern banks of the Ayeyarwady River (also known as the Irrawaddy).
Pagan's (ancient name for Bagan) king, Anawrahta, was converted to Theravada Buddhism in 1056 and along with subsequent rulers and subjects had more than 10,000 stupa, temples, and monasteries constructed as a show of devotion through the 13th century. A testament to their merit making, 3,822 of these devotional sites remain today having survived centuries of war, development, natural disasters, and the ravages of time.
It is possible to spend a lifetime observing the intricacies of architectural design and artistry found among the temples. The varied forms of stupa and decoration denote the century they were built. Some temples display vaulted ceilings and keystone arching, considered to be amazing engineering feats at the time they were erected. Walking into the cool stone archways and passages inside the larger temples is refreshing after walking or cycling through the desert heat of Bagan. The architectural highlights along with, Buddhist sculptures, elaborate murals, and winding maze-like passageways all make for a one of a kind experience.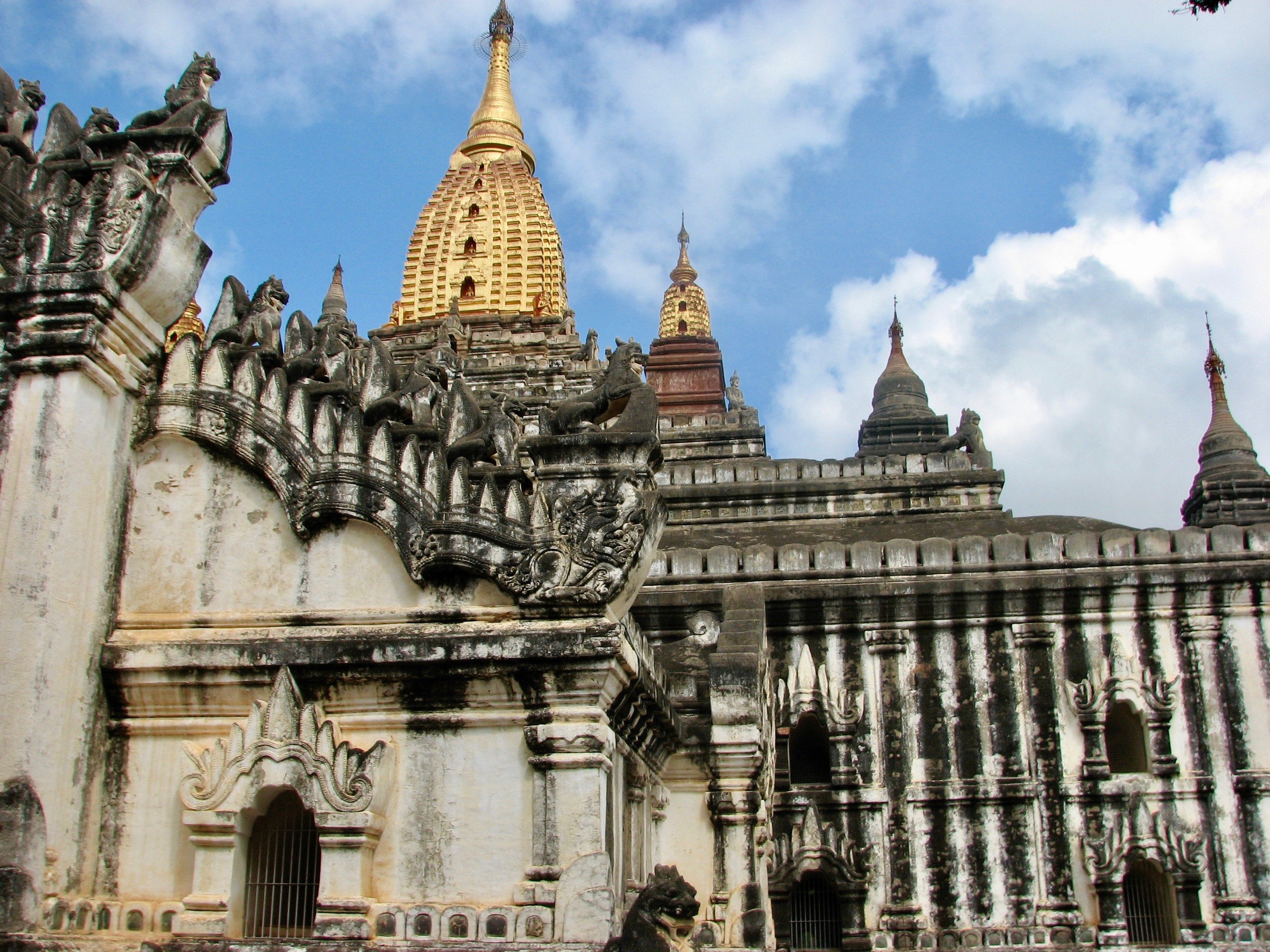 Details of AnandaTemple, Bagan. Photo by Laura Hagler
A few good places to begin your exploration are Dhammayazika Pagoda, Mingalazedi Pagoda, Payathonzu Temple, Thatbyinnyu Temple, and Ananda Temple. Bagan has many sightseeing options, but these feature standout frescoes, statuary, design, tile murals, and more. Ananda's four entrances lead to massive Buddhist statues each carved from solid teak wood. The South facing Kassapa Buddha has an eerie element. Walking through the south entrance, the Buddha wears a welcoming smile which alters as you approach becoming more stern as your viewing angle changes.
Devoting several days to exploring these ancient sites is advised. In addition to the temples, you can learn how villagers catch bats in the dark temple alcoves. Hear local ghost stories and legends like the haunted temple of Dhammanyangyi. Take a hot air balloon ride over the plains in the early morning for stunning views. Spend an evening watching a spectacular sunset along the Ayeyarwady. Facing east, you have an impressive view of the temples and pagodas extending near endlessly to the horizon, reflecting the colors of the setting sun.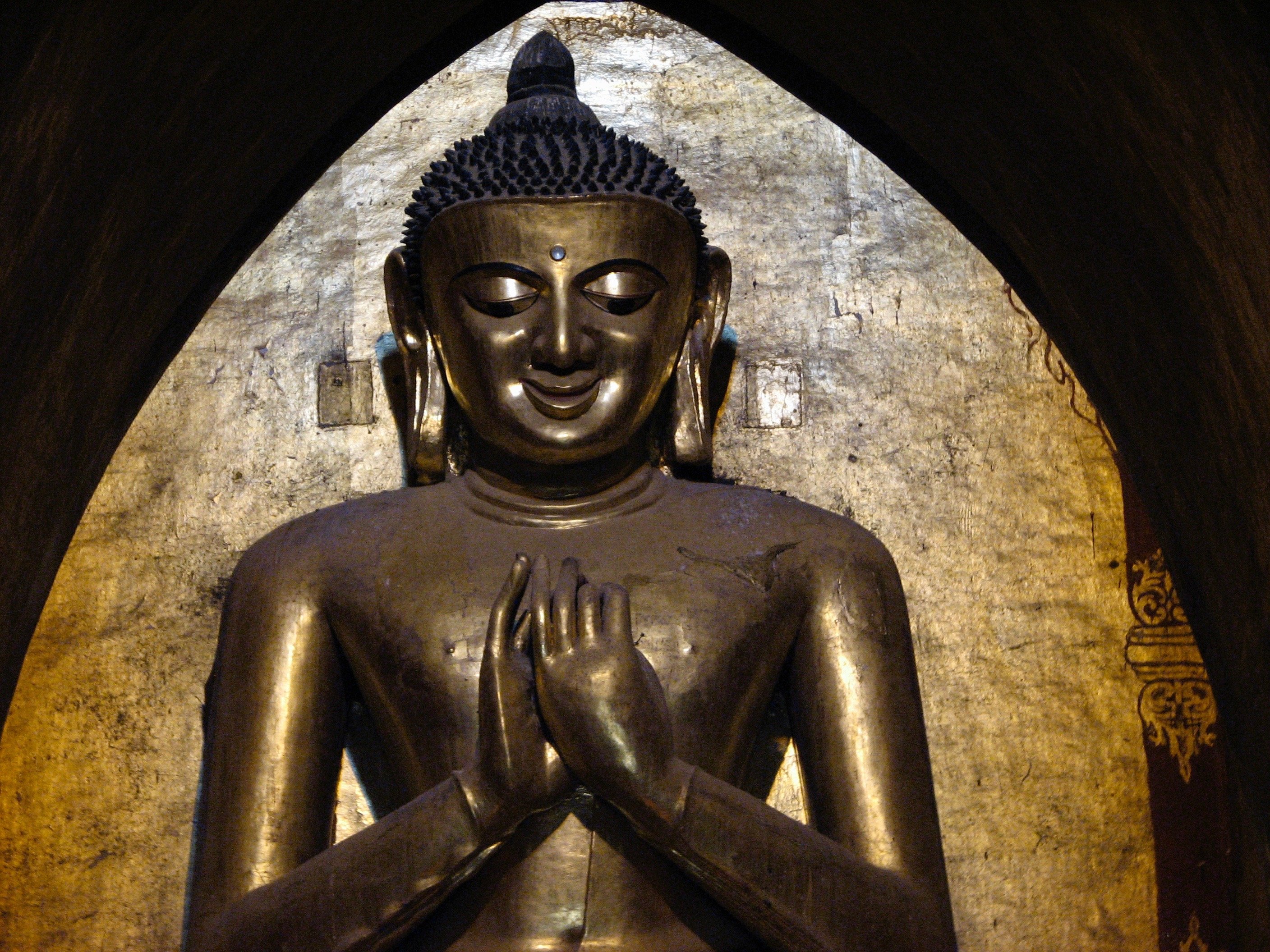 Kassapa Buddha in Ananda Temple, Bagan. Photo by Laura Hagler
Both modern and ancient society are intrinsically linked to the Buddhist temples of Myanmar. They add beauty to the landscapes and are an essential component of the local culture. Temples are unavoidable during your travels, be it in the middle of Inle Lake, or a bustling city center, and trust us, you wouldn't want to miss them!
Are you ready to see these marvels firsthand? Our Myanmar Travel Specialists are here to help you explore ancient wonders, modern practices, and participate in unforgettable cultural experiences on a fully customized journey.