This Blog was written by one of our Africa travel specialists, Valentina Michaels, who in addition to many previous Africa experiences, visited Tanzania earlier this year during green season. You can learn more about Val and the rest of our team here.
I have been working in the adventure travel and ecotourism industry for about 26 years now, specifically focused on Latin America for the first half of my career. About 10 years ago, I expanded my "travel world" and began an intense and ongoing love affair with Africa. Throughout that time, I have spent countless days on safari, exploring countries such as Zambia, Zimbabwe, Botswana and South Africa – typically traveling during the peak dry season (June thru September, though May is equally rewarding). This is the most popular time to go on an African safari tour as the animals congregate in larger numbers due to fewer water sources, and the bush is thinned out and dry so the wildlife is easier to spot. It is also the time of higher prices and bigger crowds; not always the most appealing combination!
Many people mistakenly think there is a good time or a bad time of year to plan a trip to Africa to visit the bush and experience the landscape and culture. Not so! Each season – each month – offers surprises and unique opportunities depending on your priorities and interests. I always tell my clients that it all depends on good guides, your priorities, and having realistic expectations about what you will see and experience. What is important to you? Quantity of wildlife? Range of experience? Photographic opportunities? Level of accommodation? Budget?
Without a doubt, experiencing an African safari is an investment representing an adventure of a lifetime. It doesn't have to be a privilege reserved for a select few if you plan properly! This brings me to traveling during the "emerald" season. It wasn't until this past January that I had the unique opportunity to take a Tanzania Tour during the emerald season, when the bush turns from a dusty brown to emerald green and everything springs to life…and WOW.
During the summer months in Africa (our winter time here in the US), the rains fall hard and the landscape dramatically changes…giving birth to what we refer to as the emerald season. The emerald season typically lasts from November through April or May in Southern Africa and from March to May in East Africa.
Green Season Benefits at a Glance
The bush is emerald green, incredibly thick and lush
Air quality and natural light improve (less dust!)
Incredible photographic opportunities
Wildflowers blooming everywhere
Perfect conditions for vivid photography
With more water sources, wildlife is rejuvenated and babies are being born
More opportunities for water-based safari experiences
Significantly fewer crowds (or none at all)
Quieter camps = more exclusivity
Days are longer
Special rates and booking incentives = affordable prices
Single supplements are often waived during this time
Excellent time for birding
Airfares tend to be lower
Of course there are some downsides: muddier "roads", more bugs, afternoon rains, but if you are an intrepid traveler, it only adds to the adventure! I have spoken to clients for years about the differences in traveling in the different seasons in Southern Africa, but I still wasn't prepared for what awaited me in person this year – and traveling with a companion who was a first time safari goer made it all the more special!
We landed in Kilimanjaro, Tanzania, after close to 20 hours of traveling from the US. During the drive from the airport to our lodging in Arusha, I was immediately struck by how "tropical" everything looked! I've lived and worked on the outskirts of the rainforest in Central America but I wasn't expecting that same feeling upon exiting the bustling city and beginning our first venture off the beaten path. So green and lush! Not even 24 hours on the African continent and already my experience was vastly different from every other time I had visited previously.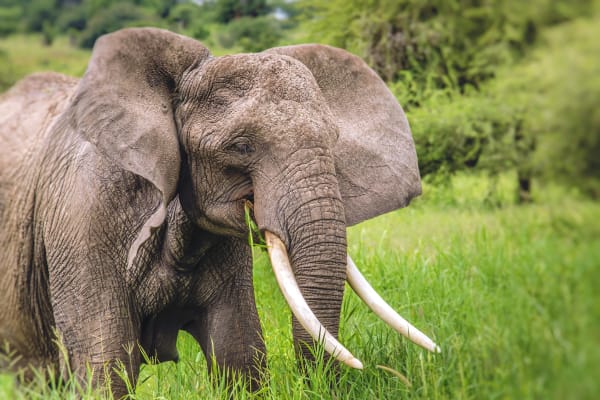 Elephant in Tarangire National Park
The next morning we headed to Tarangire National Park. The distances feel longer during the emerald season, oftentimes because the tracks are muddy and detours are inevitable. The grasses grow so tall thanks to the heavy rains that they were almost as tall as me in some places. It can feel like you are driving for hours, simply marveling at the sheer beauty of the landscape, when all of a sudden you look up and there is a family of elephants grazing the acacia trees just to your right! It's like a wonderful gift and that is something that really struck me during this trip. Many other times on safari, the wildlife was prolific, herds and large gatherings almost everywhere you looked. But now in the lush bush surrounding you, you had to search longer and look harder…and so when you did find the animals – whether it be a frisky family of warthogs, elephants, zebra, wildebeest, lions, cheetah, impala, waterbuck (the list goes on and on) – it was such a reward! My traveling companion was simply awed by seeing one elephant, he didn't need to see 100. The 3 lions napping on top of a large rock in the Serengeti felt like a scene straight out of The Lion King. We didn't need to see lions at every turn. Every single sighting was unique and worked for, and therefore incredibly appreciated. And don't even get me started about the exclusivity!
We began our adventure in Tarangire. From there it was off to Lake Manyara, the Ngorongoro Highlands, Ngorongoro Crater, various parts of the Serengeti. Traveling in the low season, we had each camp where we stayed virtually to ourselves! We always strive to get you away from the crowds and off the beaten path – but in high season those small camps will still be full of adventurous travelers. In the emerald season, you may pay half the price for twice the exclusivity. It's a win win!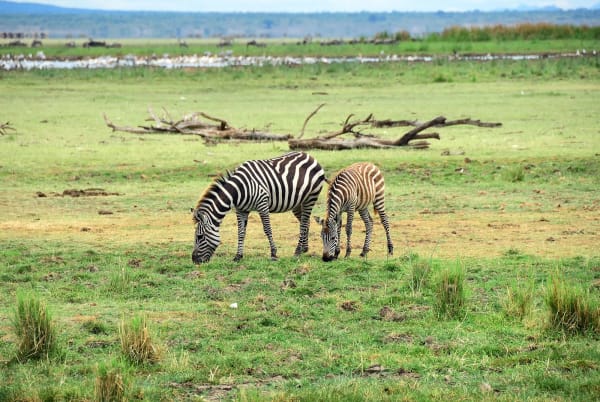 Wildlife Grazing Near Lake Manyara
For those adventure seekers and photo enthusiasts who have longed to experience a true African safari, get off the beaten path, be with the best guides in stunning camps in incredible locales, but are afraid you will never be able to afford it – come in the emerald season! It is an experience not to be missed!