The myriad of cultural opportunities, history, and effervescence of Japan's cities, while alluring, are just a portion of what is available to travelers. Journey beyond the frenetic metropolises and experience the spirituality and wonder of Japan's stunning rural regions. Japan hiking possibilities range from beginner/moderate to advanced/strenuous and we can easily include them in our custom Japan tours.
Japan sits along the Pacific Ring of Fire and is 73% mountainous. Mt. Fuji, the highest and most famous, tops out at 3,776m (12,388ft), but there are many lesser known hikes awaiting the intrepid!
The hiking season varies from island to island, but is best during the summer months to avoid inclement weather conditions at colder or stormier times of year. The central and north of the country offer true Alpine hiking, while the climate in Kyushu is subtropical with more rainfall.
Daytrippers may wish to visit Mt. Takao Tokyo being just an easy 40 minute train ride away. A few Kyoto hiking options include a three hour walk up Fushimi Inari Taisha's Mt. Inari or a day trip to nearby Yoshino to view its famed cherry blossoms.

Hakone hiking is plentiful as Fuji Hakone Izu National Park is a more mountainous area. One of the regions most popular treks, Mount Kintoki, also known as Mount Ashigara, offers a 1.5-2 hour detour from the typical tourist route.
Below, we have highlighted one hike for each of the main islands that are beyond the typical tourist route, for those looking to add some breathtaking natural beauty to their Japan tours!
Hokkaido - Asahidake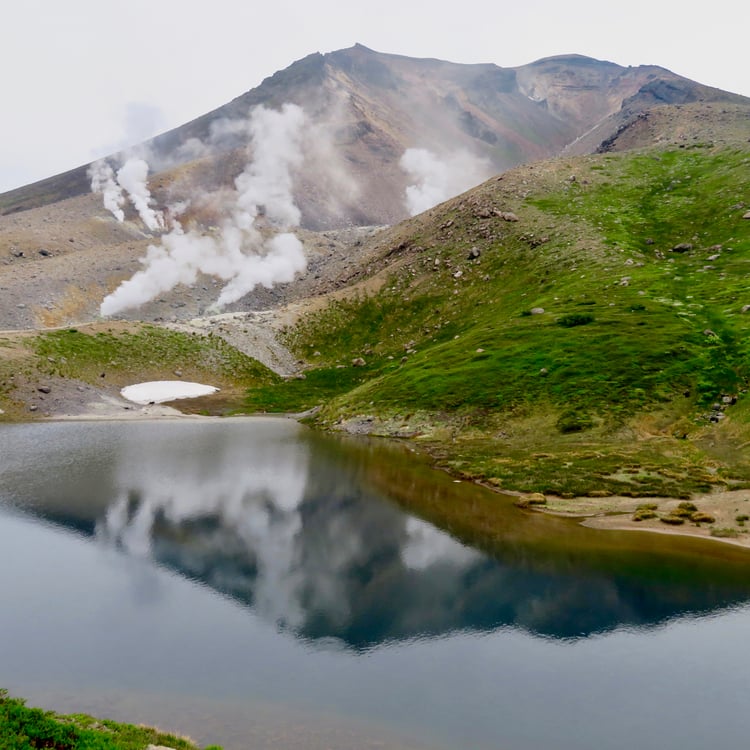 Asahidake's fumaroles. Photo by Laura Hagler
Daisetsuzan National Park lies approximately 190km (120 miles) northeast of Sapporo and is home to Hokkaido's tallest mountain. Mount Asahi, known locally as Asahidake (旭岳) is an active stratovolcano complete with steaming fumaroles and supplies the naturally heated waters of Asahidake Onsen.
Most begin the trek from Sugatami Station accessed via Asahidake Ropeway. The approach to the 2290m (7,515 ft) peak begins through an alpine meadow surrounding Sugatami Pond. Asahidaira promenade is available for those more interested in alpine plants, wild flowers, and sweeping views of the Daisetsu Mountain Range. Keep your ears sharp to catch the native pika calling.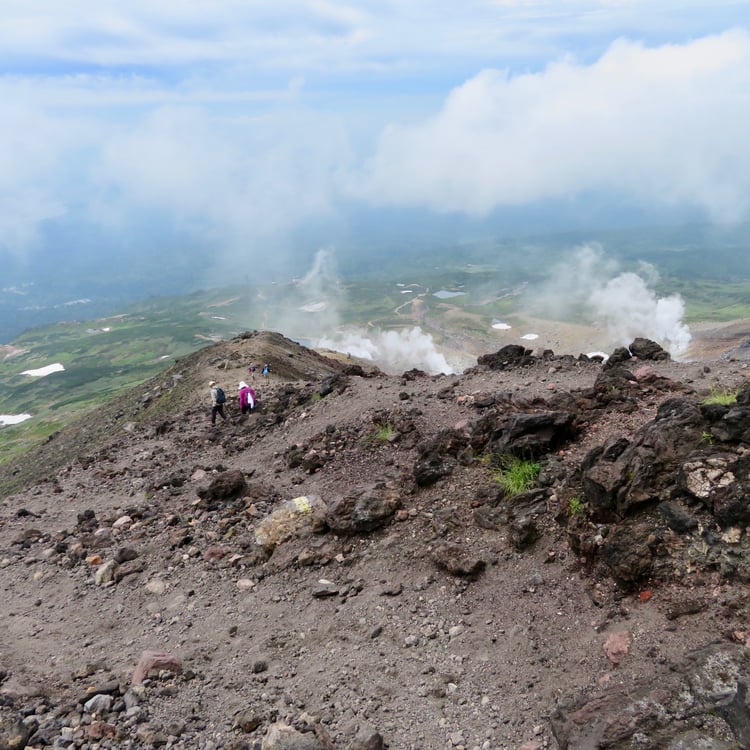 View from the spine of Asahidake. Photo by Laura Hagler
If heading to the peak, take the trail on the right for the most direct route along the spine of the volcano. The return/round-trip hike from Sugatami Station is about 6km (3.72 mi) and averages around 2-3 hours. You'll want to take your time once you pass the meadow as the path becomes steep and exposed and with shifting rock along portions of the trail. A walking stick is highly recommended and easily purchased at the ropeway station. Even in the height of summer, elevation and winds can make for a chilly hike, so be sure to wear layers, sunscreen, and a windproof jacket.
Honushu - Tateyama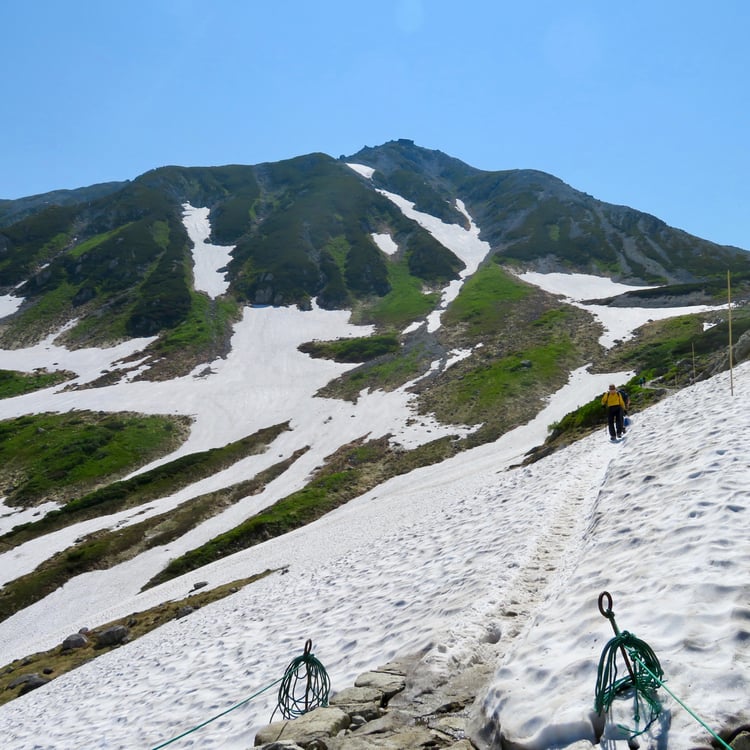 Across a snowy segment of the Tateyama hiking trail. Photo by Laura Hagler
One of Japan's Sanreizan (Three Holy Mountains), Mount Tate, known locally as Tateyama (立山) lies along the popular Tateyama Kurobe Alpine Route in the heart of the Northern Alps. It is the tallest mountain in Toyama Prefecture at 3,015m (9,892 ft).
The trail to the summit begins at Murodo Plateau, which draws visitors to admire seasonal flora, soak in Mikurigaike Onsen, the country's highest altitude hot spring, and see the desolate otherworldly landscape of nearby Jigokudani (Devil's Valley geothermal area). Be on the lookout for native raicho (rock ptarmigan) whose name translates to "thunder bird" in Japanese for their distinctive song.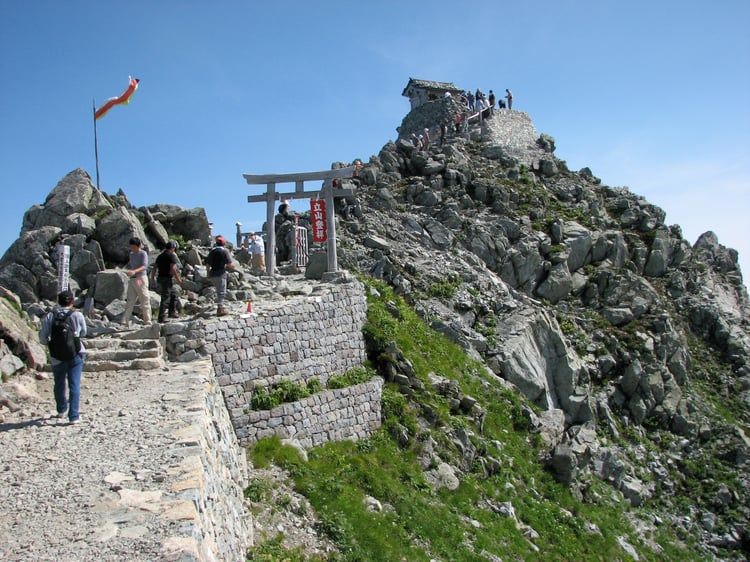 Oyama Shrine atop Tateyama. Photo by Laura Hagler
From Murodo, follow the signs to the main Tateyama trail, which starts at a gentle incline past a few year round snow patches, before changing to steep switchbacks till you reach Ichinokoshi ridgeline hut. Be sure to visit Oyama Shrine at the top to participate in a blessing and sip of holy sake. The return hike is 5.6km (3.5 mi) and takes approximately 3-5 hours depending on experience level.
Shikoku - Ishizuchi -san
View of Ishizuchi-san from lower on the ridge. Photo by Laura Hagler.
Mount Ishizuchi, or Ishizuchi-san (石鎚山, Stone Hammer Mountain) in Ehime Prefecture, is the tallest mountain on the island of Shikoku at 1982m (6,503 feet). It is one of Japan's nana reizan (seven sacred peaks) and is a challenging hike through dense forests which opens to a rising rocky trail.
Ishizuchi Tōzan Ropeway takes visitors to the Joju Shrine area. The main trailhead is located through the wooden torii (traditional gateway to shrines) just beyond the shrine. A roundtrip from Joju Shrine takes around 5 hours and consists of wooden stairs, forest trails, and gorgeous views as you ascend. There are several sets of large iron chains along the route for a vertical challenge, but hikers may opt to bypass these if preferred. Local ascetics regularly train on Ishizuchi-san and often offer assistance to hikers along the route who may not be familiar with navigating chains.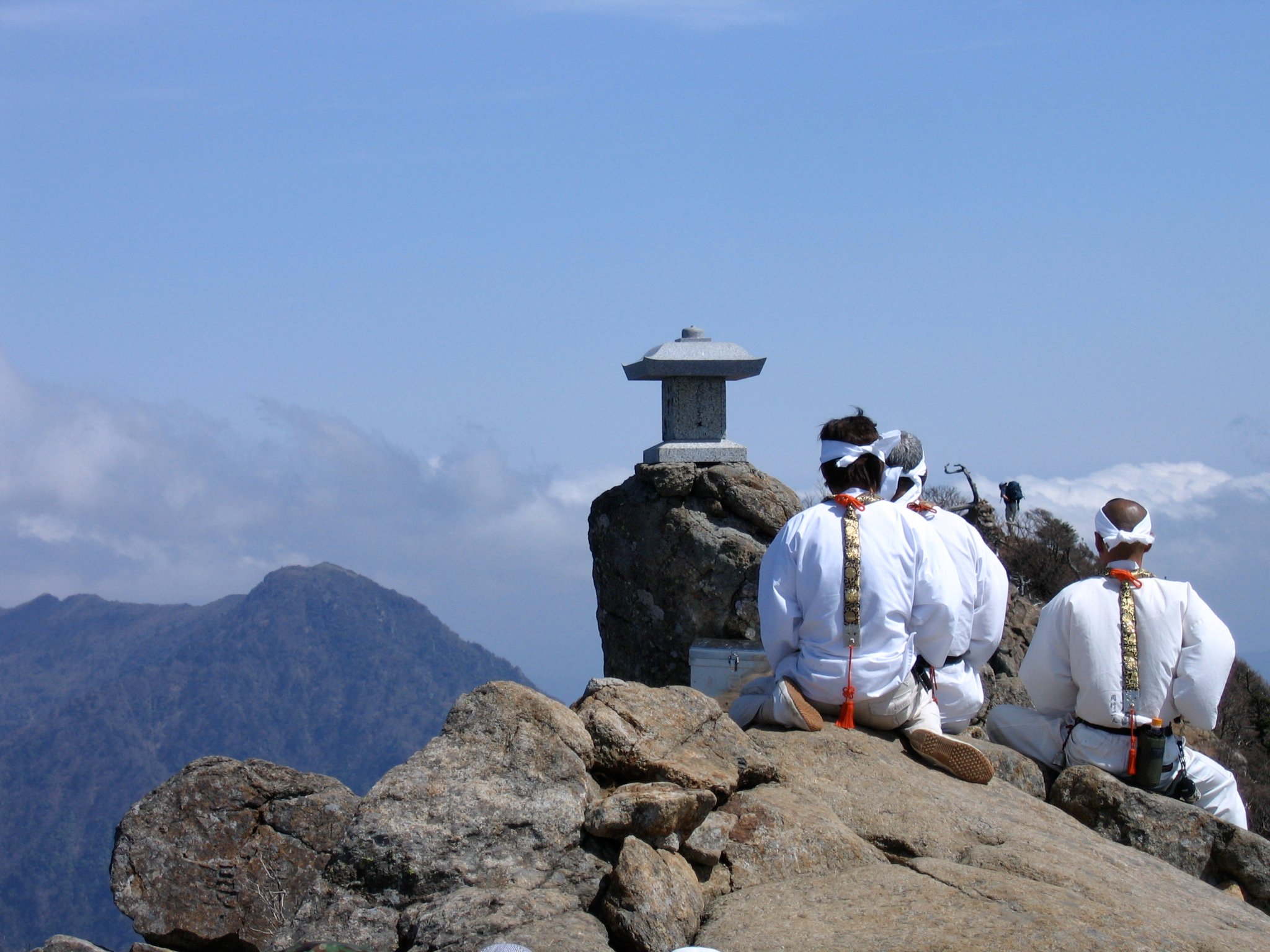 Ascetics praying at Tengudake. Photo by Laura Hagler

Once you peak, you have the option to continue along a narrow ridge to the true summit, Tengudake (named after Tengu a long-nosed yokai/ogre). It is the perfect place to pause and contemplate the spiritual importance of this place as you gaze at Shikoku below.
Kyushu - Yakushima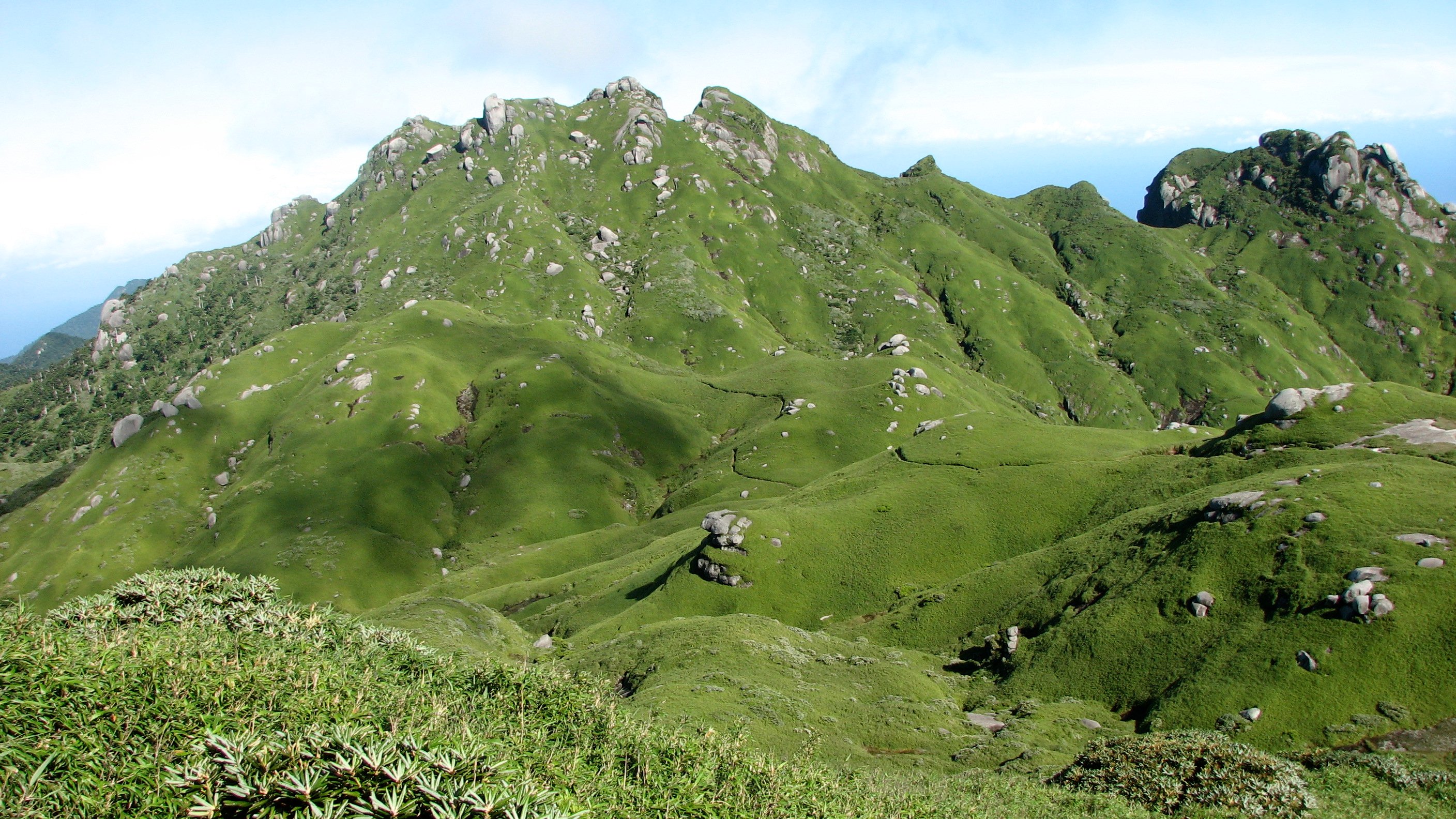 Approach to Miyanouradake on day 2 of inland hike. Photo by Joshua Hagler
Mt. Miyanoura, or Miyanouradake (宮之浦岳), at 1935m (6348 ft) is the highest point in Kyushu, located in the center of UNESCO World Heritage Island, Yakushima. Bagging this peak requires a commitment of two to three days and therefore is not accessible to most travelers, but is well worth considering for those adventurous souls with more time on their hands.
Yakushima offers excellent shorter hikes for visitors sticking primarily to the coastal regions or preferring a ryokan stay to camping overnight in the mountains. Yakusugi Land has well-maintained paths, bridges, and easier access to some impressive natural sights including boulder strewn rivers and massive trees.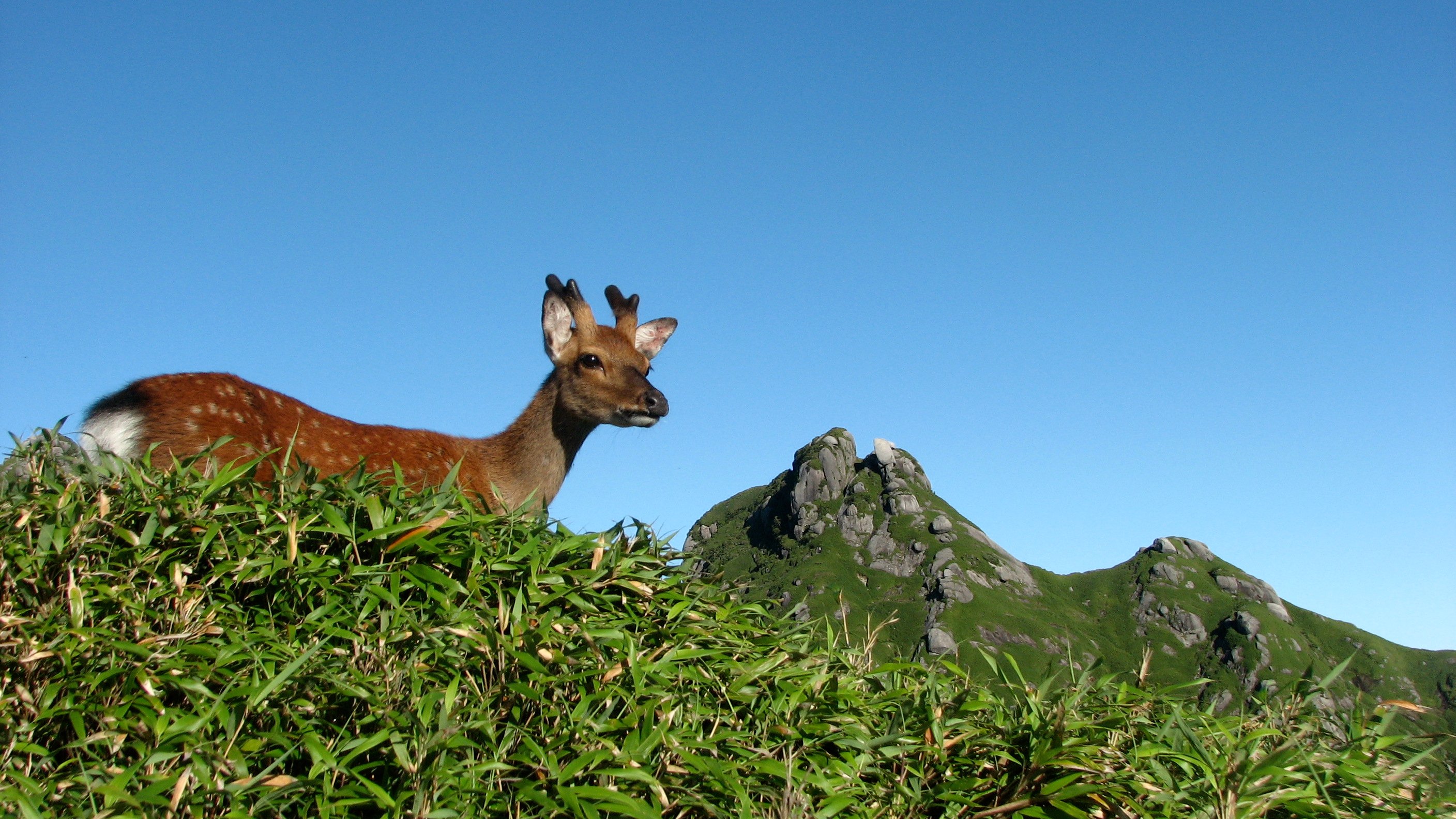 Yakushika deer alongside trail on Yakushima. Photo by Joshua Hagler
The island is famed for its ancient sugi (cedar trees), the most imposing of which, Jomonsugi (named after the Jomon Period), is estimated to be between 2000 to 7200 years old. Arakawa Trail will take you to Jomonsugi in an approximate 9-10 hour round trip hike. The path has various segments including a defunct lumber railcar track, wooden steps, and massive tree roots. The hike can be a bit grueling at times, but the reward of being enveloped in the ancient forest is well worth the effort. You may even meet a few of the local deer and macque who harbor little fear of humans.
A pair of trail runners, some basic gear, and an adventurous spirit are all you need to escape to the mountains. Gain a deeper insight into Japan by conversing and interacting with friendly locals, admiring the remarkable diversity of landscapes, and experiencing the history and spirituality that are so much a part of these revered places.