This May, Global Basecamps will launch our first ever Global Basecamp's led Group Tour to the Japanese island of Kyushu. Our Senior Japan Travel Specialists, Laura Hagler, will lead travelers on off-the-beaten path excursions and help them delve deeper into often overlooked aspects of Japanese daily life and history. In addition to staying at two stunning hotels, travelers will also lodge at a variety of traditional Japanese housing accommodations throughout this unique 7-day tour.
Traditional accommodations provide an excellent opportunity to immerse yourself in the local culture and enjoy some of the finest seasonal cuisine. Read on below to learn more about what travelers can experience from an authentic stay in Japan.
Three Styles of Japanese Accommodation
There are three main styles of traditional accommodations available to travelers in Japan.
Machiya
Predominantly found in Kyoto, Machiya are traditional townhouses that have been updated and converted for travelers to use when staying in the city. They are normally comprised of two floors with one main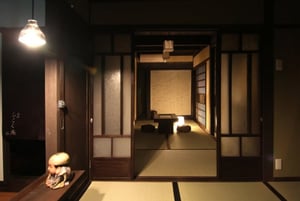 bedroom and a smaller tatami (woven straw mat) room, which functions as a sleeping space with a futon (thin mattress) and duvet; great for additional guests. Japanese style and beauty in simplicity are the norm for furnishings and decor. This option is great for travelers who truly want to immerse themselves in Japanese daily life. You'll have access to laundry facilities, be able to enjoy breakfast at Kyoto's myriad of cafes, or perhaps visit a local grocery store and prepare your own simple morning meals. Ultimately you'll really get to feel like a part of a local neighborhood.
Minshuku
Similar to a family-run bed and breakfast, Minshuku are often located in the countryside and include a simple room with shared restroom and bathing facilities. Meals are typically eaten in a designated dining room and tend to highlight local produce and seasonal delicacies. You may find such unique ingredients as mountain vegetables, fresh caught ayu (sweet river fish), or even bear in more remote regions. Minshuku are a wonderful way to interact with local families and learn about the lifestyles of people in more rural areas of Japan.
Ryokan
The most commonly included traditional accommodation you will come across during your time in Japan is the ryokan. Ryokan are Japanese inns often found in scenic rural areas. The natural setting of many ryokan adds to the ambiance and enhances the peaceful atmosphere. During our upcoming Global Basecamps Tour of Kyushu, travelers will get to stay in a selection of local Ryokan. Of course the best way to learn about this traditional accommodation is by staying in one yourself. However, read on for a sneak peek into their history and what they have to offer travelers.
Ryokan: History and Architecture
The centuries old history of ryokan dates back to the Edo Era. These inns developed organically as travelers walking along the Tokaido and other highways were in need of places to stay. Nearby villagers would provide a warm place to sleep, simple meals, along with a high level of service and comfort which remain hallmarks of ryokan to this day.
One of the most distinguishing features of these traditional inns is their architecture, which is closely tied to their history. Many ryokan are family run and passed down through generations. Hoshi ryokan, said to be the oldest, is around 1300 years old and has been passed down and managed by the Hoshi Family for forty-six generations.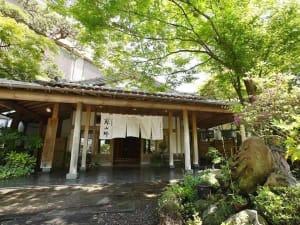 Great care is taken to maintain each inn's original charm by consistently using natural materials to refurbish and breathe new life into these old buildings. Japanese construction techniques are seen throughout including tatami mat flooring, shoji (latticed wood and washi paper room dividers and window coverings) and fusuma (sliding doors), and traditional bucket seat washrooms where you cleanse before soaking in the onsen (hot spring bath). Countryside ryokan utilize natural elements to blend into their surroundings and create a space for quiet reflection. Ryokan are often situated in locations where travelers will have views of a river, forest, mountain, or ocean to heighten their overall experience.
Ryokan: Rooms
The building's entrance is through a genkan, where you remove your shoes and may be provided with slippers to wear in common areas. These are to be removed before walking on any tatami, where only socks or bare feet are appropriate.
Rooms are available in several sizes to accommodate couples as well as larger families. Ryokan offer both washitsu (Japanese style) and Western style rooms, or a combination of the two. Washitsu usually include low wooden tables, zabuton (seat cushions), minimal furnishings, and beautiful unassuming design. Futon are laid out in the evenings and the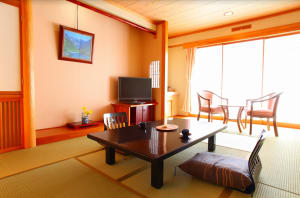 combination of futon on top of tatami make for a comfortable sleep. Some ryokan offer raised beds, sunken tables, and other amenities for those who are unable to use the more traditional bedding and furniture.
If the rustic charm of a historic inn is not what you're looking for, inns offering contemporary style blended with the ryokan concept have more recently come into vogue. Found in scenic locations throughout the country like the Inland Sea's Sekitei and Hokkaido's Zaborin, these ryokan offer top of the line amenities and service, but with a more modernist architectural setting.
Ryokan: Baths
Onsen are not available at all ryokan, but if you are visiting a mountainous region, there will very likely be baths to enjoy. Areas with larger natural springs or those with unique attributes are home to entire "onsen towns" with local culture to match. Visitors can be seen strolling along the streets in yukata (cotton robes) and geta (wooden slip-on footwear). Kinosaki in Hyogo and Kurokawa Onsen in Kumamoto are two highly favored spots.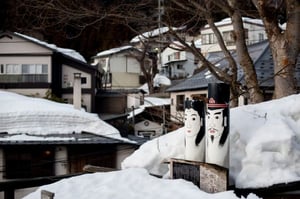 Onsen are abundant throughout Japan due to the country's high level of geothermal activity. Soaking is a favorite pastime of many for easing weariness, relieving ailments, and overall relaxation. Ryokan may have public gender segregated bathing options, kashikiri (baths able to be privately reserved for a set time and fee), or even private baths in your room or on your balcony or porch.
You can read more about the benefits of onsen here.
Ryokan: Meals
Dinner and breakfast are included as part of most ryokan stays and are served either in private rooms or in a communal dining area. Breakfast is typically a variation of the basics including miso soup, rice, and a protein. Side dishes like tsukemono (pickled vegetables), natto (fermented soy beans), eggs, tofu, and fruit are sometimes available as well.
The type of evening meal can vary based on location, but the majority of ryokan include intricately prepared kaiseki-ryori (Japanese multi-course haute cuisine). Guests may be served individual courses one by one or an entire elaborate spread at once. Kaiseki is focused on the freshest seasonal foods and local specialties. Each course is artistically presented and displays a fine balance of flavor, texture, and color.
*Dietary restrictions can be accommodated at some ryokan, but need to be arranged in advance.
Ryokan: Your Stay
We recommend a ryokan stay at some point during your Japan trip as this experience cannot be replicated elsewhere. You can learn more about our upcoming Global Basecamps Japan Tour to Kyushu here or reach out directly to your guide and Japan Travel Expert Laura Hagler.
This exclusive tour has one group departure date: May 16- May 22, 2020 with limited spaces available so don't hesitate to book! Optional extensions can be arranged before and after your trip if you'd like to visit other destinations in Japan.