Stunning natural beauty, world-class dining, spiritual temples, friendly local culture, tropical beaches, outdoor adventures, and top-notch service, all at extraordinary value. These are just a few of the key reasons why Bali is one of our most popular honeymoon destinations. Whether you are planning that special occasion, or perhaps a wedding anniversary, or just a romantic getaway, Bali offers couples a multitude of options. We can help you sort through those choices and design a custom itinerary for your Indonesia Tour that captures your unique interests, expectations, and budget.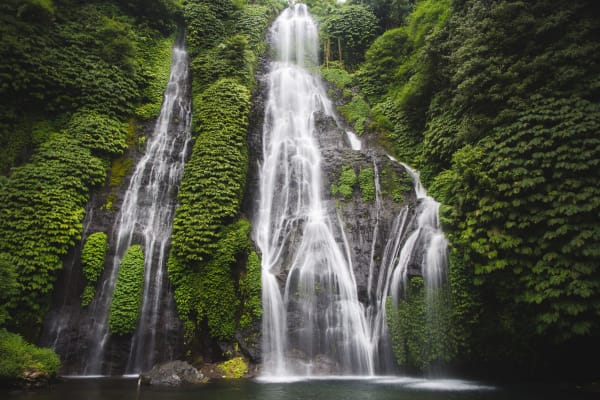 Banyumala Waterfall in Munduk, Bali
Best Time to Go
Bali is a year-round destination, but there are some seasonal variations to consider. The dry season falls between April and October. This is the best time to visit, especially if you want to do a lot of hiking or snorkeling. However, the wet season (between Nov and March) in Bali comes in the form of brief tropical downpours that tend to last for a couple of hours and needn't spoil your trip. Temperatures remain warm year-round (78F-85F), although mountain regions, such as Mt Batur, experience cooler temperatures and more rainfall than the coastal regions, making hiking conditions more muddy. Seas can be rough during the wet season, making boat travel more choppy and snorkel or scuba trips less than ideal. July and August peak season, when visitor numbers are high and popular temples and beaches (and roads!) get very crowded, so we recommend the months of May, June, and September for the most ideal conditions.
Where to Stay?
Depending on how much time you have, we usually recommend combining at least one beach location with some time in Ubud, the spiritual heart of Bali surrounded by jungle. Those with more than a week to travel might like to visit 2 different beach locations plus Ubud. Or, you may want to add in a more off-the-beaten-path element such as a mountain village stop or hop over to other islands like Lombok or Flores. We can help you choose the locations that best match your goals and personality, but below is a general rundown on the main areas often found on a Bali honeymoon itinerary.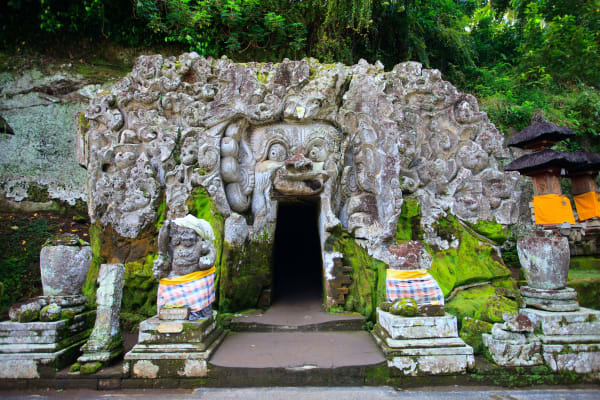 Goa Gajah Temple in Ubud Bali
CENTRAL BALI
Ubud
A short drive inland from the island's southern beaches, Ubud is the cultural and artistic heart of Bali. Surrounded by lush forest and rice paddies, Ubud makes a great base for outdoor activities such as hiking volcanoes, white-water rafting or cycling through local villages. Ubud can also be great for relaxation, with excellent massage and yoga options in a region known for spas and infinity pools over the jungle. Couples can also visit local artisans and explore the thriving art shops and craft markets. The town also boasts several interesting galleries and museums, nearby temples, and dozens of great restaurants. We can arrange a special cooking class in a local Balinese home or a batik class at the Arma Museum. Explore the Sacred Monkey Forest or meet with a traditional shaman for a special Balinese blessing ceremony, or just relax in your private pool villa at one of the many romantic resorts in Ubud. Some of our favorites include Uma by Como, The Kayon Resort, The Purist Villas, Kayumanis Ubud, The Hanging Gardens, and Bambu Indah.
Munduk
For those who want to venture into the mountains of Bali and get off the beaten-path, Munduk village is a great option. Munduk is surrounded by tropical rainforest and local flora, fruit, and coffee farms. We can arrange guided hikes to waterfalls and local villages to experience traditional ways of life and farming. This region also has a number of scenic temples, including Pura Ulun Danu floating on the shores of Lake Bratan. Two of the best places to stay for couples include Munduk Moding Plantation and Sanak Retreat.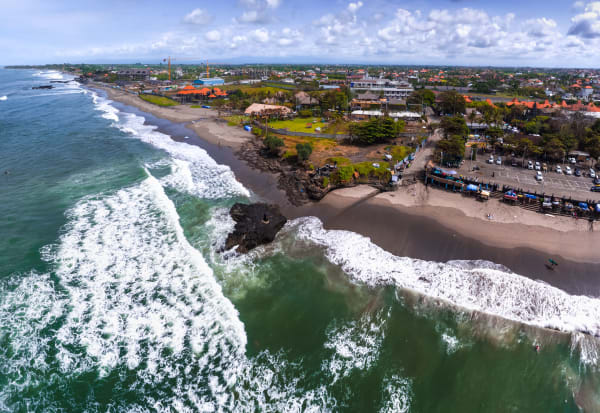 Aerial Shot of Canggu Beach
SOUTHERN BALI
This is the crowded side of Bali, but couples looking for good beaches and easy access to shopping, restaurants, and nightlife might want to spend a bit of time down here. There are some quieter beach options which we've outlined below. This region has some famous temples like Uluwatu and Tanah Lot and we can arrange surfing and paddle board lessons or boat trips to snorkel nearby islands. Foodies might be interested in our Flavors of Indonesia night market tour or a special dinner we can arrange in the home of a member of the Balinese Royal family.
Seminyak
This is the upscale beach town choice, with 5 star luxury resorts right along the beach and smaller, cheaper options just inland. This is where to stay if you want to be walking distance to shops, bars, and restaurants. Honeymoon hotel picks here include The Samaya, The Elysian Villas, The Amala, and Uma Sapna.
Jimbaran
This region is just south of Seminyak and a quieter beach locale, with just a handful of hotels and seafood restaurants along the beach in a protected cove. Our hotel picks here include Belmond Puri Bali and Kayumanis Jimbaran.
Canggu
A more peaceful beach area just north of Seminyak, Canggu is home to many of Bali's expat community, which contributes to its laid back vibe. Lush rice fields extend down to the beach and surf hostels, yoga studios, and coffee shops abound. Honeymoon resort options here include Hotel Tugu and the Ametis Villas.
Tabanan
Even further north on the west coast of Bali, Tabanan is far from the tourist crowds and traffic. This region boasts the famous Tanah Lot temple, built on a large offshore rock that juts into the ocean and is an iconic spot for sunset photos. Our honeymoon pick here is the fabulous Soori Bali, which blends luxury with environmental and cultural sustainability.
Nusa Dua
Located on the southeast coast Nusa Dua is more developed; full of all-inclusive resorts, some shopping malls, and even a golf course. However, it does boast some of the best white sandy beaches (also good for swimming) in all of Bali and is close to the pier where boats head over to Nusa Lembongan and Nusa Penida for some great snorkeling. For honeymooners or couples, we prefer the smaller, all villa boutique hotels like Amarterra Villas or Kayumanis Nusa Dua, though the St Regis has a great location right on the beach for those wanting a larger resort feel.
Sanur
Just north of Nusa Dua and Sanur has an authentic fishing village feel, with local shops and restaurants and wooden boats lining the beach. The beach is not as pretty as Nusa Dua, but still good for swimming compared to the surf beaches of Bali on the West coast. Romantic hotel choices here include the traditional Tandjung Sari or the more upscale Pavilions.
For those who want more seclusion and those cliff top views over the ocean, we have two favorite honeymoon resorts in southern Bali down in the Bukit Peninsula. One is Alila Villas Uluwatu, where 84 pool villas dot the limestone cliffs and offer sweeping ocean views. The other is Karma Kandara, in Ungasan, another stunning cliff-top resort with direct access to a beach below. And a new player on the block is the eco-chic Six Senses Uluwatu, one of our favorite sustainable luxury brands.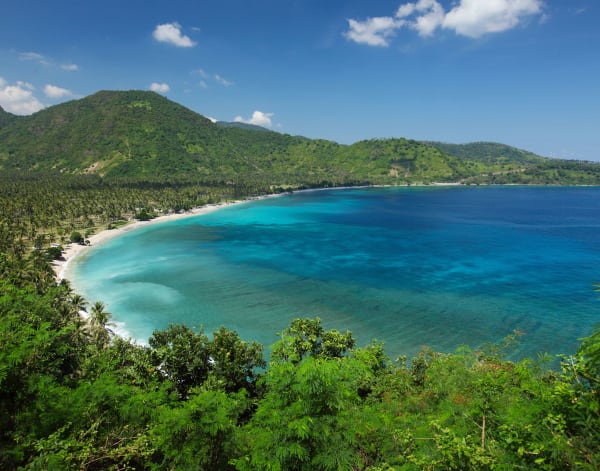 Lombok Beach

BEYOND BALI
Although Bali is one of the most romantic places on the planet and offers honeymooners plenty to occupy themselves over a 1-2 week trip, it can feel crowded during peak season and sees close to 3 million visitors per year. There are less crowded areas in northern Bali (Lovina, Manggis, Pemuteran, Amed) but for couples looking for pristine white sand beaches, wildlife, or better marine life, we recommend adding on a stop in one of the outer islands of Indonesia.
Lombok
A 45-minute flight from Bali, this Indonesian region is far less developed and features a natural landscape of unspoilt beaches with a backdrop of volcanoes. The daily pace here is slow, ideal for total relaxation and finding your own tempo. When a little action is necessary, there are Sasak tribal villages to explore by bike, treks up the rainforests slopes of Mount Rinjani, or snorkel boat trips over to the nearby coral reefs of the Gili islands. Honeymoon hotel picks here include the Tugu Lombok and the Qunci Villas.
Flores
A 1-hour flight from Bali, Flores is the gateway to see the famous Komodo Dragons in Komodo National Park. The park covers 3 islands (Komodo, Rinca, Padar) and the west coast of Flores island so the best way to visit the dragons is by boat. The park offers some of the best snorkelling in all of Indonesia -- crystal clear water filled with sharks, manta rays, and turtles, in addition to the usual tropical fish. Our favorite way for honeymooners to explore this region is on the Alexa, an exclusive single-cabin phinsi schooner designed for just two guests offering total privacy and flexibility.
For more on Indonesian's other islands see our Beyond Bali blog post or explore some of our sample Indonesia tour itineraries.
Bali is everything you could ask for when it comes to an exotic, romantic honeymoon. We can design Bali honeymoon packages for a range of budgets, so quit dreaming and contact one of our specialists today!