Endless wildlife covers Zimbabwe from border to border, and the variety of landscapes from park to park ensure an equally diverse set of game, big and small. The variety of landscapes, whether it be in national parks, private reserves, or small cities and towns, allows for a variety of experiences, from kayaking on rivers, to following a quiet elephant on a bush walk, to soaring through the skies in small aircraft. Adventure and luxury camps combine with some of the best wildlife guides on the continent, to create an unforgettable Zimbabwe Safari Tour.
Going on safari in Zimbabwe is social distancing at its best. When putting together a customized Zimbabwe safari adventure for you, we strive to get you off the beaten path with the best guides on private reserves and away from the crowds. Zimbabwe ticks all the boxes. Each area you can visit in Zimbabwe is so diverse in landscape, wildlife, history and culture that you can combine a multitude of experiences in one carefully planned adventure!
When are you looking to travel? Many people mistakenly think there is a good time or a bad time of year to visit the bush. Not so! Each season – each month – offers surprises and unique opportunities depending on your priorities and interests. It all depends on good guides, your priorities, and having realistic expectations about what you will see and experience. Expect less, be surprised by more. What is important to you: Quantity of wildlife? Quality of experience? Photographic opportunities? Being highly active? Answering those questions will help narrow down which areas in Zimbabwe will be best for you! Here are a few tips for the best areas to visit on your Zimbabwe vacation.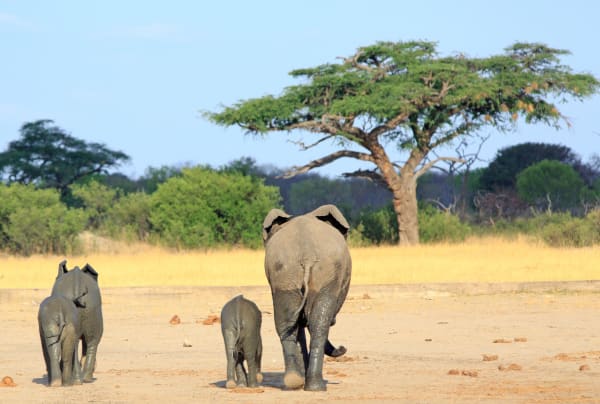 Elephants in Hwange National Park in Zimbabwe
Hwange National Park
Hwange National Park is the largest park in Zimbabwe, spreading over roughly 14,650 kms. It is located in the northwest part of Zimbabwe, a short one hour drive south of Victoria Falls into the park's main entrance at Hwange Main Gate. Once the royal hunting ground of Ndebele warrior king Mzilikazi early in the 19th century, Hwange is now home to an incredible array of wildlife and should be on every safari-dreamer's bucket list. Roaming the park's woodlands and savannahs are 100 species of mammals, including the Big 5.
With over 50,000 resident elephants, the elephant herds of Hwange are world famous and their population is one of the largest in the world…making the regularly spotted predators such as cheetah, leopard and lion quite happy, as well as one of Africa's largest populations of wild dog. Birdwatching enthusiasts will revel in the 500 species of birds recorded here. With many man-made waterholes scattered throughout the park, visitors during the dry months of July thru October will be rewarded with incredible sightings of large herds. Easily accessible yet lacking in crowds, Hwange offers a range of safari lodges and camps that can accommodate a range of budgets. Transfers within the park can be via land, light air transfer or even rail (such fun!) and are perfect opportunities for game spotting! Most camps offer a variety of additional activities, depending on location, such as pump drives, accompanying an anti-poaching unit, visiting a local village and school, and learning about all the community conservation efforts taking place.
Your entire Zimbabwe Safari Tour can be spent in Hwange – exploring different and quite diverse areas of the park, socially distancing and enjoying the phenomenal wildlife. Additionally, when visiting Imvelo camps for example, your stay helps support a range of conservation and community based projects!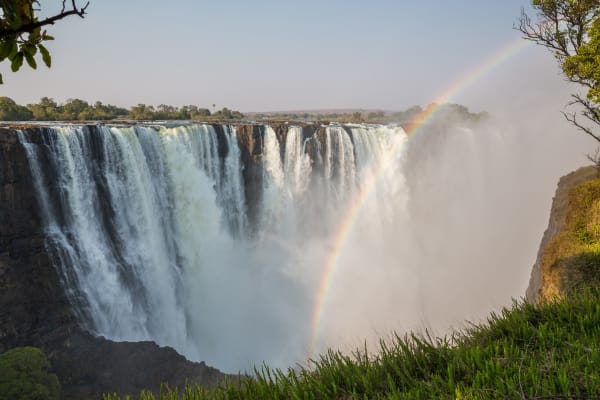 Victoria Falls Landscape
Zambezi River, Victoria Falls & Zambezi National Park
The Zambezi River forms a breathtaking natural boundary between Zimbabwe and Zambia and is, of course, most famous for the majestic Victoria Falls. The Zambezi is Africa's 4th largest river, winding it's way from Angola through Zambia to Victoria Falls, where it then travels east to form the border between Zimbabwe and Zambia. A bit upstream from Victoria Falls, stretching for some 50kms along the Zambezi River, is the lesser known Zambezi National Park. Split off from Victoria Falls National Park in 1979, Zambezi National Park is a gorgeous 56,000 hectares of pristine wilderness and offers an exciting array of wildlife.
A multitide of adventure based activities and accommodations are available throughout these areas. From your base in Victoria Falls town or your more remote lodging along the Zambezi River, you can enjoy guided safari outings by vehicle, on foot or by boat, glorious sunset cruises, fishing, canoe rides, whitewater rafting, birding, bungee jumping or even croc cage diving. Accommodations range from more traditional hotels in town to riverfront safari tents and lodges, to staying on one of the islands located in the Zambezi River such as Chundu Island, Sindabezi or the Islands of Siankaba.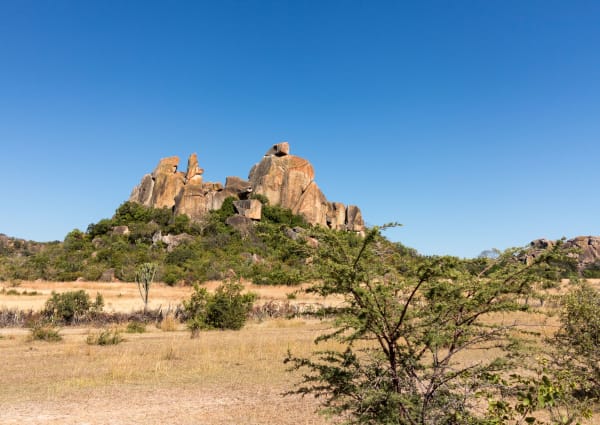 Matobo Hills
Matobo National Park & Matobo Hills
Declared a UNESCO World Heritage Site in 2003, Matobo National Park sits right in the middle of the Matobo Hills area. Officially a national park since 1926, it is here you will find some of Zimbabwe's most diverse and stunning scenery. Perfect for those looking to get away from everyone and everything, this rarely visited area is actually easily accessed from either Hwange National Park or by flying into Bulawayo. The landscape is breathtaking – comprised mostly of a combination of small hills and massive granite outcrops and boulders that literally sit on top of each other and create spectacular formations known as Kobijes. Aside from being home to a large array of game, including Africa's highest concentration of leopard, Matobo is also home to Zimbabwe's highest concentration of black and white rhino which can be tracked on foot! For the serious birder, around 400 of Zimbabwe's 674 bird species can be spotted here in Matobo Hills. The birds love the rock formations!
Lastly, Matobo Hills has a long and varied colonial history, the remnants of which can be seen in the remains of early settlements, graves of famous leaders, forts and other historical sites. However, predating its colonial history, Matobo Hills has been home to humans for milleniums. The granite boulders were first used for human occupation back in the Stone Age – and as a result, we are left behind with a visible history such as an incredible collection of rock art thousands of years old. The Mwari religion, which is still practiced in this area, focuses on the power of rocks and especially those that are elevated, balanced, or protect pools and springs. These rocks are seen as the seats of ancestral spirits and gods and some are considered shrines. As a result, Matobo has a palpable energy and peace about it. This is a perfect place to decompress after an adrenaline driven safari experience.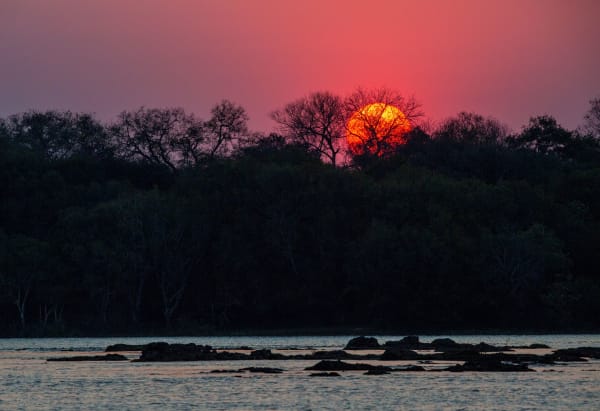 Zambezi River at Sunset.
Mana Pools National Park
A UNESCO World Heritage Site, there are few places on the African continent or, indeed, in Zimbabwe, that offer a more authentic African safari. Mana Pools is synonymous with the Zambezi River, offering raw natural beauty, outstanding and close wildlife encounters, spectacular canoeing and some of the best walking found anywhere in Africa. Mana Pools is quite different and more complex than other parks in Africa – an important fact to understand when matching your expectations to your planned safari experience – from the style of safari camp to the type of safari itself.
Mana Pools lies in the heart of the lower Zambezi Valley, far in the north of Zimbabwe at the end of the Great Rift Valley. From it's stunning mountain backdrop to the 80kms of river frontage, this fertile land supports gorgeous vast stretches of woodland and in the dry season this means tons of game move in to feast on the pods and fruits of the abundant mahogany, ebony and fig trees, among others. Mana Pools combines perfectly with a safari tour Hwange, Victoria Falls and Lake Kariba. The name "Mana" means "Four" in the local Shona language and points to the four large perennial pools formed by the Zambezi River as it changed it course thousands of years ago.
As much of Mana Pools is inaccessible by road (the road network is limited to one loop road and only a few access roads), Mana Pools is best explored by foot with a licensed guide and ranger. Here you can track big game such as the large bull elephants for which Mana Pools is famous. These bulls are remarkable as they have adapted to standing on their hind legs with trunks fully outstretched to feed off the rich nutritious pods from the top branches of the Ana trees. There are no rhino or giraffe in Mana, but easily seen are large pods of hippos which make for exciting canoeing.
Getting to Mana Pools is by light air transfer, and there are 5 different airstrips for access. For those coming off a houseboat on Lake Kariba, you can also take a land transfer to Chirundu by road, and then continue by boat the rest of the way. Due to the varied choices of experiences, such as a walking or canoeing safari, it is important to choose the right safari style camp to suit your needs. Accommodation options include semi-permanent camps, light footprint camps, and private tented camps.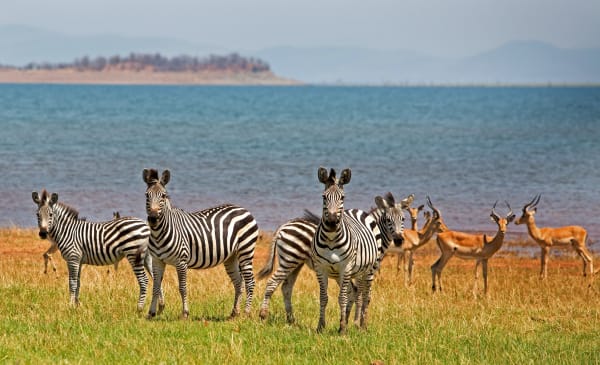 Wildlife grazing at Lake Kariba
Lake Kariba
Vast Lake Kariba is the fourth largest manmade lake in the world, and the world's largest lake by sheer volume of water. At almost 186 miles long and 25 miles wide at its widest point, Lake Kariba was created back in the mid 1950's to harness the Zambezi River via the construction of the Kariba Dam wall in order to provide Zimbabwe and Zambia with hydro-electric power. As the water levels rose, small islands were created. Today, Lake Kariba is a vast sea of endless blue water dotted by numerous small islands and a grassy shoreline, where the huge Nile crocodiles are as prolific as the hippos, and depending on water levels, where zebra, antelope, lion, leopard and buffalo may be spotted.
Lake Kariba isn't a safari destination persay…wildlife viewing is a bonus. Here it's about the wondrous beauty of the lake against a staggering backdrop of rugged escarpments. Here, it's about sunsets you won't find anywhere else in Zimbabwe. Access to Lake Kariba is either via flight into Kariba Airport or via road transfer from Harare (5hrs) or Chirundu (2hrs). The best part about Lake Kariba? The houseboats! Though you will find stunning lodges and safari camps with spectacular views scattered about the shoreline and farther inland, nothing truly compares with cruising on Lake Kariba. When exploring Lake Kariba by boat, no two days are the same. Activities are many and varied and can include game viewing from the houseboat or tender boats, fishing for tigerfish and bream, birding, and cultural encounters in a remote Tonga fishing village. Options for cruising Lake Kariba include safari cruises, motorized yachts and luxury houseboats, all of which can be operated on a private basis.
Ready to see the stunning scenery and incredible wildlife for yourself? Get in touch with one of our travel specialists today to discuss options for a future Zimbabwe Safari.