I have always said that guides can make or break your trip. This is even more true when it's an experiential adventure in Peru! Group tours can be a great fit for some, but especially in a country like Peru with its long and complex history and intricate culture, traveling with a private specialty guide is definitely the way to go when there are more than 5000 archeological sites to potentially explore during your Peru Tour!
Peru is also a land of incredible natural beauty, rich cultural traditions, and unique gastronomy. It is home to 12 UNESCO World Heritage Sites and 84 of the planet's 117 life zones located in more than 200 protected natural areas! Probably most famous is the lost Inca citadel of Machu Picchu, just one of many ancient ruins making this the best destination for the explorer-at-heart. Even amid the natural splendor of the country where you can experience a range of adventure activities such as trekking, climbing, mountain biking, surfing, camping, canoeing and kayaking, it is difficult not to notice the cultural, historical and political roots of Peru, observable in the diverse architecture and cityscapes.
Here at Global Basecamps, our Peru Tours are seamless and unique. We strive to get you away from the crowds and that is no easy feat is such a tourism-dense country! Most group tours in Peru are fairly traditional - city tours, Pisac Market, Machu Picchu, Nazca Lines – however, when you have your own specialty guide you get authentic and responsible glimpses into the REAL Peru, all the while making a friend for life in your guide. Opportunities for learning about ancient weaving arts, local wildlife, salt farms, cooking classes, history, indigenous markets, mountain biking, kayaking and even stand up paddleboarding are all examples of private adventures which can be experienced in Cusco and the Sacred Valley with a specialty guide. And for those who enjoy urban living, gastronomy, wine, museums and architecture, day trips in Lima with a private guide are not to be missed!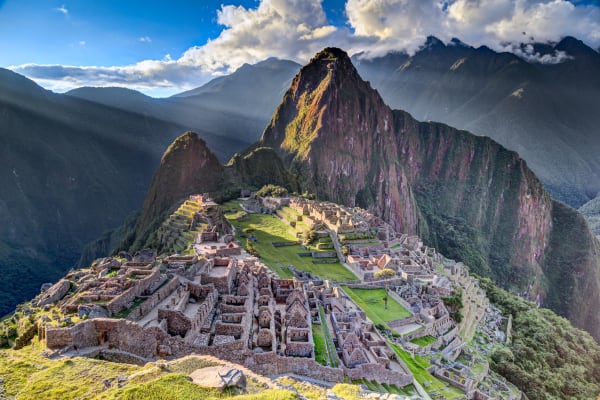 Landscape Shot of Machu Picchu Ruins
During one of my recent trips to Peru, it was more apparent than ever the value of private touring. As I passed the crowded parking lots near markets and ancient Inca sites in the Sacred Valley, full of huge tourist buses and tour groups with their matching t-shirts, I was so grateful to have my own guide. As I passed behind huge groups in Machu Picchu all straining to listen to a single guide, I was so grateful for the 1:1 conversation and insightful knowledge of my own private guide, leading me to a lesser known part of the archeological complex not typically visited by large groups. For those who love hiking and are worried about keeping up with the other members of a group, or not having the time to really "take it all in" due to a tight schedule, having your own guide makes all the difference! As you hike ancient trails such as the Inca Trail or alternative routes such as the Salkantay or Lares Trek, and explore indigenous communities steeped in culture and tradition, you appreciate being able to set your pace and get honest and authentic glimpses into local life with your guide who is welcomed into these communities like family.
Our Favorite Cusco & Sacred Valley Private Guide Tours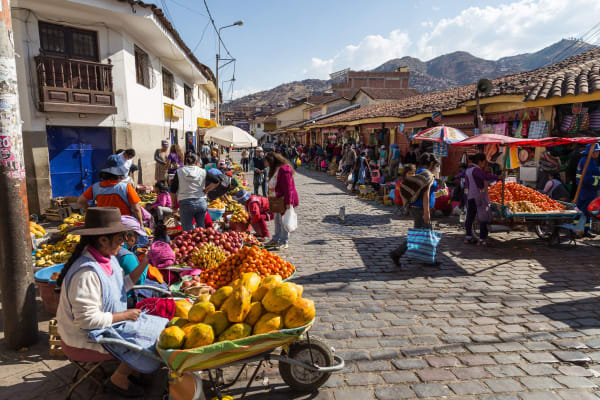 Food Market in Cusco
City Tour & Local Ruins
The city of Cusco itself, represents the center of indigenous Quechua culture in the Andes, and by merely walking the streets, you will be able to see the layers of history. Spanish colonial buildings erected directly atop Inca walls line the square, while the modern tourist nightlife flourishes in their midst. Nowadays, Cusco is known for its indigenous population--often seen on the streets in traditional clothing. Your excursion will also take you out of Cusco, to visit the main Inca ruins in the Cusco valley. This will include stops at Tambo Machay, Puca Pucara, Kenko, Sacsayhuaman and some lesser known ruins as well. These impressive sites serve as a great introduction to Inca history, and by walking around them, you will continue to acclimate to the high altitude of Peru.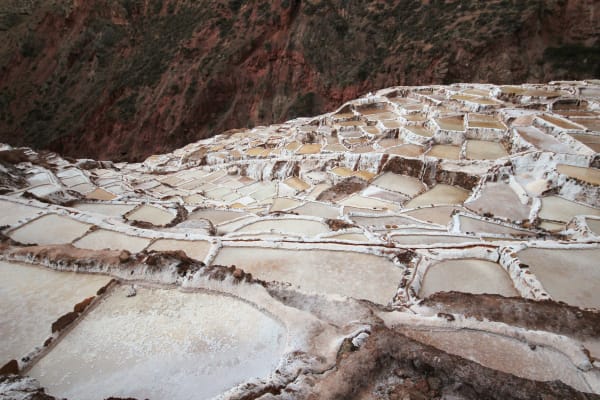 Salt Pan in Maras Moray
Mountain Biking in Maras & Moray
Biking through Maras Moray is the perfect way to experience mountain biking in Peru. Fantastic views, fast descents and fascinating insights into local culture make this a day you will remember. Do not worry; you do not have to be an ace racer to enjoy it. Your expert guide will show you all you need to know and with the help of the latest full-suspension bikes, you will be cruising the trails in no time.
Exploring Cusco & the Sacred Valley by Ebike
Ebiking in Cusco and the Sacred Valley is the ideal way to explore the area at your own pace. It is quiet and environmentally friendly. It reduces traffic and pollution and allows you to take trails where cars do not go. Being in the Andes, you will always encounter some uphills. Battery-powered Ebikes help you up the hills, making them easy. Perfect for families, Ebikes allow riders of different speeds to stay together. They allow you to explore further and cover more distance than on an ordinary mountain bike. Or cover the distance in less time.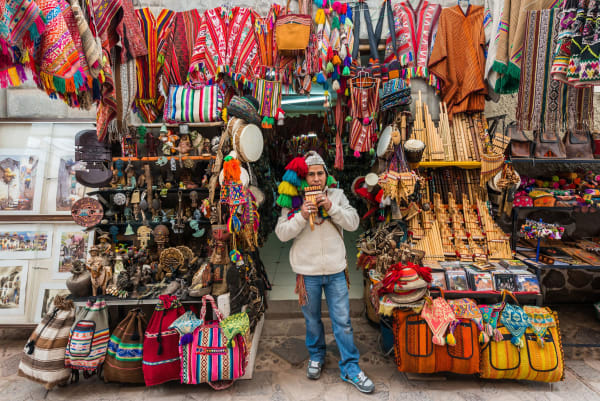 Pisac Market
Pisac Market & Ollantaytambo Ruins
Nothing compares to a full day private discovery of the famous Pisac Market and Ollantaytambo Fortress. The Sacred Valley of Peru is comprised of the land that extends between the towns of Pisac and Ollantaytambo. What was once the heart of the Inca Empire, this region of rolling Andes can be found just 10 miles outside of Cusco. An exploration of this area showcases fascinating Inca ruins, breathtaking mountain scenery, charming rural towns and a pleasant climate.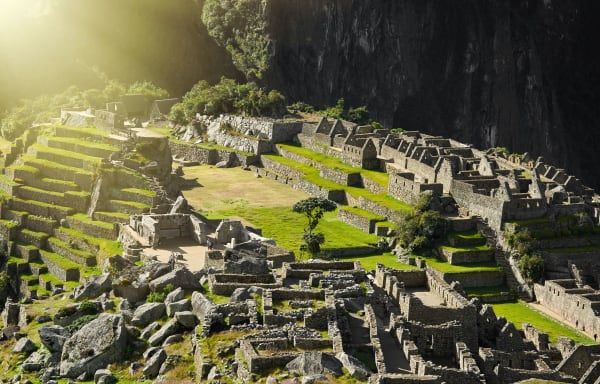 Machu Picchu ruins at sunrise
Hiking the One Day Inca Trail to Machu Picchu
Our one day Inca Trail to Machu Picchu is the best way to get to Machu Picchu for those without the time to hike the full Inca trail or who don't crave a multi day hiking experience.
You can either return to Cusco the same day or spend a night in Machu Picchu town before exploring Machu Picchu again the next day, then heading back to Cusco. You can also combine our One Day Inca Trail with Lares in a great 5-day trek, therefore mixing living local culture with Inca sites.
Guided Tour of Machu Picchu
Early in the morning you will be close enough to walk to the train station in Ollantaytambo, and take a train to Machu Picchu Pueblo (formerly known as Aguas Calientes). The journey follows along the impressive Urubamba river to the base of Machu Picchu itself. On arrival you take a short bus ride direct to the ruins. Once there, you can explore on your own. If time permits you can explore further to the Inca bridge, Watchman's hut or try the strenuous climb to the sun gate – Inti Punku. Some may prefer to just relax and take in the stunning location. After a full day to explore the site, you retire to your hotel. Lunch will be served at the Sanctuary Lodge near the ruins, and dinner will be served at your hotel this evening.
Pachamancas, Paddleboards and Kayaking
A day of variety awaits you today. From Cusco you will depart to the Sacred Valley and directly to the shores of Lake Piuray. Set amongst fields of corn with fantastic views across to the snow-capped Urubamba Mountains, this really is a special place. You will help prepare a Pachamanca, a very traditional Peruvian meal where meat and vegetables are cooked on hot stones in a hole in the ground. Once the food is cooking, you can enjoy some fun on the water with the world's highest fleet of stand up paddleboards and kayaks. Enjoy being around local farmers, spot rare birds in the reeds around the lake and relax. Embrace the quiet and take in the stunning Andean scenery. In the afternoon, the women will demonstrate their skill at the ancient art of weaving, using natural, plant-dyed yarn from alpacas and sheep.
Lima Private Guided Tours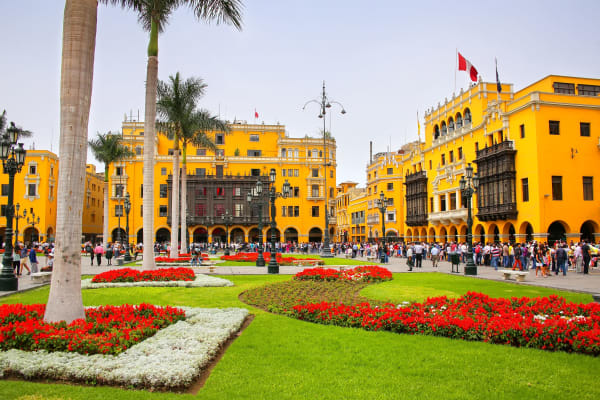 Courtyard in Lima, Peru
Lima Urban Biking Tour
Your adventure starts in Miraflores, riding by the malecón, where you find sculptures made by several famous local artists of recent years: Marcelo Wong and Fernando de Szyszlo, and you will ride by the Parque del Amor (Park of Love), where Victor Delfín creator of the sculpture El Beso, left some of his most remarkable pieces. You continue biking around the bohemian district of Barranco. There, you will have the opportunity to enjoy local contemporary art and modern handcrafted pieces in the local art galleries, many of them in beautiful restored traditional houses. Here street art is everywhere due to the Municipal promotion in this neighborhood. Some of the most vibrant works belong to our famous artists Elliot Túpac, "Entes y Pésimo", among others.
City & Culinary Tour
Enjoy one of the most exciting and hands on ways to get to know the city of Lima! Savor the food, chat with real limeños and visit the top restaurants, districts and historical points that the locals prefer, for a more dynamic and unique experience. Your adventure begins at a local roastery, where they hand-pick the coffee beans daily, for an organic Peruvian coffee treat. You will also tour the colonial streets of the bohemian district, Barranco, home to artists, musicians and the city's top art galleries. From here, you will visit a traditional market in the San Isidro district to try exotic fruits, local products and learn the ancient myths and legends associated with them. The third stop is one of the city's top seafood restaurants (cebichería), Embarcadero 41 Fusión, on Avenida La Mar in the Miraflores district – a stop that most travelers to Lima won't know to come by. Here you will discover the secrets to the perfect Ceviche and Pisco Sour, as you prepare the dish and cocktail yourself, with the head chef and bartender. The last stop will be for lunch at la Huaca Pucllana, a restaurant within a pre-Incan archaeological complex – undoubtedly a highlight of tourism in Lima.
And of course, don't forget the Peruvian Amazon, Arequipa, Lake Titicaca, Ica and Paracas and the Nazca lines….so much country to explore, so little time! Many of these tours can be combined within a customized, multi day itinerary. Check out some examples of exciting multi day adventures we can put together for you on your Peru Tour, including multi day trekking adventures with your own private guide. Peru is opening back up by the end of this summer, so start planning your 2021 adventure now!