Come visit Botswana with us, where a high-end safari is synonymous with luxury…and luxury is not just about the décor in your room or the facilities in camp, but also about staying in incomparable locations in the best game viewing areas in the country. It is about immersion in remoteness, intoxicating sunsets, endless horizons, mokoro trips along narrow, reed-lined channels, herds of elephants, packs of wild dogs, and lions stalking their prey. It is about near exclusivity with rarely another visitor in sight when staying in private reserves and concessions. Upscale safari camps subtly blend elegance with adventure, huge herds of game roam freely between the plains of the Kalahari and the waterways of the Okavango, and vast expanses of pristine wilderness are protected by some of the strictest conservation policies in the world.
The public parks of Chobe National Park and Moremi Game Reserve are at the core of northern Botswana's protected areas. Though the wildlife and scenery can be great, not so great are the throngs of visitors and vehicles who can be sharing these areas. For this reason, Botswana has developed an extensive network of safari tours throughout private reserves and concessions which not only offer exclusivity and luxury, but which also offer greater flexibility for activities not allowed in public parks. For example, guides may drive off road in search of game, night drives are possible, and guided walking safaris are on offer. Additionally, a typical private reserve can range from 300-1000 square miles with only a few small, private safari camps. Often these camps can only be accessed by light air transfer with no public access. Albeit expensive, luxury safari camps in Botswana offer great value, including exceptional guiding during all programmed excursions, meals, alcoholic beverages and laundry service.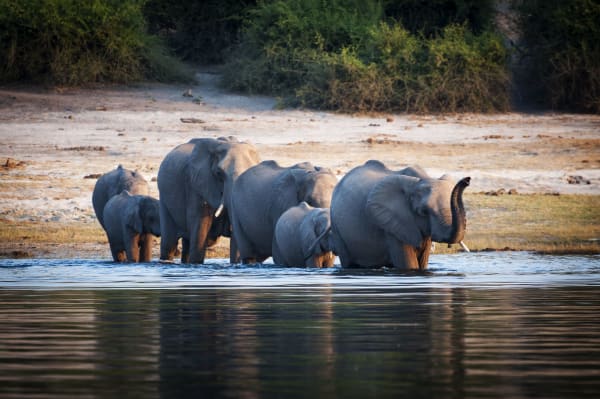 Elephants crossing watering hole in Chobe National Park
Best Time to Go:
Botswana is a year round vacation destination with 300 days of sunshine a year, but when planning a safari it is important to note monthly changes in weather and the effect it can have on wildlife.
January & February:
These are the wet months, though afternoon downpours often offer a welcome respite to the intense summer heat. This is the green season in Botswana and can nevertheless deliver great game viewing amidst the lush green vegetation. Great specials are available at this time. This is a great time to head to the Kalahari (Central Kalahari, Nxai Pan and Makgadikgadi Pans) to see the migrating elephant, buffalo and Zebra. The Savuti region is ideal at this time as well.
March:
The rains are easing up and the animals are returning to the more accessible dry season areas. Vegetation is lush but mosquitoes abound. If you are worried about malaria, avoid March in Botswana.
April & May:
Perhaps there may be an afternoon shower, but for the most part days are warm and nights are cool. Landscapes are still green but seasonal waterholes are drying up and wildlife is beginning to congregate in larger numbers. This is considered shoulder season and often a great value.
June & July:
Game viewing is phenomenal during these months! The early morning and nighttime can be downright cold, but it often warms up enough for shorts and t-shirts in the middle of the day. This is the ideal time to visit Chobe National Park, the private reserve of Linyanti, Kwando and Selinda; Moremi and the Okavango Delta are ideal for a combination of game viewing by vehicle and boat.
August:
This is the most popular month to visit Botswana, and both temperatures and people are on the rise…but so is the game! The concentrations of game are at their highest and the bush has thinned out making for optimal game viewing. Huge herds of antelope, elephant and buffalo crowd the banks of permanent waterholes and rivers, while hungry predators lie in wait. This is still a perfect time to visit the Chobe River and Savuti reserves of Chobe National Park; Linyanti, Selinda and Kwando reserves; and the Okavango Delta (especially Moremi).
September & October:
Even though these months are technically the end of Botswana's winter, they can have some of the hottest weather of the year and even the occasional thunderstorm. If you can handle the heat, game viewing is exceptional this time of year with even fewer available water and grazing sources. This is the best time of year to view wildlife from the Chobe River.
November & December:
The hot weather starts to cool down and the first rains of the wet season begin to fall. This is calving time, so there are lots of baby animals about and great low season specials.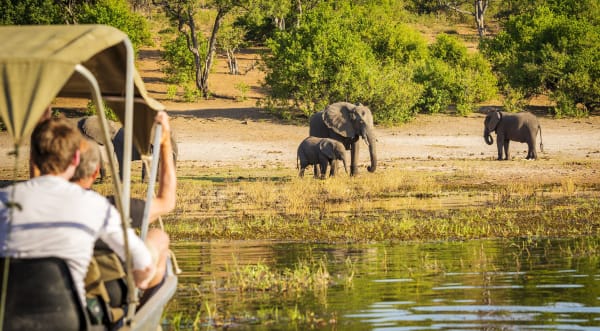 Boat Safari comes across elephant family in Botswana
Which Areas to Visit on your Botswana Luxury Safari:
If you have both the time and the money, we typically recommend combining two to three different areas in Botswana during your safari, including at least one water-based safari camp experience. While in Botswana, you may also add in a few nights to visit Victoria Falls, just a short drive from the Kasane border with Zimbabwe. As mentioned earlier, travel between regions and camps is typically done by light air transfer, a spectacular way to view wildlife from above and adding to the exclusivity of your adventure! Here are a few of our favorite areas for your Botswana vacation: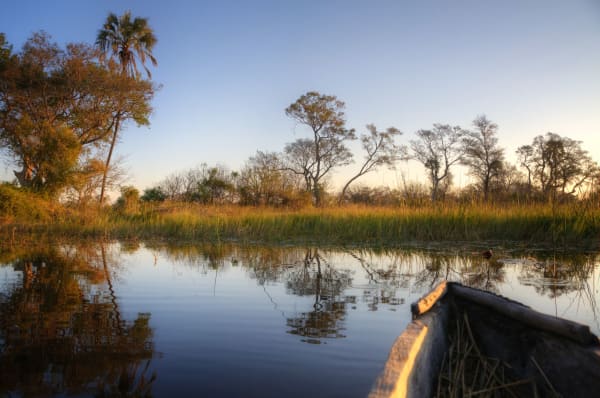 Okavango delta
The Okavango Delta
When thinking of a safari holiday in Botswana, the Okavango Delta quickly springs to mind. Known as "the river that never finds the sea", the Delta is a magical oasis and one of the world's largest inland deltas. While most river deltas typically lead into an ocean, the Okavango River empties onto land, flooding the savannah and creating a truly unique environment resplendent with papyrus swamps, shallow reed beds and floodplains, traversed through channels and dotted with islands. The wide and grassy floodplains are home to a spectacular array of wild animals. The Okavango Delta has Botswana's highest concentration of different ecosystems and environments. Some of our favorite private reserves in the Okavango Delta are Duba Plains, Shinde, Kwara, and Stanley's and Baines' Reserve just south of Moremi. Thanks to the various ecosystems within the Okavango Delta, you can easily visit 2-3 safari camps and enjoy vastly different experiences. Here is where you must take the time to enjoy a mokoro ride to appreciate the "little things" in your surroundings.
Moremi Game Reserve
Known for its brilliant bird life, the Moremi Game Reserve takes up a large area of the Delta's wetlands and the main dry peninsula that juts into the Delta. With especially high concentrations of game, the Moremi Game Reserve has a varied ecosystem of lagoons, shallow flooded pans, forests and plains. Some of our favorite areas to stay in Moremi are Chief's Island, the Khwai River and Xakanaxa Lagoon.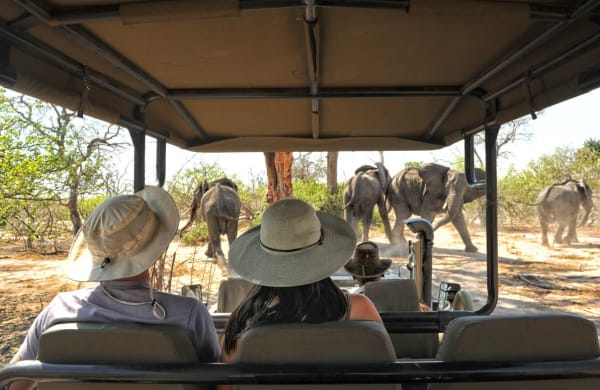 Safari Goer's in Linyati Area
The Kwando-Linyanti Area
Four large and exclusive private reserves are found in this area and well worth a visit. They are Kwando, Selinda, Linyanti and the Chobe Enclave. Similar to the private reserves around the Okavango Delta, these areas offer remote, private safari experiences. The Kwando Reserve is north of Selinda and consists mostly of dense mopane forest. However, along the Kwando River is lush riverine forest and open plains. The Selinda Reserve protects the Selinda Spillway, which links the Okavango and Linyanti river systems. During the dry season, this is one of Botswana's most renowned areas for predator sightings. The Linyanti Reserve you will find open floodplains beside the water, riverine forest and dense mopane forests. Lastly, Chobe Enclave is located north of Chobe National Park and is situated on the edge of the Linyanti marshes. Large concentrations of game can be seen here during the dry season.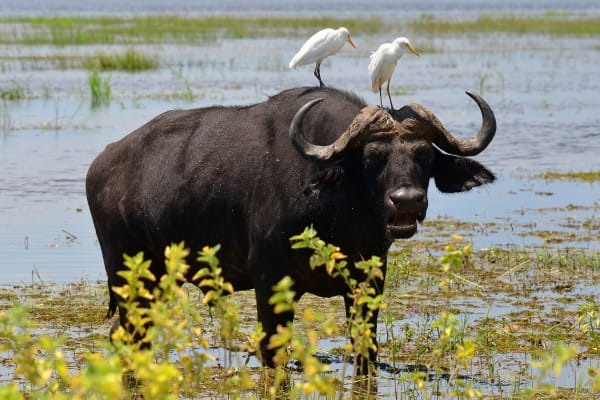 Water Buffalo in Chobe National Park
Chobe National Park
Chobe National Park is home to Africa's largest single concentration of elephant which you can often see congregating along the Chobe River. Here you can enjoy game drives and private river cruises. Much of Chobe National Park is comprised of impenetrable acasia (thorn) bushes growing in deep sand. This is one of Botswana's oldest safari destinations; Livingstone himself visited the park in the 1850's. Home to large herds of elephants and buffalo, it is also home to large prides of lions which hunt them. The two main areas to experience in Chobe National Park, away from the crowds, are the Chobe Riverfront and the Savuti Marsh. Most of the camps and lodges we prefer to use are located outside the National Park near the Chobe or Zambezi River, in Chobe Forest, or near Savuti Marsh.
Where to Visit in the Kalahari
Lastly, no exploration of Botswana would be complete without an exploration of the stark and dramatic landscapes of the Kalahari Desert and the vast, flat saltpans in the heart of the Kalahari. This part of Botswana is not for everyone, but offers complete isolation and a wealth of hidden treasures. It is also exceedingly photogenic and best when visited between May and September. This area is famous for meerkats and ancient baobab trees!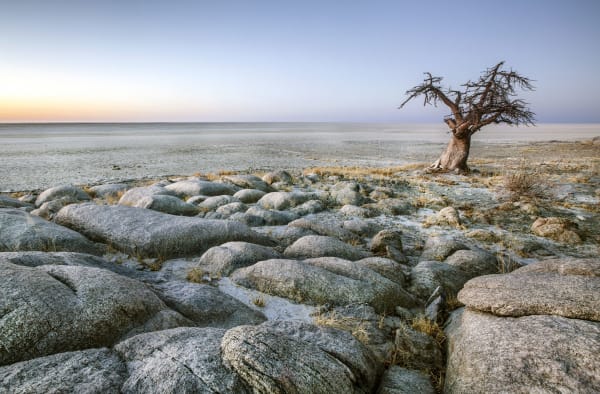 Makgadikagadi Salt Pans in Botswana
Makgadikgadi Pans
The great Makgadikgadi Pans is one of the largest salt flats in the world. Once a vast lake tens of thousands of years ago, the Makgadikhadi Pans is now a series of dry salt pans that were once the lakebed. Thanks to the Nata and Boteti Rivers and some seasonal rains, the pans showcase large areas of savannah grasslands in the summer months, and on display are a fascinating array of birds and animals which have adapted to live in this challenging environment.
Nxai Pan National Park
Nxai Pan National Park is set on the northern fringe of the Makgadikgadi basin and includes Nxai Pan, an ancient lake bed that was once part of the vast Lake Makgadikgadi. During the rainy season, this park is home to the season zebra migration. Here, the vast herds can be seen on the open grasslands, oftentimes with predators not far behind. During the dry season, there is a good population of springbrook, giraffe and gemsbok. You will also find big cats, wild dogs and spotted hyenas.
It is clear that this Africa Safari Destination has much to offer whether you are seasoned safari goer or it's your first time to this incredible continent. If you are interested in learning more about our Botswana Safari Tours, check out some of our sample itineraries or reach out today to speak with one of our travel specialists about planning your trip!