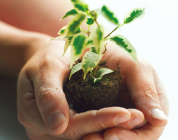 Chances are, the question "how can I put a dent in my carbon footprint?" doesn't keep you up at night while you are traveling. And if it does, we applaud you, but don't want you to lose any more sleep on this issue! With the help of our partner, Carbonfund.org, Global Basecamps is chipping away at your carbon footprint, as you sleep soundly. We are proud to announce that as of January 1st, 2010, we have planted a tree for every one of our trips from the Inca Trail to the coast of Vietnam--and will continue to do so. That's right, as our travelers trek through Machu Picchu or boat through Halong Bay, we are planting trees in Nepal.
Why trees and why Nepal?
Reforestation projects are one of the best ways to reduce the amount of carbon dioxide that's in the atmosphere and "unlike other pollutants, carbon dioxide does not just affect the local area where it is emitted. Rather, CO2 impacts the entire earth, regardless of where it is emitted." In other words, reducing CO2 in Nepal, has the same benefit as reducing it here in the U.S. or Peru for that matter. And because Everest treks in Nepal are also very popular with our travelers, we are delighted to know that our trees will provide additonal income and assistance with flood control in this area. To date, Carbonfund.org has supported SeedTree's planting of over 315,000 trees in 21 communities throughout Nepal. We are proud to be a part of this project and to continue finding creative ways to support sustainable tourism.
What is sustainable tourism?
This is a question we get a lot at Global Basecamps. In a nutshell, sustainable tourism minimizes environmental damage, maintains resource diversity, renewability and productivity over time and seeks to mitigate the inevitable negative effects of tourism on local, regional and global levels. While there are many ways to travel responsibly and reduce one's impact on the Earth, it can be quite a feat to go completely carbon-neutral. That's why we are working closely with Carbonfund.org to help apply their motto to our trips: reduce what you can, offset what you can't. Soon, we will offer complete carbon offsetting options for all of our fully customized trip itineraries to anywhere in the world.