Tasmania is a wonderland of exotic wildlife, stunning and diverse scenery, and locally produced artisanal foods. This diverse island state off Australia's south coast adds a whole new dimension to any Australia tour and is sure to please any traveler with an adventurous spirit.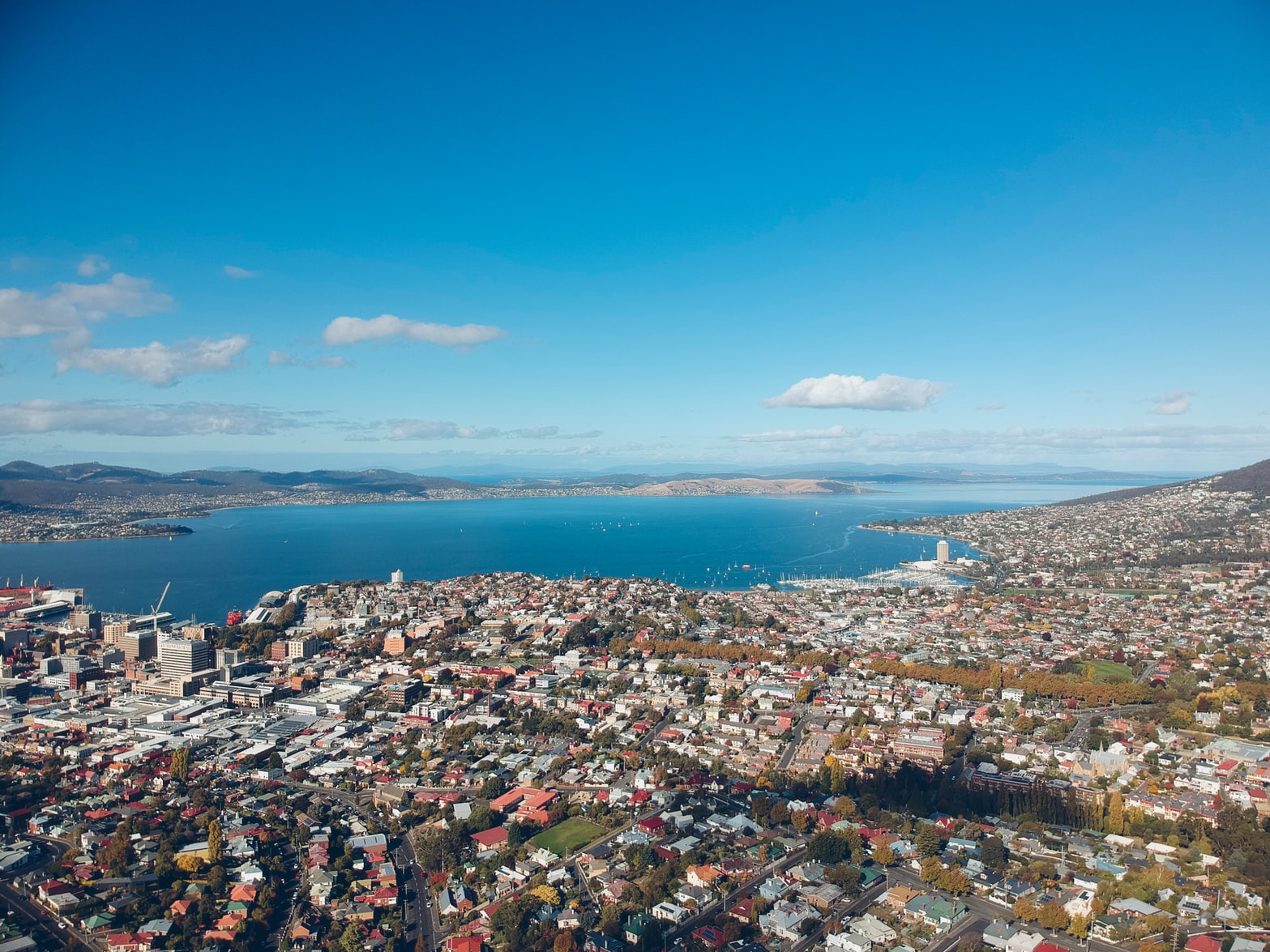 Aerial Shot of Hobart, Tasmania off Australia's Southern Coast.
Hobart: A Foodie Hotspot
Most trips start in Hobart - the thriving harbor capital of Tasmania. In recent years, Hobart has ascended to a top foodie destination worldwide, and for good reason. Every weekend, lively markets bustle with people as locals offer their best artisanal food products - honeys and jams, cheeses and creme fraiche, chocolates, small batch liquors, wines, and microbrew beers, fresh local oysters. Additionally, you'll find many food stands brimming with fresh local produce and meats. Hobart's famous dish - fresh local scallops in Mornay, baked into a buttery puff pastry, is ubiquitous. On Friday nights, Street Eats is acclaimed for its scores of food trucks and live music, set among fountains, parks, and picnic tables. Crowds of people gather to wander, enjoy the ambiance, and well, eat! Expect to see everything from paella to Wagyu beef sliders and cocktails made with the prides of the finest local distilleries. Aside from the market scenes, Hobart is also a mecca for sit-down dining experiences, from casual to fine, and beautiful views of the harbor are common throughout.
Hobart: Hiking and Other Highlights
Apart from eating, Hobart offers wonderful opportunities to wander, soak in historic architecture, and numerous day trips. If you're feeling ambitious, you can take a day hike up to Mount Wellington. 1271 meters above sea level, Mount Wellington offers sweeping views of the city and harbor below - but make sure it's a clear day so you're not disappointed! Around the city, MONA Museum is a beacon of modern architecture in a park setting. The art is typical of modern museums worldwide - provocative, whimsical, and very entertaining.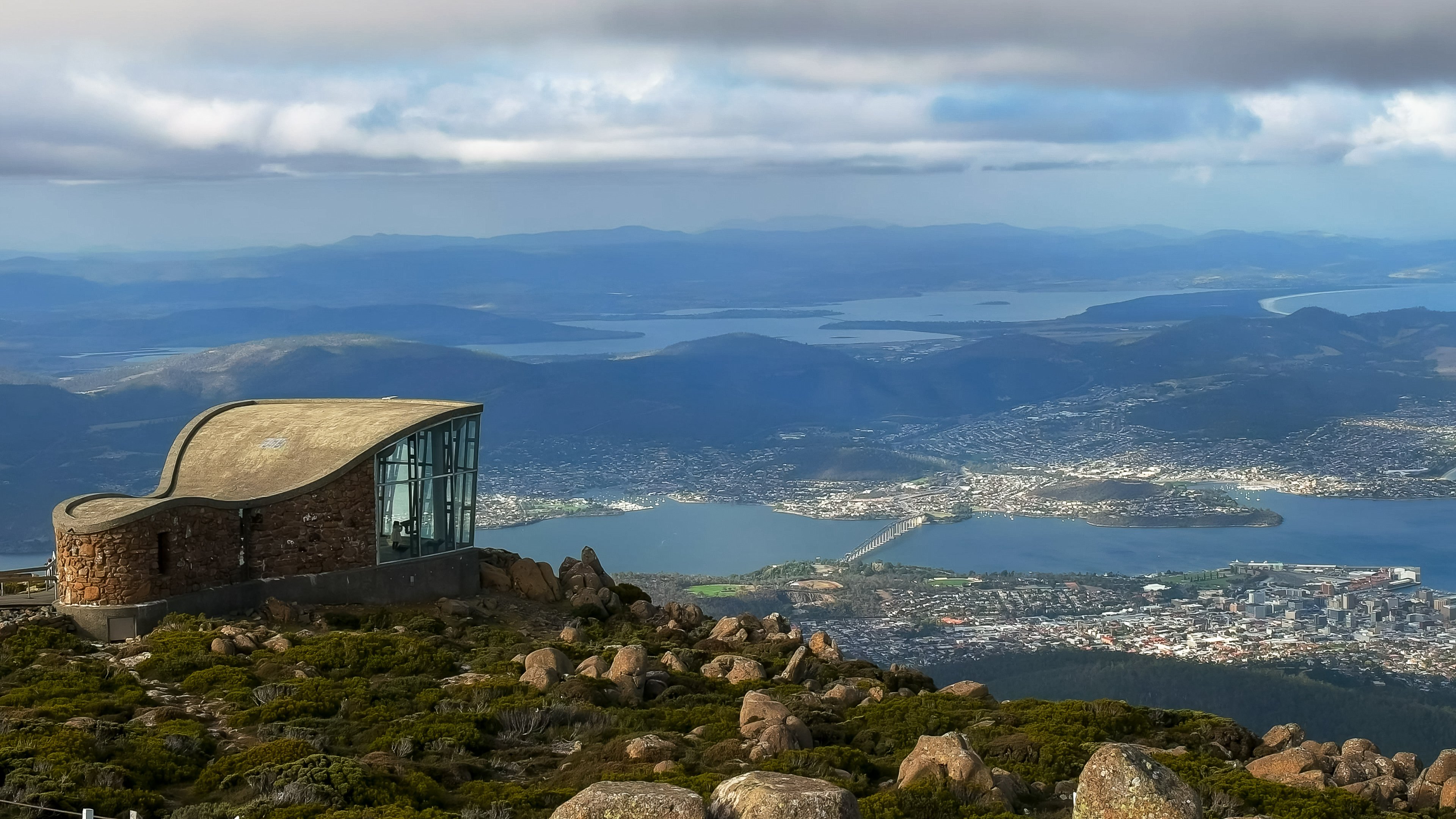 View of Hobart from the top of Mt. Wellington
You may want to explore Battery Point, where the old sandstone buildings are set into the cliffs. This area is full of interesting shops and (surprise) restaurants. Climb Kelly's Steps (established 1839) to reach the top of Battery Point, a fancy neighborhood where Arthur's Park is surrounded by the oldest and most beautiful cottages in Hobart. A day trip out to Bruny Island is a must! Bruny island is actually two islands, connected by an isthmus, with 238 steps up to a stunning lookout point. From here, you'll be able to look down on both sides of the island. Made up of rugged beaches and mostly deserted, Bruny Island is an excellent wildlife viewing opportunity - Fairy penguins, seals, dolphins, dozens of sea birds, wallabies and echidna are all native to this area.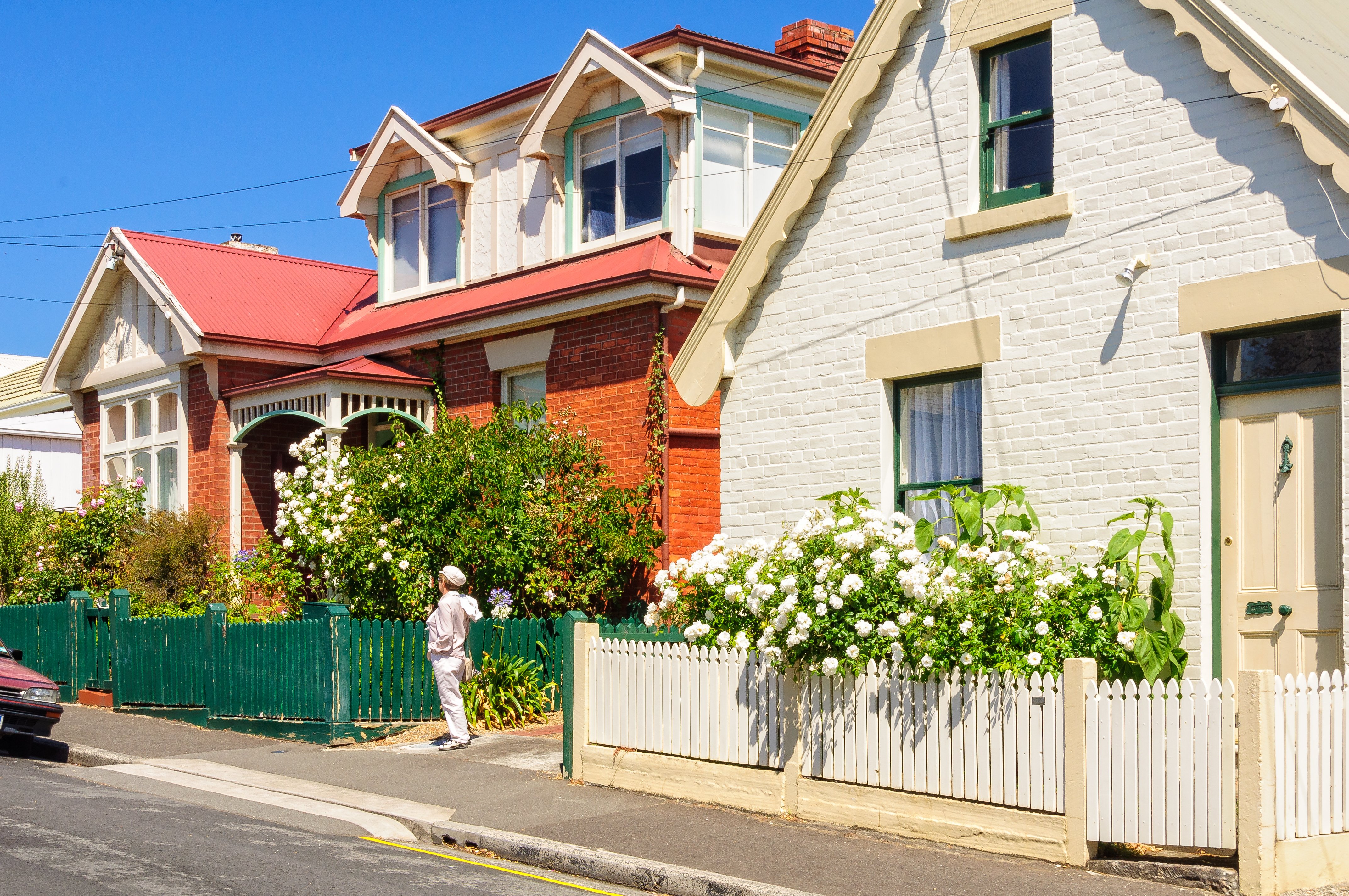 Historic Cottages near Battery Point in Hobart, Tasmania.
Trekking in Tasmania
After a lovely couple of days in Hobart, we recommend choosing from one of the many overland trekking options. From Hobart, you'll head up north about 2 and a half hours to Launceston - the jumping off point for Tasmanian treks. Treks range from easy to challenging, accommodations range from rustic to luxury, and a number of routes are available.
The classic and most popular route is the Cradle Mountains Hut to Hut hike - a moderate 6 day trek spanning 65 kilometers from Waldheim in the Cradle Valley to Lake St Clair, Australia's deepest lake. Throughout the trek you'll climb summits with stunning views, walk across plains where glaciers once were, explore rainforests, rivers, and icy-flowing waterfalls. Once you've reached Lake St Clair, board a small cruise boat for the gorgeous 17km cruise back to Cynthia Bay. Accommodations along the way are privately owned, ecologically sustainable and fully serviced "huts" - respites from the outdoors after long days of hiking. This route can be modified to include more summit climbs or can be done in the winter time if you are looking for a more challenging and rugged trek.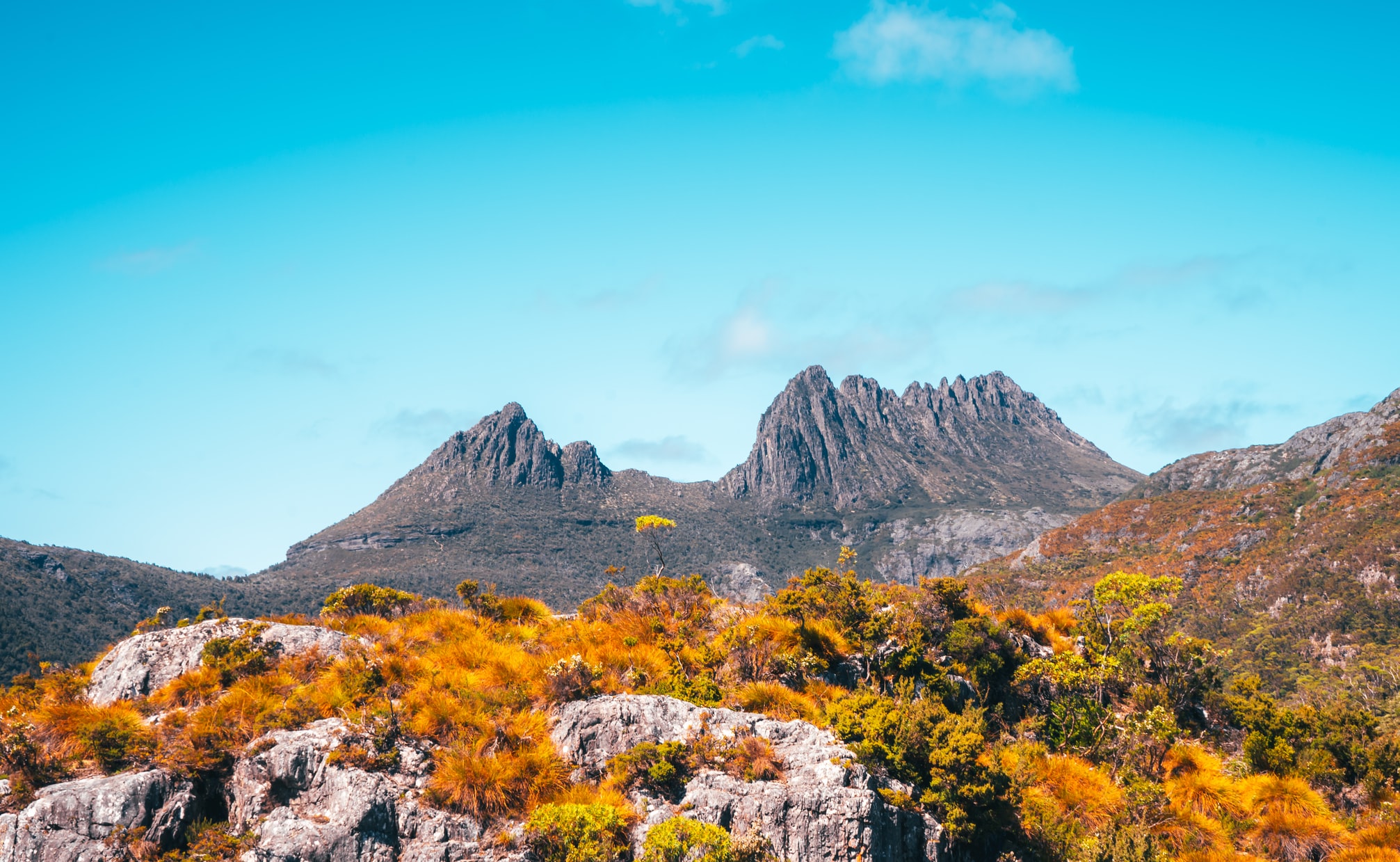 Landcape view of Cradle Mountain on the Australian island state of Tasmania.
If you are looking to focus on the coast and a more luxurious experience, there are several options for 4 day, coastal lodge walks - perfect for a quick extension to a longer Australia trip. The walking is all coastal so the grade is flat, and therefore the trek is considered mild in difficulty. This is perfect for multi-generational families looking for a relaxing and beautiful few days exploring the coast, and some free time to choose their own activities.
These treks also start in Launceston, and go through coastal National Parks, where you'll hike along the protected beach seeing native birds, rare shells, and weather permitting, islands and capes in the distance. Gorgeous luxury lodges featuring spas, libraries, and outdoor jacuzzis, among other comfort amenities. From these basecamps, you'll be able to choose from a number of wonderful options such as early morning bird walks, kayaking down Ansons River, fishing, snorkeling in a marine nursery, and exploring the nearby coves. In this remote location with no light pollution, the night sky is lit up with stars, and the wildlife comes out at night! Keep your eyes open for wallabies, Forester Kangaroos, wombats, and maybe even a Tasmanian Devil. Gourmet wine and meals are provided throughout, and some of the treks involve partial sailing - so if you're looking to walk and island hop, this is the option for you.
No matter what you choose, a visit to Tasmania is the perfect addition to your Australia adventure as a family, couple, or group of friends. Whether you have traveled to Australia before and want to focus your whole trip on Tasmania, or a first-timer looking to get off the beaten path with a short 5 day extension, the beautiful vistas, exotic wildlife, and delicious food and wine will not disappoint!