The Galapagos Islands are located roughly 600 miles off the coast of Ecuador. For millions of years, the Galapagos grew and thrived virtually undetected until sometime in the 1800's, when some intrepid travelers and swarthy pirates began arriving. Among the early visitors was the most famous, Charles Darwin, a young naturalist whose 19 days studying the islands' flora and fauna in 1859 shaped the course of history with his theory of evolution and sparked a fascination with these islands which has only grown in interest and popularity through the present day.

In 1959, the Galapagos was named Ecuador's first national park, and in 1978, UNESCO declared the Galapagos a World Heritage Site. Nowadays, more than 275,000 visitors from every corner of the world come to the Galapagos to discover its biodiversity, magnificent inhabitants – both animal and human - and breathtaking landscapes. By visiting Ecuador and enjoying a Galapagos Islands vacation in a sustainable manner, you are making a "positive contribution to conserving the country's natural environments and the distinctive cultures of the communities that live here".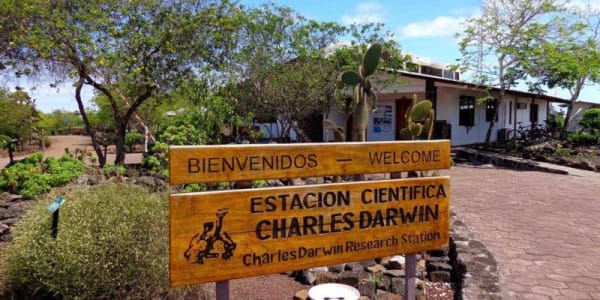 Welcome Sign at Charles Darwin Research Station on Santa Cruz Island.
How to Get There
The Galapagos Islands are located off the coast of Ecuador in South America. A 5-hour flight from Miami will land you in Quito or Guayaquil, on mainland Ecuador. As daily flights to the Galapagos depart early in the morning, it is impossible to connect through on the same day. If you don't have plans to experience the diversity, history and culture of mainland Ecuador upon arrival, there are several ideal hotels located close to the airport, for an easy departure the following morning. All flights originating from Quito will stop first in Guayaquil – an easy 30 minute flight to pick up and drop off passengers. From there, it's just another 1.5 hours to Baltra or San Cristobal, your gateway to the Galapagos! At the airport in mainland Ecuador before checking in, you will be required to have your bags inspected by the Galapagos Biosecurity Agency quarantine staff and obtain a mandatory $20 tourist transit card. Upon arrival in Galapagos, you will have to pay an entrance fee in cash to the Galapagos National Park (currently $100 for non-Ecuadorian adults and $50 for children).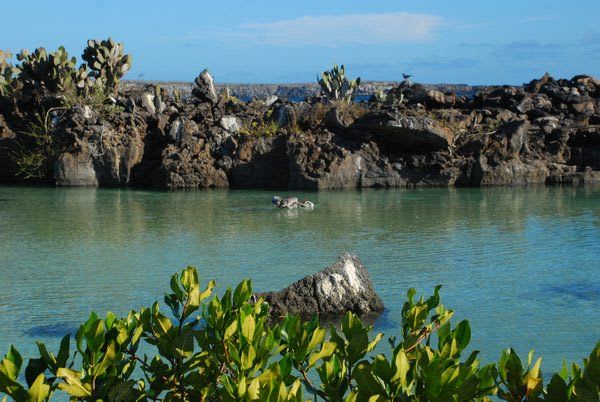 Darwin Bay
When to Go
The Galapagos Islands are the perfect year round adventure destination. Thanks to the Galapagos Islands' location close to the equator, air and water temperatures remain relatively stable all year long. During peak season (mid-June thru early September and mid December through mid January), you should plan your trip well in advance to avoid availability issues. There are two seasons in the Galapagos: cool and dry (June thru November), and warm, wet and windy (December thru June).
The warmer season tends to be the most popular as the seas are calmer and warmer (on average about 76F), air temperatures are in the low 70's to mid 80's, underwater visibility is good and showers are short. This is also the time of Galapagos romance – the green turtles lay their eggs and the hatching season begins for the giant tortoises (Dec-January), sea lions, turtles, tortoises and land birds are breeding and nesting amongst the blossoming spring flowers (Feb-April), the blue-footed boobies are doing their famous courtship dance (May), and the sun is strong for those who crave beach time. The cooler months of June through November provide a respite from the intense heat with colder water temperatures (on average about 72F) and slightly cooler land temperatures (mid 60's to high 70's). The nutrient rich waters of the cooler season attract fish and sea birds and the abundant marine life make this the ideal time for experienced divers to visit. However, the ever-present plethora of wildlife encounters, physical activity and cultural connection make the Galapagos an idea destination any time throughout the year. Learn more about when to plan your trip from our traveler resource: Best Time to Visit Galapagos.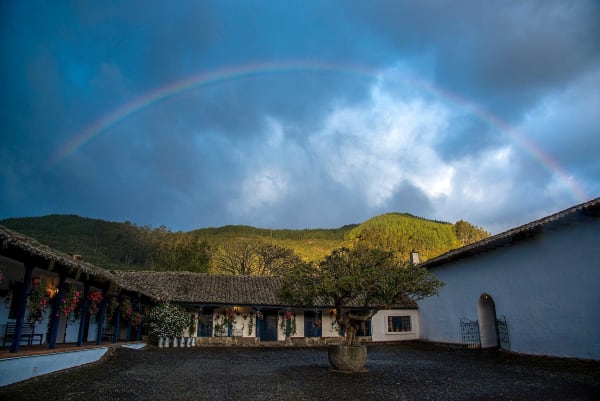 Hacienda Zuelta Courtyard on Santa Cruz Island
Island-Hopping Land Based Tours
Whether you choose a land based/island hopping adventure or a cruise based itinerary, you cannot visit any of the islands without being accompanied by a guide licensed with the Galapagos National Park.
Island hopping offers rare insight into Galapagos culture and history and offers the special opportunity to bring locals and visitors together in a way that should be mutually beneficial to both, with deep and meaningful connection. Many who choose to experience the Galapagos in this way often later comment that engaging with the local community, learning about their daily lives, traditions, culture and history – rivals or surpasses the animal encounters and wildlife observation. According to our partner Jasci Carvalho of TropicEco, "Traditionally, visitors to the islands have skirted its edges by yacht…the only true way to experience the Galapagos is to 'go to the land'. This provides a new level of connection and understanding about how truly unique this archipelago is". Santa Cruz, San Cristobal, Isabela and Floreana are the stunning and uniquely diverse, populated islands offering land based accommodation. There are many options to choose from on the 3 main islands of Santa Cruz, San Cristobal and Isabela – ranging from economy to deluxe, and all offer a range of location and experience. Floreana has the smallest and oldest population, and most interesting history by far, with it's own special offerings and accommodation.
From your island base, you embark on daily excursions, typically by motorized yacht, to explore nearby islands or even other exciting areas on your own island! An island hopping, land based itinerary offers you the opportunity for a fully customized adventure. As you do not have to adhere to a strict excursion schedule (as you would on a boat cruise), based on your budget you can easily find the balance between active adventure and downtime discovering the beauty of the Galapagos on your own.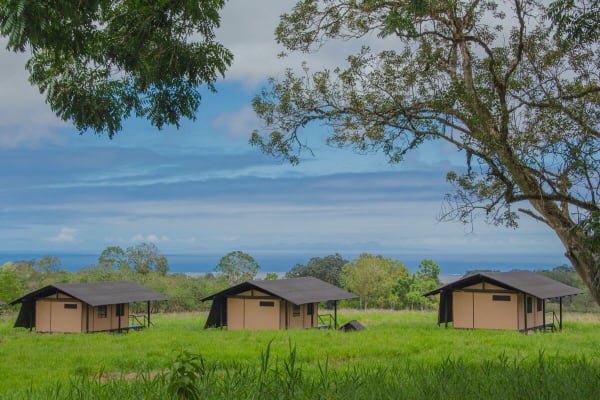 Galapagos Magic Tented Camp on Santa Cruz Island
Here are Some of our GB Favorite Accommodations for Land-Based Tours:
Santa Cruz: Galapagos Magic Tented Camp, Finch Bay, Angerleyer Waterfront Inn, Ikala, Hacienda Zuleta
Isabela: IsaMar, Iguana Crossing, La Casa de Marita
Floreana: Floreana Lava Lodge
San Cristobal: Casa Blanca, Casa Iguana Mar y Sol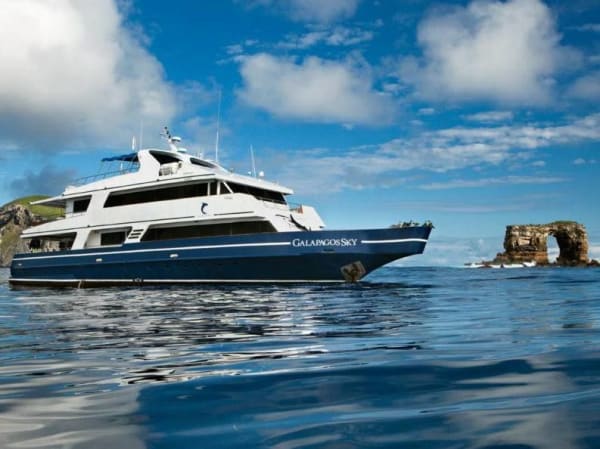 Galapagos Sky Cruise Ship
Island- Hopping Sea-Based Tours
If your goal is to visit the most islands, especially those not accessible via day trips, then the best option is a multi-day live-aboard cruise experience. The Galapagos National Park regulates the number and type of tourist boats, and their routes, to avoid overcrowding, minimize stress on the animals, and lessen the environmental impact. Most tourist boats offer 4, 5 or 7 day all inclusive itineraries which are strictly overseen by park officials, and the categories of service offered are economy, tourist, first class and luxury. Among these classes of service, there are 3 main categories of cruising: 1) The small, motorized luxury yachts and catamarans carry fewer than 20 passengers. These boats do not necessarily offer all the amenities of a larger boat but in exchange you have more personalized service and easier embarkation and disembarkations; 2) The medium size boats typically carry 20-50 passengers and offer more variety in cabin type and cuisine; and 3) the large boats can carry 50-100 passengers (100 being the maximum limit of passengers per vessel in the Galapagos). These boats offer more space, more of the typical cruise "amenities" and additional services. The main negative is the time it can take to transfer passengers to the smaller zodiacs used to access the land destinations. Also, not all larger boats are allowed to visit all of the islands. Lastly, and in their own category, are the live-aboard dive boats targeted for experiences and certified divers. These boats are built to accommodate the specific needs and itineraries of divers.
A few of our favorite boats include the following:
M/C Ocean Spray, Anahi, Santa Cruz II, Isabela, Evolution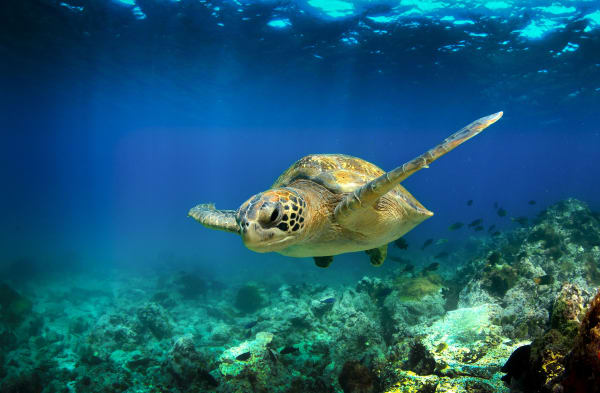 Sea-turtle off the coast of the Galapagos Islands spotted while snorkeling
Excursions
Adventure activities abound in the Galapagos, where you typically have multiple opportunities for activities such as Galapagos Island snorkeling, kayaking, stand up paddle boarding, hiking, mountain biking, and of course, wildlife watching! Here are a few of our favorite excursions:
Itabaca Channel Kayaking & Giant Tortoise Reserve
Yacht Excursion to Bartolome Island
Hiking, Kayaking and Paddling in La Loberia
Nature Hike in the Floreana Highlands
Tintoreras, Wetlands Trail Cycling & Giant Tortoise Breeding Center
Hiking Sierra Negra & Volcan Chica
Garrapatero Beach, Cerro Mesa and Los Gemelos
Charles Darwin Research Center
And of course, snorkeling every chance we get!
It's clear that the Galapagos has a plethora to offer all kinds of travelers from families to honeymooners to anyone with an adventurous spirit. Whether you decide to embark on a land-based or water-based island getaway, our travel specialists can help you plan every step. To learn more about our Galapagos Tours, check out some of or sample itineraries or connect with a us today.