Banyan Tree Lijiang Lijiang, China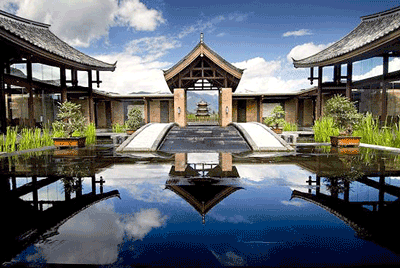 The Banyan Tree Lijiang is located 2,000 meters above sea level 15 minutes away from the UNESCO World Heritage Site, the Old Town of Lijiang. The Old Town of Lijiang is sometimes regarded as the Venice of the Orient for tours to China because of the bridges and canals that wind through the cities cobbled streets. The hotel design was inspired by local Naxi culture, and includes pink stone, grey bricks, traditional red clay roof tiles, and interconnected canals. The hotel offers 55 villas with breath-taking views of the Jade Dragon Snow Mountain. The spacious villas can include a private garden, heated outdoor jet pools or plunge pools. There are 40 Garden and Deluxe Garden Villas, 13 Pool and Deluxe Pool Villas, one 2 bedroom Pool Villa, and one Presidential Villa. The extensive spa includes spacious treatment rooms, a hair salon, a yoga pavilion and a gym. There is also a tea lounge connected to the spa. The resort has 2 all day dining options, Ming Yue cafe and Bai Yun, which offers banquet style dining. Additionally, there is a bar and lounge. If you're looking to explore the surroundings, Banyan Tree Lijiang offers guests exclusive treks with local guides.
Fuchun Resort Hangzhou, China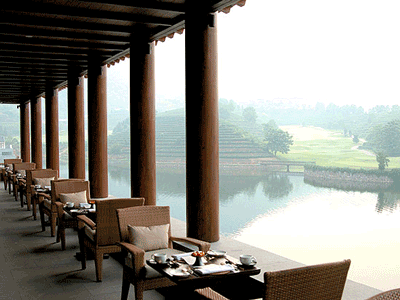 Located on the banks of the Fuchun River, near Hangzhou, Fuchun resort allows travelers to escape to the countryside while still being in close proximity to the urban cities. Fuchun Resort is an oasis of peace and serenity, surrounded by mountains, lakes and a working tea plantation. The resort was inspired by a 700 year old painting, and has created a location for the perfect luxury getaway. Fuchun resort offers deluxe rooms, suites, and villas with incredible mountain views. The rooms have a contemporary Chinese design, combining warm wood and stone interior with modern features. There is also a lakeside lounge and restaurant that serves fresh, Asian cuisine. Treat yourself to holistic spa treatments, relax in outdoor hot tubs, enjoy a round of golf, or participate in calming Eastern exercise.
Commune by the Great Wall Beijing, China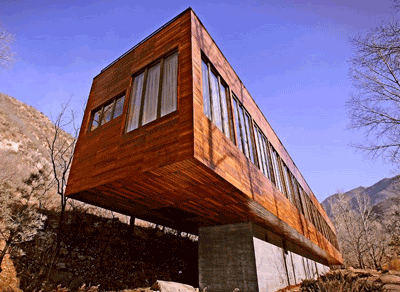 The Commune by The Great Wall is a collection of contemporary architecture located on private land in the Shuiguan Mountains. This unique hotel offers China tour guests excellent accommodations overlooking the Great Wall of China. It is near the Badaling section of the Great Wall, which is one of Beijing's biggest tourist destinations. The "Walnut Valley" of the Commune by the Great Wall consists of 11 villas with 46 guest rooms. The "Stone Valley" section includes 31 villas with 190 guest rooms, a kids' club, a spa, a fitness center, and a conference center. The property is located on 8 square kilometers of private land, just an hour away from Beijing International Airport. The hotel has 11 different style villas, each with a living room, dining room, kitchen, bedrooms, and bathrooms. Some of the luxury villas have sauna rooms, accessible rooftops, terraces and BBQ facilities.
Hotel of Modern Art, Guilin, China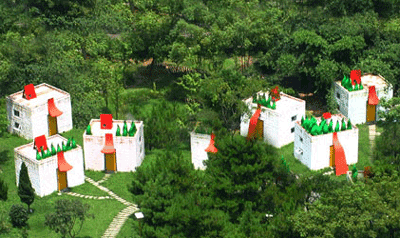 The Hotel of Modern Art is located in a private park, Yuzi Paradise, surrounded by lakes, rice paddies, and mountains and is just a few miles from Guilin and Yangshuo. Yuzi Paradise is a 1,320 acre art park developed for contemporary sculptures and includes art by internationally recognized artists. There are around 200 unique sculptures found at this hotel. The hotel consists of large suites and duplexes, each providing guests with distinctive art, beautiful scenery, and a postmodern style. The modern rooms blend contemporary art with luxury and comfort. The hotel also has 3 restaurants, a spa, a swimming pool, a gym, sauna, steam room, Jacuzzi, a business center, and meeting rooms. Activities include mountain biking, hiking, fishing, rafting, art classes, cave exploration, tai chi, yoga, and lake cruises.
Ruijin Binguan Shanghai, China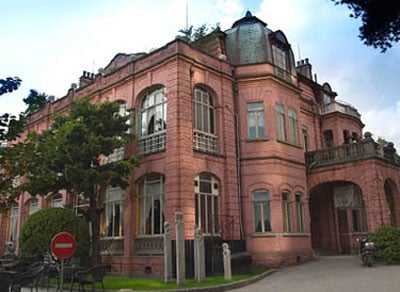 The Ruijin Binguan Hotel is located in the former French Concession of Shanghai. This garden hotel offers guest a peaceful environment among charming surroundings. There are four buildings where the rooms are located, in addition to banquet halls and meeting rooms. The hotel is designed in a traditional British style, and most of the buildings were constructed in the 1920s or 30s. Other features of the hotel include 100 acres of greenery, ponds, and small wooden bridges found in a Japanese-style garden. Guests have the choice of staying in deluxe, executive, or suite rooms, with a variety of styles and designs. The large suites include a separate sitting area and a balcony overlooking the garden. Located within walking distance of the hotel is the shopping area of Huai Hai Road, the historic landmark of Dr. Sun Yat-Sen's residence, and a variety of restaurants and bars.
For more tips read our blog entitled Know Before You Go: China, which details information on cultural norms and practices. Interested in staying at one of these unique hotels? Call us now at (866) 577-2462 to request a free quote or link to the form below.