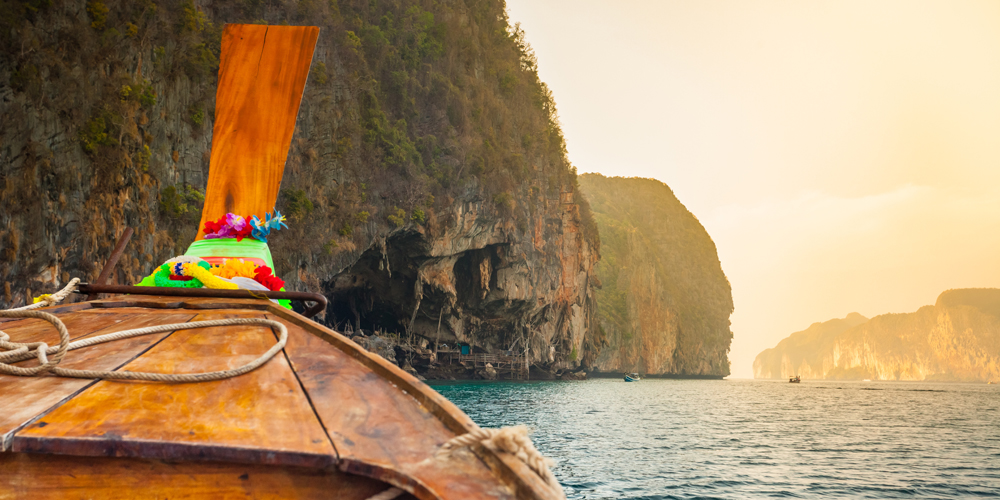 Famed for its beautiful coastline and infamous nightlife, Phuket has long been a popular destination for shoestring backpackers and jet setters alike. Such popularity has created the opportunity for a daunting amount of activities both in Phuket and the surrounding area, so we've sorted through the clutter and come up with a list of our travel expert's Top 5 Things to do in Phuket so you can get the most out of your adventure in paradise.
1. Phang Nga - Cave Kayaking
Gliding over clear tropical waters around the spectacular rock formations of the Thai coastline surely needs to be on your list. Phang Nga Bay's impressive scenery is best appreciated by canoe so you can fully explore the collapsed limestone caverns that make up the "hongs", or rooms, in the cliffs. Hongs are open-roofed formations filled with hanging jungle vegetation which form unique eco-systems complete with different species of fish, monkeys, and lively birds. This is an ideal opportunity to get close to nature. Make sure to check if this trip is available during your time in Phuket, as it is seasonal depending on the tide.
2. Snorkel Around the Similan islands
After experiencing the incredible natural beauty above water, it's time to grab your fins and splash into the underwater world that's hidden in the warm tropical waters near Phuket. It's easy to lose track of time swimming among the coral gardens alongside the exotic fish of the Similan Islands. The healthy coral, high visibility, and rich fish population in the surrounding waters make it the best area to snorkel in all of Thailand. There's also a great chance that you'll see Snapper, Turtles and Rays along with other species of smaller Reef fish along with giant groupers. Calm waters and excellent visibility allow for beginners and experts alike to get the most out of the experience.
3. Day Trip to Koh Phi Phi
Only a short boat ride from Phuket Island, Koh Phi Phi often warrants a few days to get the most out of the beautiful area. Opportunities are especially abundant for outdoor enthusiasts in this little slice of heaven. Snorkeling, diving, cliff jumping, climbing, and island tours are all top-of-the-line. The waters surrounding Phi Phi island harbor a variety of abundant marine life to swim with as well. If nightlife is on your agenda, the island is always bumping with a number of bars located right on the beach. There's even a rooftop bar to check out!
4. Hang with Elephants at Elephant Hills
The folks at Elephant Hills really know how to provide a top notch jungle experience. The camp is Thailand's first luxury tented camp, following in the footsteps of Africa's numerous similarly styled accommodations. The draw of these tents is being about as close to nature as you can get while still traveling in style. The best way to enjoy these luxury tents is to take a few days from your base in Phuket to explore the Khao Sok National Park. The camp offers a number of multi-day safaris which include elephant trekking through the Park's rainforest, canoeing down the Sok river and visiting mangrove forests. The park is blanketed by lowland rainforests and limestone mountains, making it another excellent choice for those with an affinity for adventure.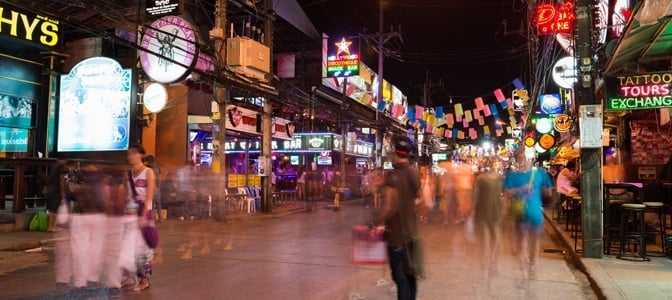 5. Experience the Nightlife
We've listed a ton of activities and day trips for adventurous travelers so far, but experiencing the notorious Patong nightlife might be the most adventurous yet. Although we wouldn't suggest Thailand tours solely for this party scene, the beer bars and clubs of the main drag of Soi Bangla will definitely make for an interesting story or two. During the day, the often chaotic scene slows down a bit, so relaxing on the beach after a night to remember is a good way to recover. Remember to drink lots of water!
Check out some of our other Thailand tours or just click below to start planning!