Colombia has made a come back. After years of civil unrest, Colombia is now safe for travelers to visit. The country's diversity offers terrain and experiences to please any type of traveler. One of the major appeals of Colombia tours are the beaches, as mentioned in our recent blog post on Cartagena and the Caribbean Coast. Colombia has some of the best beaches in South America, especially on the Caribbean coastline and islands. Here I'll highlight some of the best beaches Colombia has to offer.
Providencia Island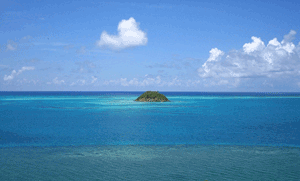 Providencia Island is one of the few remaining Caribbean Islands that is untouched by mass tourism. The pristine beaches are largely uncrowded making it the perfect place for a relaxing vacation. The native language is Creole, though most locals speak English. With the world's third largest barrier reef Providencia is a scuba divers dream. Also, the crystal clear, calm waters make the island excellent for snorkeling. Lying midway between Costa Rica and Jamaica, the island culture is similar to the laidback lifestyle in Jamaica. With a friendly population of just 5,000, few hotels, and beautifully undeveloped landscape Colombia's Providencia offers a unique experience not found on most other Caribbean Islands.
San Andres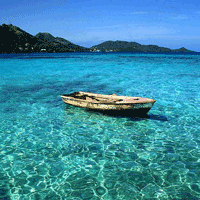 Relax on white sandy beaches, enjoy delicious food and experience a colorful culture in San Andres, another island among the Colombian islands in the Caribbean Sea. About a 90 minute flight from the mainland of Colombia, it is the largest of the southern islands. San Andres is also a superb diving spot with crystal clear, warm waters. The culture is a mesh of English Caribbean and Spanish Colombia. Spanish is the official language though English is also spoken. The north part of the island is the busiest, and where you will find most resorts, restaurants, and nightlife. One of the best beaches of the Island can be found at Sound Bay, which boasts beautiful sea, sand and is one of the least crowded beaches. Johnny Cay, a picturesque small island 1km off of San Andres, is a major tourist attraction. Since it can get quite crowded considered going before 11 am or after 3pm, when it is not peak hours. Though the nearby island of Providencia has more secluded beaches,
Tayrona National Park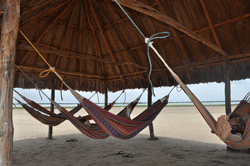 Tayrona National Park has some of South America's most alluring coastline. The nearly empty beaches are backed by beautiful rainforest. However, most of the beaches at Tayrona are not safe for swimming and you will see many signs warning you of the strong undertow currents. Canaveral is the only place that can be reached by car. It is located in Eastern Park Tayrona and is the most frequently used access point being less than an hour away from Santa Marta. Canaveral is where most people begin their hikes to other parts of the park. An hour hike through the jungle will take you to Arrecifes, the first beach. Be cautious when swimming as the waters have very strong riptides and the water temperature is very cool. Just north of Arrecifes is La Piscina, an isolated beach with crystal clear waters that is great for swimming. If you continue on the path for approximately 40 minutes you will find El Cabo Beach, which is a large camping and picnic site. The rainforest stretches for a dozen or so miles along the untouched Colombian coastline and can lead you to around 10 different bays!
Taganga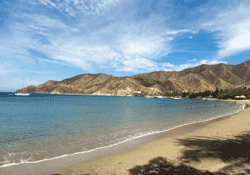 Just 30 minutes away from Santa Marta, you will find Taganga, a quaint fishing village on the Caribbean coast. The drive to Tanganga is beautiful and the small town offers a more off the beaten path feel than the typical tourist beaches. The village has only a few concrete roads and the town is not yet overdeveloped for tourism. The view from Taganga's coastline is spectacular, with green hills and beautiful blue water. Fishermen spend their days wading in the water and boats come and go from Santa Marta. The main road by the beach has fresh fruit juice stands and the town is full of open air restaurants. You can spend your day on Taganga's beach, or a short hike away you will find Playa Grande, an inviting beach which has a coral reef. Taganga also has a growing nightlife; you can dance the night away with a beautiful view of the ocean.
La Guajira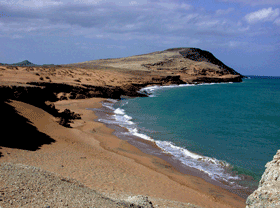 Ideal for an off the beaten track adventure is La Guajira Peninsula, which lies on the coast east of Park Tayrona. La Guajira is a desert region with beautiful landscapes and large, mostly empty beaches. The region is sparsely populated by indigenous Wayuu Iindians. The most popular region is Cabo de la Vela, a rustic seaside village. Other stunning views include the area of Puerto Estrella, where you can find Neimao beach, and Punta Gallinas which has amazing scenery. Don't miss seeing the incredible desert coastlines and visiting the Wayuu communities in La Guajira on your next Colombian eco adventure.
All of our accommodations are hand-selected, offering a wide range of unique lodging options to provide you with the highest level of quality, service and flexibility. Download our free Colombia guide below or take a look at our sample Colombia tours or give us a call at (866) 577-2462 to start planning your Colombia trip!