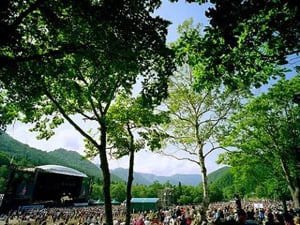 So you didn't get your ticket to Coachella this year. So Stagecoach doesn't line up with your work schedule. So Outside Lands isn't really your scene. What if there was an alternative every year that rivaled the most popular international music festivals? What if it featured some of the best musical talent from all over the world? What if it fell in the middle of your eco tour that you conveniently started planning yesterday? Let us introduce you to the Fuji Rock Festival in Niigata Prefecture, Japan. Yes, that Japan.
Since 1997 when the headliners, the Red Hot Chili Peppers, legendarily played through a typhoon despite lead singer Anthony Kiedis suffering through a broken arm, the Fuji Rock Festival has welcomed western artists such as Coldplay, Foo Fighters, Muse, and Neil Young & Crazy Horse to headline every year. Named so because the first disastrous concert was set in the shadow of Mt. Fuji, the concert has since been set at a picturesque ski resort in Niigata during its summer off-season. Many Japanese music lovers take this as an opportunity to escape the island's summer heat in the high mountains, and international travelers use it as the exclamation point at the end of their Japanese vacation.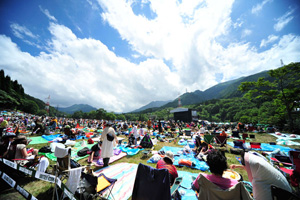 This year, the festival will run from July 27-29, in the heart of summer. The shinjuku (bullet train) to the nearby town of Yuzawa-machi runs directly from Tokyo, and free shuttle buses run all day from the train station to the surrounding ski resorts and the concert stages. Overnight accommodations at the host ski resort are usually sold out far in advance, but the campground held on a nearby golf course is fully equipped to receive thousands of attendees. Western artists in 2012 will include Radiohead, Elvis Costello and the Imposters, Justice and Jack White, but for some, the true pleasure will be in discovering the Japanese artists that the festival strives to highlight alongside the big names.
Listing "Independence," "Cooperation," and "Respect of nature" as the three keys to running the annual event, its organizers, Smash Corporation, take pride in claiming the title "the cleanest festival in the world." The respectful nature of the largely Japanese audience does not go unnoticed by the festival's environment, as every year, the venue is left spotlessly clean and ready for winter skiers. Needless to say, Global Basecamps travelers need not shy away from including this festival in their ongoing sustainable travel, as it does not leave behind the usual garbage dump common to so many other music festivals around the world. Time is running out to plan your Japan tours including the festival, however, as both the weekend tickets and other hotels all over Japan are booking up soon!