In a few earlier blogs we mentioned Tiger Mountain, our in country partner in Nepal. All of our partners have a proven commitment to ecoutourism and sustainble tourism practices, and Tiger Mountain is no different. They have so many responsible tourism initiatives in place that it was difficult to include them all in one blog! So, as a follow up to our Tiger Mountain Responsible Tourism blog, here is some more information on how our Nepal tours help give back to the local communities.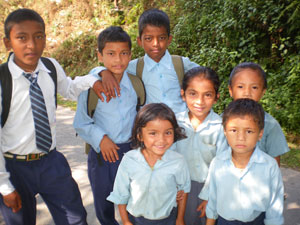 Tiger Mountain Pokhara Lodge (TMPL)
Tiger Mountain Pokhara Lodge is the only ecotourism establishment in Nepal to have a functioning responsible tourism verification system to assess and validate the company's sustainable tourism policy. Other properties in the group are in the process of setting up the RT system. TMPL's Sustainable Action Group initiates and monitors sustainability projects.
With funding from TMPL guests, a local secondary school has completed its 1st floor and constructed a computer lab. With the help of guest volunteers from People and Places, teachers have been mentored in creating an English medium center for the school. School and medical supplies are brought by guests through the People and Places program. Children from deprived backgrounds have been sponsored, and a local primary teacher's salary is being funded.
TMPL provides health assistance by supporting the Nepal Red Cross in construction and disaster relief. A number of villagers with crucial medical or financial needs have been helped with donations from guests. The lodge also makes water taps and fresh water supply available to locals.
Wildlife monitoring near the lodge includes vulture monitoring, waterfowl count, and technical and financial assistance to Bird Conservation Nepal. TMPL now funds a forest ranger's salary as well.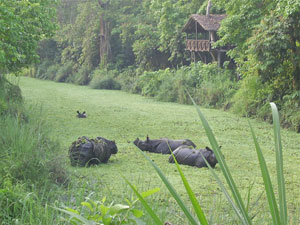 Karnali Lodge (WNA)
Karnali Lodge, located in remote West Nepal, plays an active role in helping the indigenous Tharu benefit from their location on the edge of Bardia National Park. With the belief that local villages play a crucial role in the conservation process, the lodge's ongoing workshops and awareness campaigns conducted by Lodge staff help create partnerships with the community as well as park officials. One of Karnali's latest projects is the Jim Edwards Conservation Education Center, which is funded through the International Trust for Nature Conservation, and is being built at one of the local schools. Another recent collaboration is the Bardia Green Project, a tree plantation program.
Health and social issues are addressed at workshops on poverty/hunger, gender equality and women's empowerment and environmental sustainability. Direct support to women's empowerment includes the distribution of sewing machines to women and training in bio-briquette manufacture as an alternative energy source.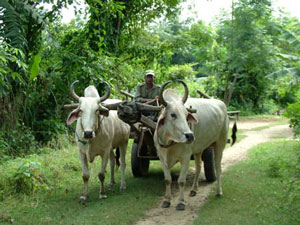 Mountain Travel Nepal
The founder of trekking in Nepal, Mountain Travel's Col. Jimmy Roberts, recognized that villagers' lives could be improved through tourism. Donations have gone towards schools along Mountain Travel Nepal's trekking routes, including teacher's salaries and construction of additional classrooms. Mountain Travel Nepal is one of the founders of the Porters' Protection Scheme to ensure fair service to porters on Himalayan treks.
To learn more about how we contribute to Tiger Mountain's sustainable tourism initiatives read about our donation to the Tiger Tops Swissair Pre-School on our social responsibility page.