Chances are that if you're reading this, you're up for an adventure. You already know that Brazil is nearly the size of the contiguous United States with vast expanses of wilderness in the absence of first-
world infrastructure. It follows that you've given up hope on one-click purchasing a "Brazil in 14 Days"
tour package because, let's face it, Brazil will never be an all-inclusive destination. Brazil embodies
neither cohesion nor interconnectedness; instead, its beauty lies in the contrast of distinct cultures,
histories, climates and geographies. And, as any well-traveled soul can attest, an authentic encounter
with such complexity is well worth the extra research and time required to tap it.

Anyone interested in traveling to Brazil should aim to slow down and be open to the idea that exotic
everyday nuances can transform inconsistency and inconvenience into adventure and appreciation.
Brazil tours are usually contracted by locals who are not beholden to corporate standards, and often
itineraries involve last-minute adjustments with respect to weather, group size, and transportation.

The best time to travel to Brazil depends upon what you want to do and where you want to do it.
Important timing factors that can make or break a trip include seasonal rains, regional festivals and
federal holidays/school vacations. What follows is some food for thought to help future travelers narrow
down a focus in order to maximize quality of experience, which, in light of Brazil's charming
particularities, is guaranteed to be a much more fulfilling approach than creating a generic checklist
itinerary.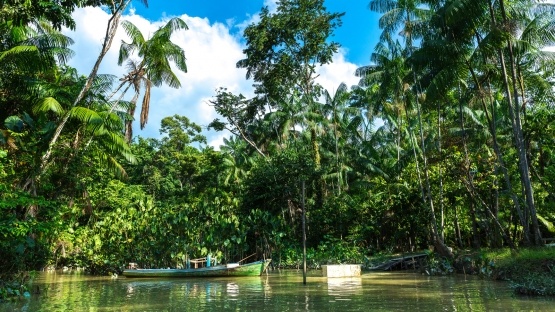 Rainforest

Rainforest expeditions require local, licensed guides. Although day trips are possible from major cities,
it would be a big mistake to forgo a full immersion into the incredible world of flora, fauna, and humans
who call it home. Furthermore, the invaluable time spent sharing meals, trekking through jungle and
jeep-cruising over wetlands is when Brazil becomes more than the sum of its parts. A trip to the North
is just as memorable for the openness and innocent curiosity of its people as its exotic wildlife and
gargantuan waterways. There is always at least one English-speaking guide eager to tell stories about
his or her upbringing, opinionate on current politics, or give a behind-the-scenes account of life as a
facilitator of Amazon adventures. As far as speaking Portuguese, a tourist who attempts to utter even
the simplest bom día will elicit broad smiles from enthusiastic locals who are excited to share the
wonders of their world.

Amazon

Tours of the Amazon Rainforest in Brazil begin by jeep, heading west from Mauaus along the Amazon
River until it splits into the Río Negro, from which intricate tributaries abound. Most tour operators
have established their lodges within this network of waterways north of the Amazon River because in
many sections the water's pH is miraculously inhospitable to mosquitoes. No, it's not a myth: tourists
really do sleep outside in uncovered hammocks and awake unscathed.

Meals at river lodges are bountiful yet unvaried, remaining true to traditional Amazon cuisine. The
ever-present starchy mandioca (cassava root) is typically accompanied by locally caught fish and, on
occasion, chicken or beef. Fortunately, sauces are particularly unique and flavorful and become
cherished after a few days of eating essentially the same handful of foods over and over again. And, it is
not hard to believe that the daily post-lunch river soak never fails to wash away every last complaint.

Surprisingly, the Amazon can be enjoyed year-round. During the dry season (June to December), water
levels fall and temperatures rise. This makes it possible to venture by foot further into the forest and
conditions are ideal for fishing. The wet season (January to May) brings rain and flooding but more
comfortable temperatures and greater opportunity for exploration by boat. No matter when you decide
to visit, guides are very knowledgeable and will assess daily conditions to tailor each tour accordingly.

Pantanal

While the Amazon offers a fascinating discovery of life along the planet's greatest waterway, the
Pantanal is the place to witness Earth's utmost display of biodiversity. Think jaguar, tapir, capybara,
macaw, kingfisher, caiman, and much, much more. The openness of the region facilitates extensive
exploration that is impossible in the dense Amazon, but the plains are subjected to complete flooding
during the wet season (November to April). Tours cease to operate during this time and many hotels
close for the season. However, when water levels recede (May to September), roads reappear and jeep
safaris ramp up. A Pantanal expedition covers a lot of ground and is geared toward wildlife sighting: a
style that many people find more exciting and eventful than an unhurried Amazon tour.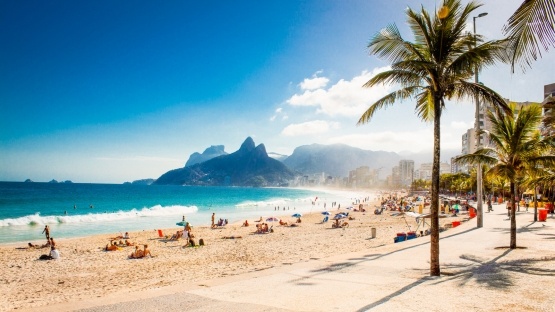 Beaches

Brazilian beaches are breathtaking at any time of year. However, keep in mind that during winter the
coast can be wet and empty, while in summer it transforms into a crowded oasis of urban life and annual
festivals. The high season begins the week before Christmas and lasts until Easter, during which
Réveillon (New Year) and Carnaval attract multitudes of domestic tourists. Also within this period
occur the marvelous celebrations of Santa Barbara, Iemanjá, and Senhor do Bonfim. It is critical to
know the exact dates of these días festivos ahead of time because transportation and accommodation
sells out up to a week before and after.

Northeast Coast

As the continent's coast wraps around its northeast corner, Atlantic winds align to create world-class
windsurfing and kite surfing. Tours embark from Fortaleza and Natal, but you don't have to chase wind
to be enchanted by sheet-like sand dunes and postcard sunrises. If relaxation is in order, Jericoacoara is
a must-visit isolated beach town in the state of Ceará with everything from full moon parties to a crystal
clear lake with half-submerged hammocks surrounded by horizons of white sand.

Although the journey from Fortaleza to Jericoacoara isn't worth it unless you plan to stop over for a few
days, in every main city there are plenty of convenient day trip options to visit places like the Parnaíba
Delta, Lençóis Maranheses National Park, or a plethora of famed beaches.

In the Northeast, the dry season (June to January) is the ideal window to maximize beach time. For
sport enthusiasts, the strongest winds arrive between August and November.

Bahia

The state of Bahia is famous for both its enchanting nature and bittersweet history. Salvador, Brazil ́s
original capital, is the place to see ostentatious colonial churches and get a full dose of Afro-Brazil.
Inland lies Chapada Diamantina National Park, which is worth a visit if time allows. Tours of the park
can be easily arranged last-minute, but check ahead for music festivals, when transportation from
Salvador gets fully booked for the entire week.

The Bahian litoral (coastline) is a string of impossibly beautiful beaches complete with coconut palms
and trees full of carambola (starfruit), maracujá (passionfruit), pitaya (dragonfruit) and, of course, açaí.
The most notable beach towns are Morro de Sao Paulo, Barra Grande, Itacaré, Canavieras and Trancoso.

Each has a unique collection of pousadas (affordable boutique bed and breakfasts) and available beach-
and/or island-hopping tours by boat or private car.

Bahia has a considerable rainy season (April to June) during which weeklong downpours are imminent.
Beach weather comes during the high season (December to March), which is the best time to visit, but
bear in mind that accommodation fills up and prices soar.