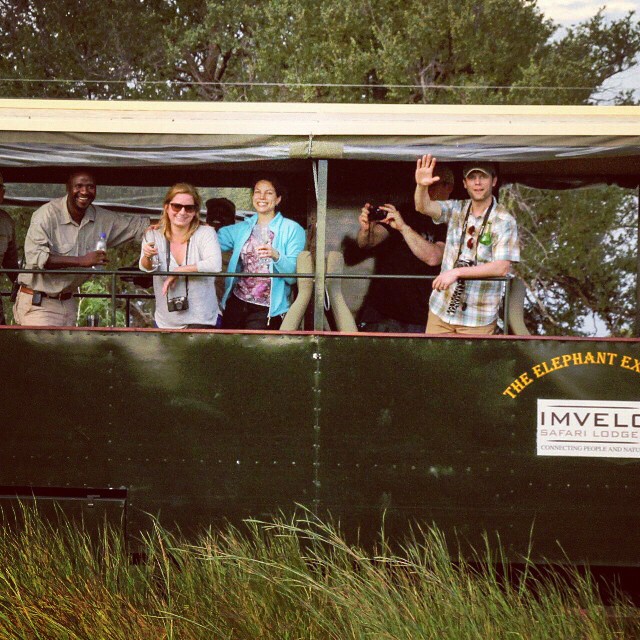 People loved this fun picture on Global Basecamps' Instagram this week. And we can't blame them! Any time our Travel Specialist Meagan has a glass of champagne in hand on the African savannah, good times are being had.
This picture comes out of Hwange National Park, in stunning Zimbabwe. You may not see Zimbabwe listed among Global Basecamps' featured destinations, but you'll probably see it soon. The country's rebound after political and economic turmoil of the early 21st century has been outstanding, and Zimbabwe is quickly re-gaining its status as a primary safari destination.
The train car in the picture, the "Elephant Express," is operated by one of our lodge partners. This is a perfect introduction into the park as travelers settle back after a long flight with a cool beverage, and watch the wildlife pass by from the comfy benches. Meagan hasn't stopped talking about this experience since she got back a few weeks ago, so please do contact us if you'd like to know more about this, and everything else Hwange National Park has to offer.
In particular, we love Hwange because of the sustainability projects our partners operate in the region. One special experience our travelers can partake in is the "Pump Run." This half day excursion is led by experienced rangers, and leads to various water pumps that feed local wildlife in a park where water is hard to come by, and whose operators appreciate the company and supplies brought to them out in the bush. This is an opportunity to learn about the systems that make life possible in the park, as well as a walking safari unlike any other in the world.
We love Africa, as should you. We love planning our travelers' adventures from South Africa to Tanzania, and we're prepared a great guide to helping our travelers pick their ideal safari destination. Click below to download it. We know you'll learn something!