Thailand is one of the most popular tourism destinations in the world for so many reasons - stunning natural scenery, from jungly beaches to mystical mountains, rich cultural heritage and traditions spanning centuries, a warm and inviting attitude towards foreigners, and a philosophy of life geared towards fun and happiness, otherwise known as "Sanuk". But no Thailand tour would be complete without at least a quick foray into the diverse and delicious culinary scenes throughout the country. Each region prides itself on its own distinctive style of cooking - influenced over centuries by the respective weather, culture, and abundant food sources in each area. Below we'll be delving into some of the cuisines each of Thailand's regions is known for. We're also giving you a delicious recipe for you to try out for yourself at home because we know your mouth is already watering!
Northern Thailand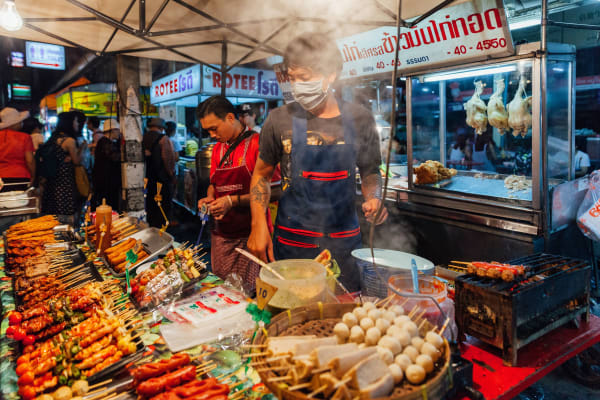 Market in Chiang Mai
Northern Thailand is often considered the cultural capital of the country, with Chiang Mai as the epicenter. The north is characterized by lush mountains and waterfalls, indigenous ethnic minorities, outdoor adventure activities like hiking, biking, kayaking, and National Park exploration, and of course amazing food. The cuisine of the north shares the name of the dominant culture, "Lanna". As the north is colder than the rest of the country, this area features many rich coconut curry soups, such as Khao Soi. Thinner than regular curry and more of a soup, the flavors of the coconut milk, fish sauce, aromatics and citrus with a bit of spice result in a delicious umami! This dish takes influence from Myanmar, as well as Chinese Muslim immigrants to Thailand, and is extremely popular with Northern Thai people - often consumed daily. With a few substitutions, this can be quite easy to make at home:
Khao Soi
Ingredients
4 Tbsp Oil
4 Tbsp Thai Red Curry Paste
6 Cups Coconut Milk
4 Cups Chicken Stock
3 Tbsp Fish Sauce **Can substitute Soy if necessary
1 Tbsp Raw Sugar
1.5 Pounds Chicken Thighs, cut into bite-sized pieces
1.5 Pounds Egg Noodles
¼ Cup roughly chopped Cilantro
2 Shallots, sliced (for garnish)
Lime wedges (for garnish)
Sambal (for garnish, to taste)
Instructions
Heat the oil in a large heavy-bottomed pot over medium heat. Add the curry paste, cooking until fragrant (about 2 minutes) before adding the chicken. Cook for another 2 minutes and stir in the coconut milk, chicken stock, fish sauce, and sugar. Reduce the heat to medium-low, and simmer uncovered for 30 minutes. Cook the egg noodles while the soup is simmering. When ready to serve, pour the soup over the noodles, and garnish with cilantro, lime wedges, shallots, and chili paste.
North-Eastern Thailand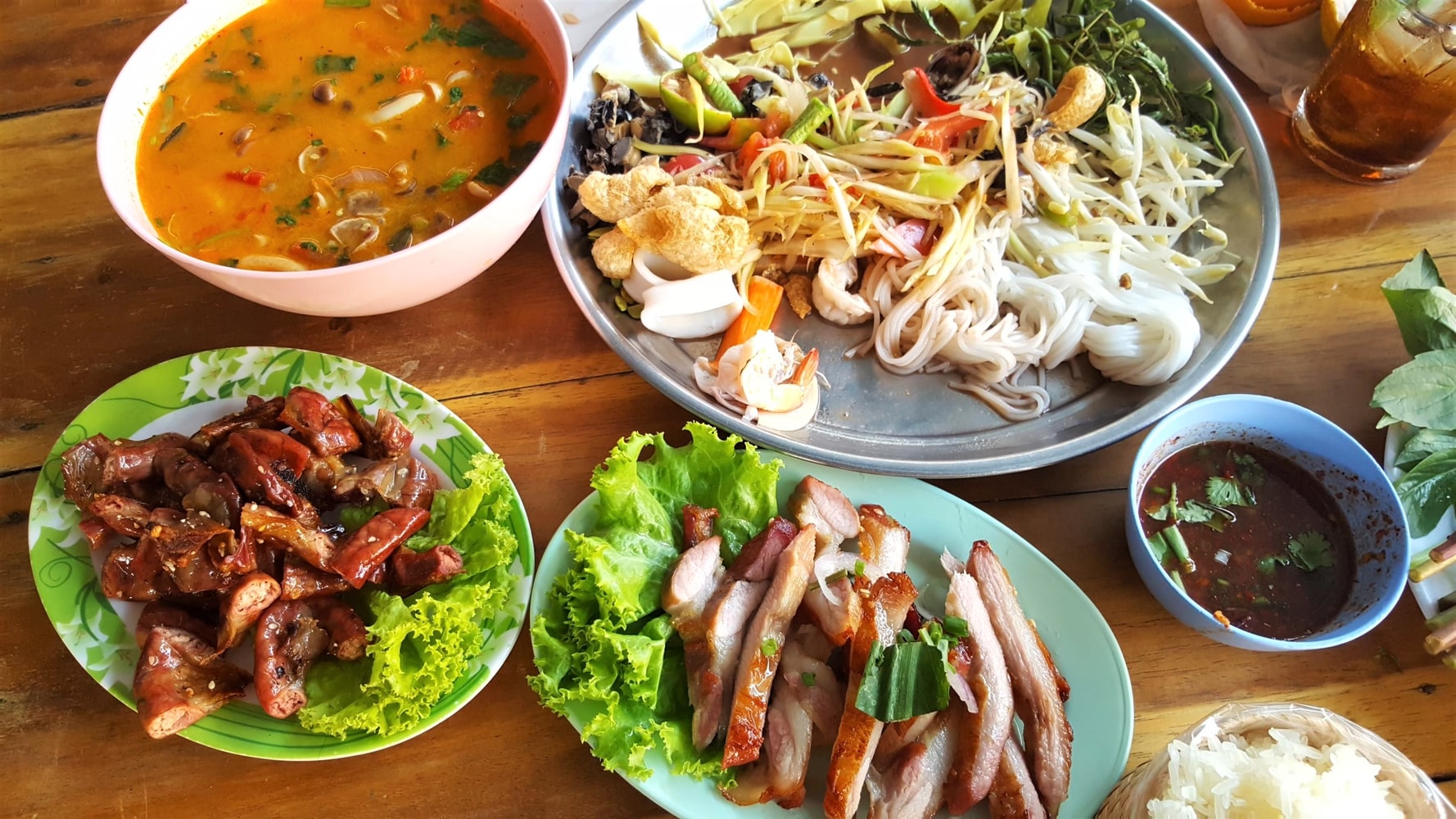 Assortment of Traditional Thai Dishes including Som Tam
North-Eastern Thailand, otherwise known as Issan, is the agricultural center of the country. While Issan isn't often visited on Thailand tours owing to the remote locations and lack of tourism development, their contribution to Thailand's foodie scene is considerable. From this hotter and drier climate comes one of the most popular dishes - Som Tam - a sweet, sour, and spicy chilled papaya salad. This is an excellent fresh appetizer, and is commonly eaten family style along with roasted or grilled meats, fried fish, and fried rice or noodle dishes:
Som Tam
Ingredients
1 Pound Shredded Green Papaya **Can substitute Green Mango
3-4 Fresh Thai Chilies (to taste) **Can substitute serranos or jalapeno
1 Clove Garlic
2-4 Green Beans, sliced into ½ inch pieces
1 Tbsp Roasted Peanuts, crushed
5 Cherry Tomatoes sliced into halves
1 Tbsp Raw Sugar
2 Tbsp Lime Juice
1 ½ Tbsp Fish Sauce
Instructions
Shred the papaya or mango. In a mortar and pestle, pound the chilies and garlic until well crushed. Add the green beans and roasted peanuts, pounding only enough to break them up a bit. Add the shredded papaya, tomato, sugar, lime, and fish sauce, and pound until everything is thoroughly mixed. This dish should be sweet, sour, and a bit salty, so feel free to add condiments to taste
Central Thailand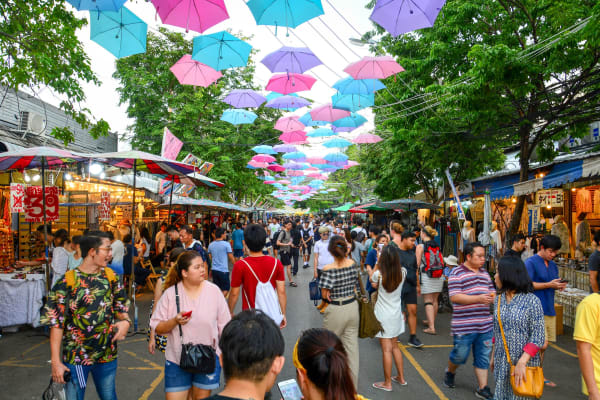 Market in Bangkok Thailand
Central Thailand, or Siam, is the seat of the old kingdom and comprises such cities as Bangkok, Ayutthaya, Phitsanulok, Sukhothai, Kanchanaburi, and Rayong, among many more. Many travelers hoping to get off the beaten path on their Thailand trip will visit some of these cities - Ayutthaya has some of the oldest ruins in the country, as well as Sukhothai and Lopburi. Kanchanaburi is home to the Burma Railway, a site steeped in history, as well as wonderful hikes, waterfalls, and elephant sanctuaries. Ranong is a gorgeous beach destination, away from the crowds. Bangkok is of course a bustling metropolis with incredible Royal Palace Temples, floating neighborhoods with thriving local life, and a world class culinary scene that most travelers visit at some point during their Thailand trip. But back to the food! If there is one defining dish of Siam if not all of Thailand, it's Massaman curry. This creamy curry is a mainstay, and an incredibly popular dish worldwide. It does have quite a few ingredients, but it is easy to make!
Massaman Curry
Ingredients
2 Tbsp Oil
2 Tbsp Massaman Curry Paste
2 Red Onions, Sliced
1 Pound Chicken Thighs, cut into bite sized pieces **Can substitute beef
1 Large Potato, cubed
2 Thai Chilies **Can substitute serranos or jalapeno
1.5 Cups Chicken Stock
1 Cup Coconut Milk
2 Tomatoes, skins removed, chopped
Zest of 4 Limes
1 Star Anise
2 Tbsp Fish Sauce
1 ½ Tbsp Raw Sugar
2 Tbsp Soy Sauce
Basil (for garnish)
Roasted peanuts (for garnish)
Instructions
Heat the oil in a large heavy-bottomed, lidded pot. Add the onions and fry for 8-10 minutes, until golden brown. Increase the heat, push the onions to the side, and add the chicken - frying for 2-3 minutes on all sides until just about cooked. Add the curry paste and stir well to coat the chicken and onions, frying for 1-2 minutes. Next, add the potatoes, chilies, stock, coconut milk, tomatoes, lime zest, star anise, fish sauce, raw sugar, and soy sauce. Stir well and bring to a boil, then cover and reduce the heat to a simmer. Simmer for 12-15 minutes, and season to taste with fish sauce or lime juice. Just before serving, mix in the basil and crushed roasted peanuts (if desired), and serve with rice.
Southern Thailand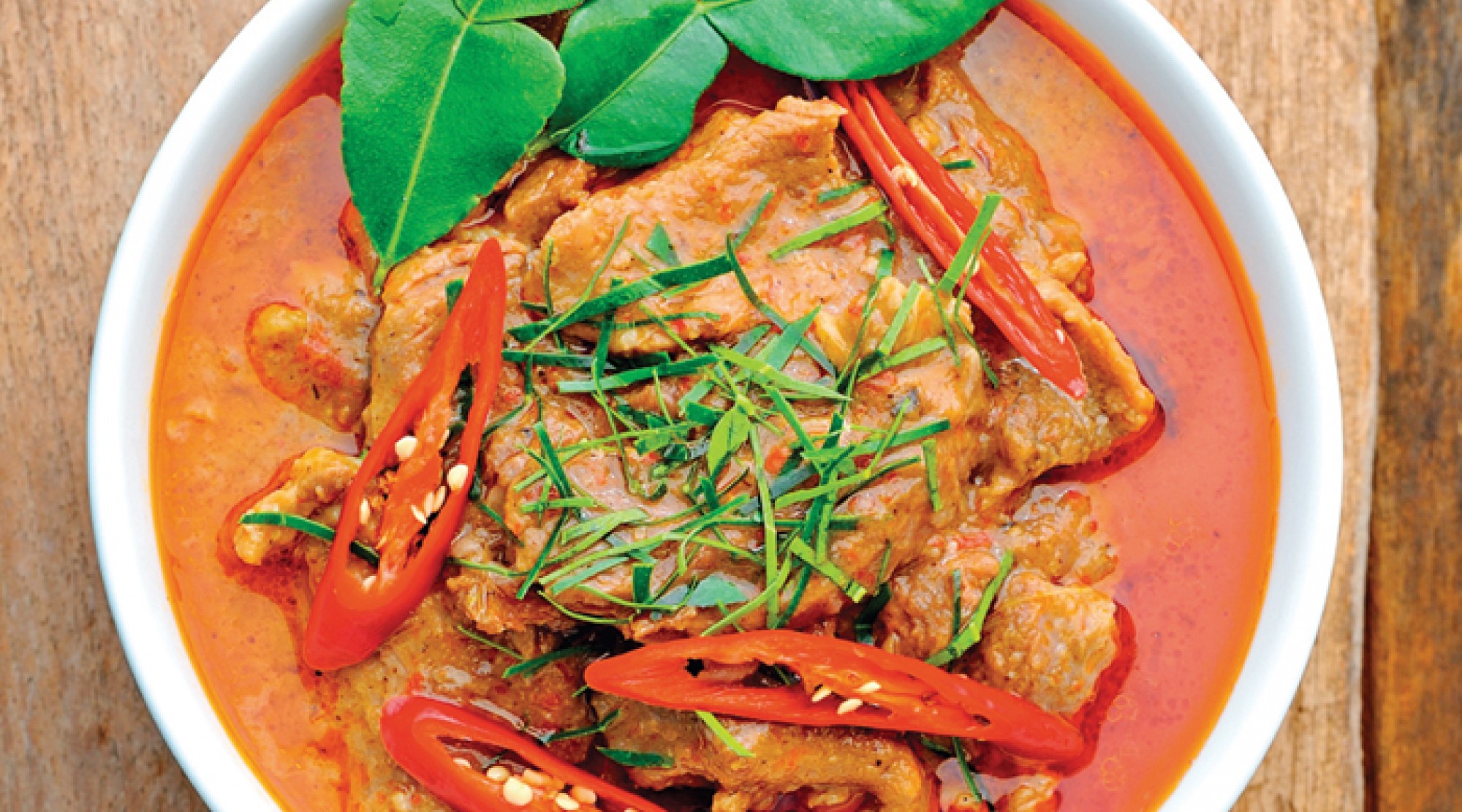 Panang Curry. Photo by the Splendid Table.
Finally, we have Southern Thailand, world famous for its stunning white sand beaches, idyllic turquoise waters and limestone karsts. A top honeymoon destination, travelers like to spend their days here relaxing at fabulous villas, island hopping around to snorkel and discover secret beaches, and simply admiring the iconic scenery with loved ones. Southern Thailand is home to "Dtai" cooking, a spicier and more seafood oriented cuisine taking its biggest influence from bordering Malaysia. Satays with peanut sauce and other Indonesian-style foods are commonly encountered as well. One of the classic dishes in this region is Panang curry with beef, chicken or fish, and this will be available at any restaurant in the South of Thailand.
Panang Curry
Ingredients
4 Tbsp Panang Curry Paste
1 ½ Tsp Sugar
1-2 Tsp Fish Sauce
¾ Cups Coconut Milk
8 Oz Protein - Beef, Chicken, Fish or Shrimp, Tofu
Zest of 3 Limes
Red chilies (for garnish)
Instructions
Saute the curry paste in oil until aromatic, 1-2 minutes, and deglaze with ¼ cup of the coconut milk. Add the lime zest, stirring constantly, until the coconut milk dries up again. Once it has dried up, add the protein to the pan and to coat thoroughly with the curry. Add the remaining ½ cup coconut milk, fish sauce, sugar, and cook until the protein is done. Once hte protein is cooked, remove from the heat immediately. To serve, pour the curry on a deep plate or bowl, spoon the tablespoons of coconut milk on top and add chilies to taste. Serve with Jasmine rice.
Thailand is an incredible travel destination for so many reasons, and a big one is the food! No matter what your interests are, there is something for everyone and we'd love to help you discover this amazing country and start planning your Thailand tour!