Tanzania is an ideal safari destination, with incredible wildlife and pristine wilderness. Witnessing the Great Migration is one of the highlights of a Tanzania Safari. The great migration is usually in the Serengeti from December to September. During the dry months of December, January, and February the migration is a mass of hundreds of thousands of animals. While in the months of March, April, and May the migration splits up into different groups roaming around the Serengeti in search of fresh grasses. For the best wildlife viewing visit during the months of November/December to February and July to September. To avoid the crowds, consider planning your trip in May, June, or November. Here are a few of our Tanzania travel tips to consider when planning your safari.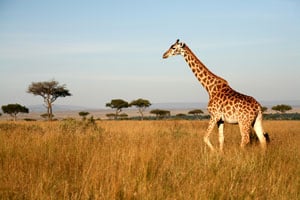 Dos
Pack light. Be sure your bags are less than 20kg, as that is the maximum weight allowed on most airlines. Bring a light suitcase that is easy to carry, as well as a small day pack to bring with you on safari drives to hold your camera, snacks, water, etc.
Wear neutral colored, lightweight clothes that dry quickly. Clothing in earthy tones does not attract insects and blends in with nature. Avoid black clothing, as it absorbs the heat. Bring a jacket for early morning drives and chilly nights.
Consider staying in a canvas tent, close to the wildlife and under the beautiful Serengeti night sky. Camping allows for great flexibility to explore more remote locations. Nasikia Luxury Camps are mobile camps that shift location, depending on the Great Wildebeest Migration. The luxury camps have ensuite bathrooms, running water, and hot showers. Whether you are looking for a luxury safari experience or are on a budget, we offer a wide range of camping options all allowing for prime game viewing.
Prepare for a range of weather conditions. Tanzania has a tropical climate, but it can vary throughout the country. Rainy season is from March to June in the coastal regions and from November to December and February to May in the highlands. However, even if you are traveling during the dry season it is advisable to prepare for all types of weather.
Bring cash with you. Though the frequency of ATMs is increasing, there are still many places that only accept cash. Keep bills of varying amounts with you during your a Tanzania Safari, as smaller bills are useful for snacks, drinks, souvenirs and tipping. Be sure the dollars you bring are new notes printed after 2004, as older currency is often rejected.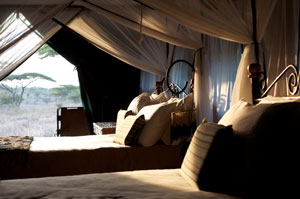 Stay hydrated. Always make sure your drinking water is clean, ensuring it is either bottled or has been boiled.
Be patient. Guides will do their best to ensure you encounter a wide range of wildlife, but animal behavior can be unpredictable. Instead of becoming frustrated when you don't see the big 5, simply take the time to appreciate the beauty and nature around you.
Participate in the early morning drives. The morning and afternoon light are best for wildlife photography.
Read about Tanzania wildlife and customs before you go. Check out our Know Before You Go: Tanzania guide for insight into appropriate behavior and cultural norms. The local people will greatly appreciate your efforts.
Don'ts
Do not approach the animals on foot. Listen to all the rules and instructions from your guide.
Avoid displays of wealth. Just like traveling to any foreign country, it is advisable to keep your valuables at home. It is highly unlikely you'll experience security problems on your trip to Africa, but we recommend that you avoid displays of wealth, such as wearing expensive jewelry, and avoid certain areas of large towns late at night.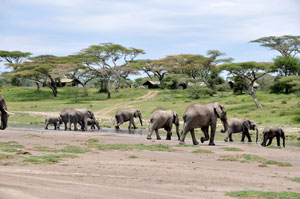 Do not extend your hand to a woman (if you are male), unless she does so first. Handshakes are appropriate for greeting, however because the country has a large Muslim population, it is more appropriate for women to greet men with a small bow.
Avoid public displays of affection, as this will attract negative attention. Close touching is not appropriate between members of the opposite sex.
Do not use your left hand when eating, shaking hands, passing something to another person, or handling produce at the market, as it is customary to use your right hand.
Do not prop your feet up on tables or chairs, as having the bottom of your shoe pointing toward a person is considered rude.
Do not photograph people without their permission. There will be countless incredible photos to capture on your safari, including the wildlife or aspects of the local culture. Just be sure to ask the locals for permission before taking a picture of them.
For more information about our Tanzania safaris, fill out a custom tour form or give us a call at (866) 577-2462!
Can't get enough Africa? Are you in the very beginning planning stages of your trip? Great! We published an absolutely free travel guide to picking your perfect safari destination. Click below to download!