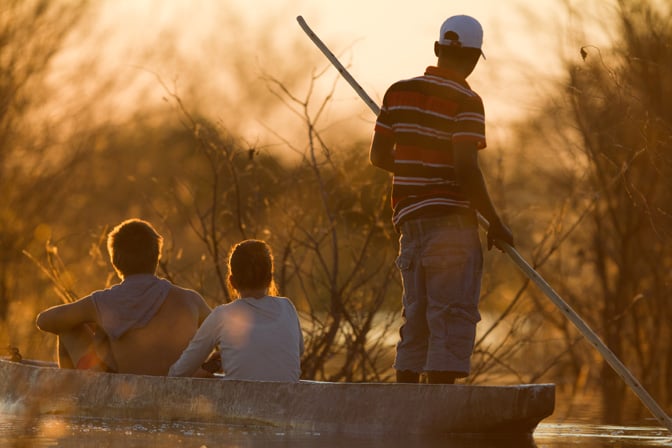 Africa is big. Really big. So we understand the difficulty people run into when deciding where in Africa they should travel. Everyone says South Africa is great, but the Serengeti is in Tanzania, and mountain gorillas live in Uganda, but the best beaches are in Zanzibar.
So when we tell you that Botswana should be your next safari destination, you know there's got to be some good reasons behind that claim. Stay tuned, we plan on delivering those reasons.
1. The Okavango Delta
This blog post could be one reason long, and this would be it. There is no other geography like this in the world. A freshwater inland delta of this size bordering a desert the size of the Kalahari is hard to even imagine. Every year, water levels flood and 15,000 square kilometers of desert transforms into a wildlife bonanza.
The delta is home to five distinct ethnic groups, each with its own language and culture. So along with some of the world's best wildlife viewing, one can also expect ample cultural interaction. Elephant, buffalo, lion, giraffe, hippo and zebra all congregate here, along with plenty of unusual mammal and bird species you won't see anywhere else.
2. You'll Never Feel Crowded
Botswana is the same size as Texas, but is only home to 1.85 million permanent residents. A full 38% of its land is devoted to protected national park reserves and wildlife management areas. In addition, each of its national parks are surrounded by private, unfenced concessions adding even more land where wildlife can roam free of human impediment.
The government also limits the density of tourism throughout these concessions, meaning there are areas of 2,300 square kilometers with only sixteen total safari tents. Whereas in South Africa or Tanzania, you might be sharing a lion sighting with twenty other safari vehicles, you might never see a fellow tourist while game viewing in Botswana.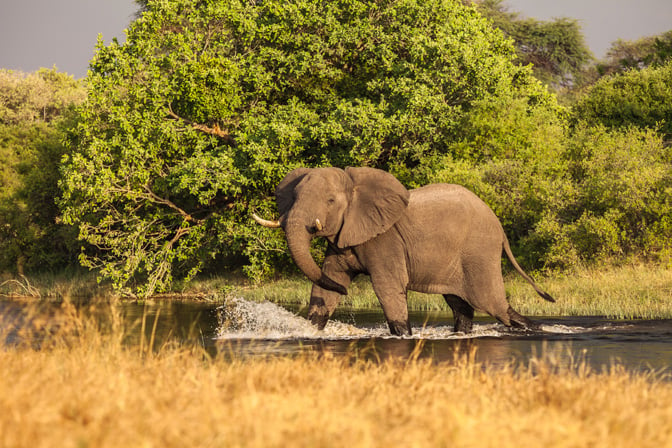 3. Vehicles or Canoes? Take Your Pick
Botswana is the only country in Africa where you can reasonably safari via canoe. What's more, during the flood months, this will likely be the more convenient form of travel during your game viewing. Many parts of the delta are unreachable by road, and a fly-in by small aircraft is usually required to get there.

Don't misinterpret us, we love safaris. But the reality of a normal safari is that for much of the time, one is stuck in a vehicle for a majority of the day. Canoes give you a chance to travel more slowly, stop and smell the African flowers, and feel more connected to your environment.
4. Chobe National Park Has Elephants. Lots of them.
This enormous park, conveniently accessible from Victoria Falls (see below) features the world's largest concentration of elephants. We don't feel this reason needs more explanation. Elephants are awesome, and you want to see them. Why aren't you booking your flights yet?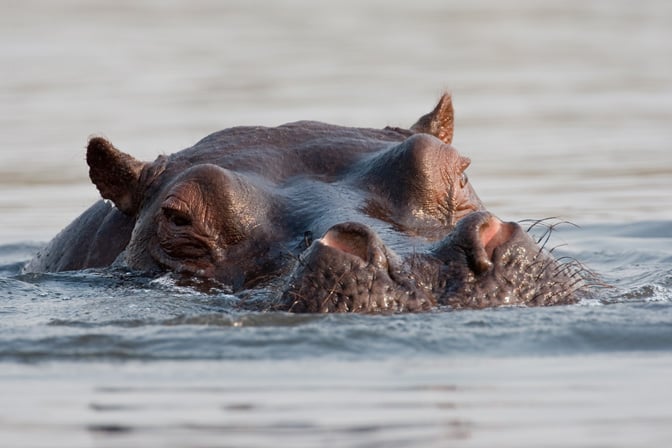 5. Victoria Falls Will Not Disappoint
Like the Grand Canyon, or the Great Barrier Reef, Victoria Falls is one of those natural landmarks that gets talked up all the time, and never disappoints. Direct flights from all of Africa's major airports arrive here daily. It's so easily accessible, in fact, that the Falls often serve as a gateway to greater Botswana.
Don't miss a chance to take a swim in Devil's Pool, where the only thing separating swimmers from the plummet is a thin stretch of stone.
6. Personal Service, Luxurious Camps
Botswana is no stranger to tourism. The country has been in the safari game for decades, and the service here really shows it. Like we mentioned before, wilderness lodges are often limited to tents in the single digits, and these often come with an impressive staff of cooks, drivers, safari guides, etc. You'll never feel far from a cold sundowner, or a delicious meal, even when you couldn't be farther from a city. Safaris are really meant to be a luxurious, easy experience from arrival to departure, and Botswana really does it right.
So there you have it. Six valid reasons you should already be planning your luxury African safari to Botswana.