One of the best, most cost-effective and personal ways to experience Namibia is in a car. American travelers are usually taken aback when they learn this. The Road Trip is a very American convention. From Route 66 to Pacific Coast Highway, the best way to see the 50 states is from behind the wheel. We list Namibia among the few overseas destinations where we suggest the same.
Whereas other destinations have specific highlights to see (eg Machu Picchu, the Great Wall, etc) that make private guiding preferable, Namibia's real beauty is in its countryside. Much like America's national parks, Namibia's parks are expansive, beautiful places meant to be enjoyed slowly. So rent a car, experience the landscapes on your own, and build your unique Namibian adventure as you go.
On a Global Basecamps trip to Namibia, we provide phone, GPS, insurance and full in-country support. We like making things just a little easier for you, so if you reach the end of this blog and find you must go to Namibia, please check out one of our Namibia tours itineraries to see a great example of the types of trips we can plan here!
Is it safe?
Yes.
There are countries in Africa where driving without a guide is not advisable. Namibia is not one of those countries. Well-paved roads criss-cross Namibia and reach almost every major destination you would want to visit. Plenty of gas stations are scattered across well-signed highways. Getting lost is truly difficult, as one can count the major roads used any given day on one hand.
Major safety concerns are mostly limited to wild animals crossing the road unexpectedly, though we do suggest always carrying enough water and cash to pay for gasoline.
What Should I See?
Much like an American road trip, national parks define the Namibian experience. At Global Basecamps, we usually schedule time in at least three major parks or regions, spending two or three nights in each location. Following is an incomplete list.
Etosha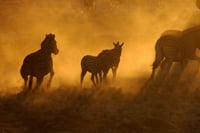 Probably Namibia's most well-known park, Etosha derives its name from the Herero word for "Great White Place," describing the giant salt pan that dominates much of its landscapes. What was once a major lake now only features a few, critical water springs, concentrating wildlife conveniently for viewing. Desert lions hunt herds of gemsbok, springbok, wildebeest, zebra and giraffe.
Damaraland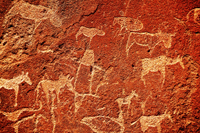 It was when rivers flowed freely in Damaraland that early humans first lived here, leaving inspiring rock engravings at Twyfelfontein. Dry river beds and other ancient geological rock formations now define Damaraland. This is true "off the beaten path" travel, as the few humans who live here now do so to staff the park's few lodges, or in one of the last few indigenous villages that pockmark the landscape. The dramatic landscapes are enhanced by the large mammals that call Damaraland home, including desert rhinos and elephants.
Sossusvlei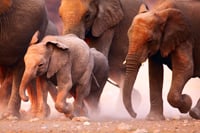 The Namib Desert often evokes images of towering red sand dunes cresting across horizons. This is Sossusvlei, where sunsets set the earth aflame and some of the most arid land in the world is cuddled in the hundred miles between Atlantic ocean and towering mountain range. The "vleis" from which this place derives its name are salt pans that transform into lakes during rare wet seasons. Photo opportunities at sunrise and sunset will make one think, "Yes, this is why I planned a Namibia safari."
Can't get enough Africa? Are you in the very beginning planning stages? Great! We published an absolutely free travel guide to picking your perfect safari destination. Click below to download!