We are excited to have a guest blog post from one of our travelers, Vaychan. Vaychan just returned from an amazing trip with her husband to Vietnam and Cambodia. Thanks Vaychan for sharing your travel experience with us!
When we were deciding on the countries for our next international trip, I figured it was time for me to make it to Asia. Other than work trips to the Philippines & Japan, Asia was an unexplored continent to me. It wouldn't be that odd other than the fact that I've spent a great part of the last decade backpacking through other parts of the world and second, I was born in Thailand to Chinese parents. We left when I was three- many stories passed on and a few pictures but no memories. Probably, the biggest hesitation with going to Asia was that I prided myself in being a traveler who plans her own itinerary and finding her own way around. But with Asia, I knew I was going to need some help planning and executing, if we were going to spend more time doing things rather than being in transit to somewhere.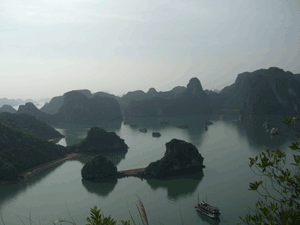 Two weeks, two countries - we picked a Vietnam tour as our first country since my friend was born there (our husbands were game for whatever we decided on). For our second country, it was a toss up between Thailand and Cambodia, since China was too vast. My birth country or my parents' birth country-Thailand seemed more fun with its beautiful beaches, but I was curious of how much of my upbringing was influenced by the Cambodian culture. My parents had been one of lucky ones who had escaped Cambodia to Thailand when Khmer Rouge took over in 1975 and made it to the States in 1979. To be completely honest, I wasn't sure I was ready to face that history since this was supposed to be a vacation, but curiosity won this one...
After an awesome week of hiking, kayaking, learning how to cook and sightseeing in Vietnam, we flew to Siem Reap, the city where Angkor Wat is located. Siem Reap has one of the quaintest airports in the world, with its slanted temple roofs visible from the tarmac. We were greeted by our guide, Sophan. I let Sophan and our driver know that I spoke a little Khmer- at the level of a kid. My husband had teased me that my Khmer was going to be rough as "Where the bathroom?" or "I want to eat now" since I didn't even know how to greet people the right way. You see, Khmer, when spoken properly, is a formal, beautiful language and when you say hello, you should be bringing your hands together with a slight bow, which I hadn't mastered yet. They didn't seem to mind and asked me how it felt to be returning to my homeland- I said it felt strangely familiar although I had never actually set foot in the country. They just smiled and said it was good that I made it back.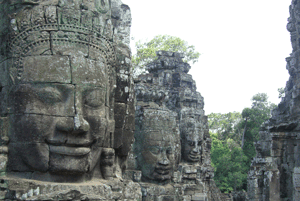 The next day, we made our short drive to Angkor Thom and Angkor Wat. On our drive, I expected to see poverty and it was there on the streets. There were hundreds of parents waiting on scooters while their children were being treated in a hospital (donated by the Switzerland government) that we passed by - this was their waiting room. I also saw lots of big hotels, some so grand and others unfinished as a result of the financial crisis. What I didn't expect was the jungle that surrounded the busy streets- it makes our streets in the states seem so barren. We arrived at the gates of Angkor Thom and it was quite grand, with the moats on both sides. And as much as I had read about Angkor Wat, I don't think anyone can be prepared- it is that amazing. It felt like I had traveled back in time. Sophan interpreted the detailed carvings on the walls into stories of Hindu deities such as Lakshmi, Vishnu and Rama. There were also carvings depicting the life and people of Cambodia in ancient times. Another highlight was seeing the "jungle" temple, made famous by the movie Tomb Raider. The government had decided they weren't going to try and control the growth of the jungle but just let nature do its thing. The result was a surreal picture of monstrous trees flowing in and out of windows, doors and cracks of the temples. We ended the day with a climb to the hill temple to view the sunset and eat our bamboo rice treat that we bought from a street vendor.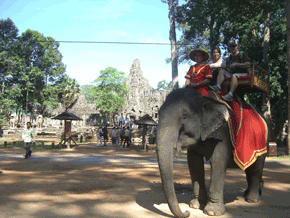 We headed to Phnom Penh the next day and although it was less busy than the crowded streets of Hanoi, you could sense you were in the capital city. There were high-rise buildings, universities, markets, and huge streets with statues at major roundabouts. Our guide, Lovy, gave us the rundown on higher education in Cambodia. If you want a chance at a good job, you have to take English as one of your two majors, however, if you wanted to be doctor, you have to learn French since most of the medical books and terms are still in French. Random fact to include, but I thought it was interesting. In the morning, we took a tour of the Royal Palace, which I can only summarize as this-- in a country where there is the extreme poverty and extreme wealth, you get the sense that tradition and culture is what binds the people and the monarchy plays a huge part.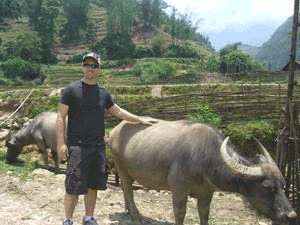 In the afternoon, we headed about 30 minutes outside of the city to the Choeung Ek, one of "The Killing Fields." As dark and sad as the history of the Khmer Rouge regime (1975 to 1979), in which two million people were massacred by Pol Pot and his people, seeing the site is an essential part of visiting Cambodia as it describes beyond words how horrific those times were. Growing up, I had heard stories but I think I had assumed some parts were fiction or exaggerated by my dad, all that evil can't be real, but it was. And it amazes me more now that not only did my parents make it out alive, so did many of their friends and relatives. We were truly lucky. And it was a good way to end our adventure.
If someone were to ask me if Cambodia tours are a trip for everyone, I will have to say no. But if you are looking for a trip that offers you a bit of everything and you are open to seeing something different from how we live in the states, I think it should be on the list. My best trips have been the ones where I am humbled by the kindness of the locals and Cambodia definitely topped it for me. Our guides not only educated us but they made us feel like family (the ones you like). Even with all the poverty in the country, there was an unspoken feeling of pride and optimism that they had endured the worse and that they were stronger because of it and they want the rest of the world to see it. And I will probably be back...
To begin booking your Vietnam travel plans or your Cambodia tours fill out our custom tours form online or give us a call at (866) 577-2462!