Cambodia is a true gem of Southeast Asia. It is a country of contrasts with ancient architecture being swallowed up by the surrounding jungles at Ta Prohm, while just down the road, Siem Reap offers luxury accommodations, modern amenities, and fine dining.
We've outlined some of the most popular places to visit as well as some Cambodia attractions that are a bit more under the radar.
Siem Reap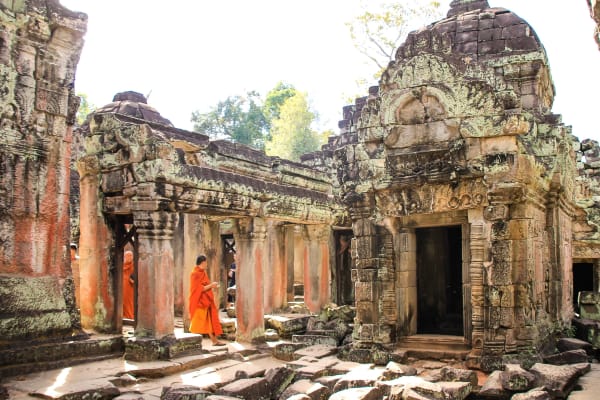 Khmer temples of Angkor Wat.
Siem Reap is the most visited city in the country as it is home to Angkor Wat, the largest religious monument in the world spreading over 402 acres. Siem Reap serves mainly as a gateway to access the Angkor complex, but also offers unique touring options such as countryside bicycling, a visit to the Cambodian Circus, cooking classes, learning about local spirituality, traditional crafts like carving, weaving, lacquerware, and more.
One of our most highly recommended experiences is a day trip to Kampong Khleang Floating Village, where you can participate in our Clean Water Initiative providing and helping to install a water filter for a local recipient family. This immersive opportunity allows you to better understand rural Cambodian communities, meet and speak with the villagers, and learn about their daily lives on the lake. You can combine this day trip with other excursions including far flung ruins if you would like.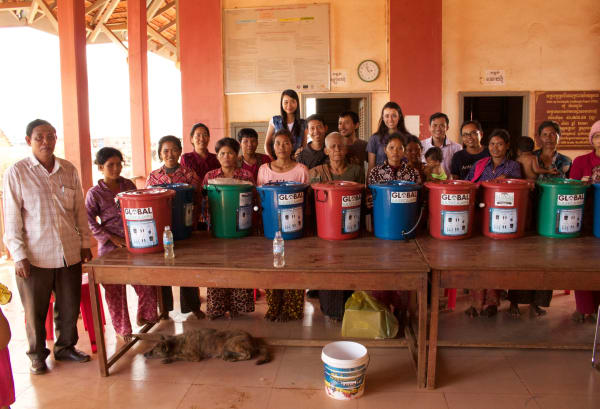 Villagers displaying water filters at the Kampong Kleang Clean Water Project.

Angkor Wat is a sprawling complex and this impressive UNESCO World Heritage Site can take days to explore. We recommend at least two full days during our Cambodia tours to view the most famous temples and catch sunset, sunrise, or both! See the massive stone faces of Bayon in Angkor Thom, venture to Beng Mealea set amidst the jungle, and of course spend ample time wandering around the harmoniously designed main temple of Angkor Wat surrounded by its grand moat.
Phnom Penh
Cambodia' capital city was founded over 600 years ago where the Tonlé Sap and Mekong Rivers meet. Visitors can tour the Royal Palace, discover the country's history at the National Museum of Cambodia, dive into Psar Thmei Central Market and/or the dizzying aisles of the Russian Market for souvenirs. The French Quarter is home to Belle Epoque and Art Deco buildings for the architecturally inclined. These have survived past the 90 year French Protectorate period which ended in 1953 and stand as a testament to when the city was nicknamed the "Pearl of Asia" in the 1920s.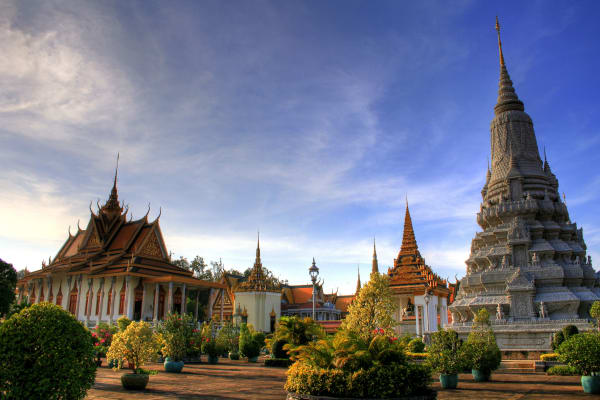 The Royal Palace grounds in Phnom Penh.

Phnom Penh is also home to two poignant sites where you can learn about the devastating history of the Khmer Rouge and the Cambodian Genocide of the late 1970s. Tuol Sleng Genocide Museum documented prisoners who moved through the former high school turned political prison and were eventually taken to the Killing Fields of Choeung Ek, now a memorial to the victims of this incredibly harrowing period in Cambodia's modern history.
Cardamom Mountains and the Southern Coast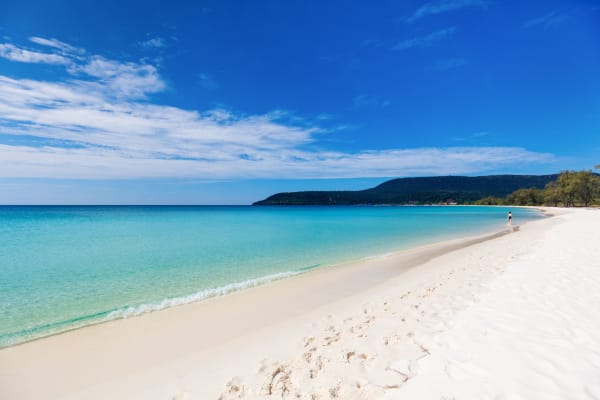 Idyllic beaches of Koh Rong.
Not far off the coast from the busy beaches of Sihanoukville are several more exclusive islands where you can avoid crowds and unwind in nature.
Koh Rong's 30 square miles is the largest island in its archipelago and home to several accommodations ranging from modest to luxurious. Nearby Koh Krabey, Koh Russey (also known as Bamboo Island), and Koh Ouen all offer stunning accommodation options in the Gulf of Thailand with lush tropical forests and white powder beaches. Sailing, yoga, paddleboarding, kayaking, and snorkeling are all available if you are looking for more than time relaxing beachside.
If the mountains are calling you, we recommend a stay at Cardamom Tented Camp. While enjoying their safari-style tent accommodations, you can take Wildlife Alliance led walks to learn about the local gibbons, great hornbill, smooth-coated otter, and more. Paddle along the Preak Tachan River by kayak, or take a dip in the inviting waters.
Kep & Kampot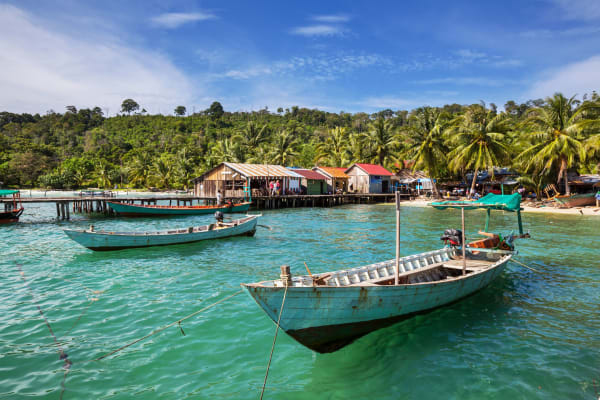 Beach at Kep in southern Cambodia.
For those hoping to visit more untouched areas of Cambodia, head south for relaxation and rural exploration. Spend time on the lazy beaches of Kep or hop on a boat to Koh Tonsay, better known as Rabbit Island. Koh Tonsay has some of the loveliest stretches of white sand and the peaceful ocean perfect for a refreshing swim.
Kampot's countryside is a lesser known Cambodia travel destination ripe with opportunity! Explore caves, stroll through Kampot pepper and durian plantations, admire French colonial architecture, learn about spiky red rambutan at a fruit orchard, and much more. A bicycle ride through the country allows you to soak in the calming atmosphere of this laid back region.
When to Visit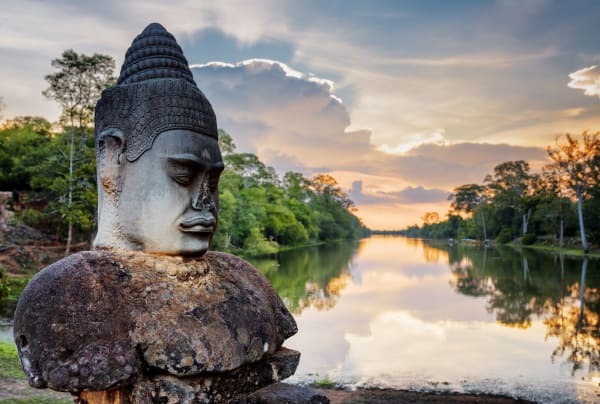 Sunset in the Angkor Wat complex.
The best time to visit Cambodia will depend on your travel priorities. For drier weather, better for water activities and beach time, it's best to visit from late October to mid-April. November through February is both dry and not overly hot, but temperatures increase as you move into April. High season is around the holidays from mid-December through mid-January, so expect the highest tourist numbers during this period.
Monsoon season begins in May and lasts until October. Precipitation can vary by month, usually seeing lighter showers during the beginning of the monsoons and more constant rain as you move later in the season. Rains of Southeast Asia bring with them lush greenery, and fewer tourists visit during this off-peak season. Tonlé Sap and the moats of Angkor Wat are full and at their most beautiful, though some areas to the south can see roads become impassable due to muddy conditions. Another great perk is travel during the 'green season' is a bit less expensive due to lower demand. If you're looking for a quieter experience away from the crowds and don't mind a bit of rain, green season may be the perfect fit.
The pristine countryside, archaeological treasures, and incredible culture of Cambodia are waiting to be explored! You can learn more about our Cambodia tours online, or reach out to one of our Travel Specialists to start planning your adventure.