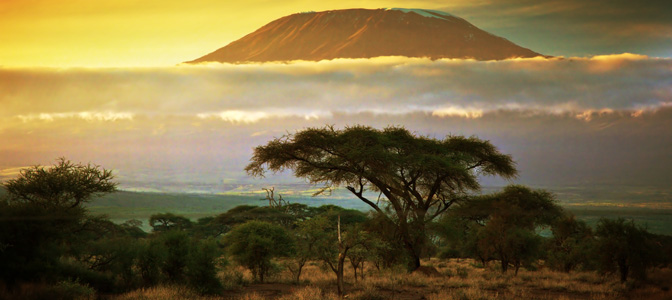 Rebecca is a Global Basecamps MVP traveler who has trekked all over the world and back again. Having gained knowledge and experience packing for her various treks, she was kind enough to offer her tips for future travelers! In our "Packing for Treks" series, Rebecca will give general tips, as well as destination-specific tips for Nepal, Tanzania and Peru!
If you have decided to scale the heights of Kilimanjaro, and are determined to reach Uhuru Peak, there is much to ponder when selecting your gear. Remember your gear is either coming with you to the summit or will help get your there, or alternatively, help get you back down.
Prepare for Rain
Never mind what the guidebooks tell you, there are really only two seasons on Kili: the rainy season, and the will-it-ever-stop-raining season. This means that bomber rain gear is key. Forget that nifty plastic bag poncho; it is no match for the rains of Kili. Think more along the lines of a wearable tarp. A durable, hard-shell jacket, preferably gore-tex, is a worthy investment for this endeavor. This technical fabric is waterproof and premium brands (eg Arc'teryx, whose design offers pit-zips) are abrasion-resistant and breathable. This shell goes over all your other layers (base-layer, mid-layer, fleece etc). A gore-tex rain shell, while not specifically an insulating layer, will serve as a wind barrier and will help preserve body heat. And for that rare break in the clouds, your shell is lightweight and easy to stash in your pack.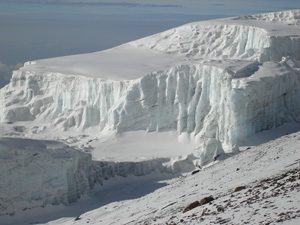 In addition to your bomber shell, rain pants are essential. While it is widely accepted that rain pants are not particularly stylish, soggy pants and socks are more uncomfortable than the ugliest of rain pants look. When it rains, you want your ugly rain pants to be readily accessible so you can put them on before getting too soaked. Choose rain pants that are designed for quick changes and allow you to wear them over your boots and clothes easily. This is helpful particularly when the cold and altitude have reduced your mental capacity to that of a shellfish.
In addition, when it rains on Kili (and I can personally attest that it can rain every day in the "dry" season) you also want rain protection for your backpack. A rain cover for your pack is a worthwhile, lightweight and easily storable accessory. Of course given the look and shape of a pack cover, scaling the Barranco Wall in the rain will resemble a rather colorful procession of trash bags.
Finally, when it rains continuously on Kili, at some point not even plastic is waterproof. So even your "water-resistant" duffel (eg Patagonia's Black Hole duffel or the North Face Base Camp duffel) could use some reinforcement. Enclosing your duffel in a plastic bag or plastic sheeting (which is generally available in Tanzania from your tour operator or at a hardware store in the US) is recommended to help keep your clothing and gear dry. Remember that on Kili, once things get wet, coupled with the precipitous drops in temperature at night, there is very little opportunity to dry things out.
Boots on Mount Kilimanjaro
This brings us to the discussion of shoes. I have already cited some of the virtues of heavy duty hiking boots (here and here), but for this purpose, an added feature to consider is how water resistant and insulated your boots are. Since you are climbing through rain forests and since global warming hasn't quite melted all the snows of Kili, your boots will need to be equipped to handle deep muddy trails, broken boulders, scree, rain, snow and sub-zero temperatures, all in one complete package.
One word: Gore-tex. Your boots should have Gore-tex protection and a vibram-outsole for traction. Gaitors (as recommended for Nepal) are equally as useful for Kili and help keep your pants and boots drier (note I did not say completely dry). In fact, given how cold the summit push can be, and if you are particularly attached to your frostbite-susceptible toes, you may even wish to consider upgrading to a lightweight mountaineering boot. Find one with an insulating Gore-tex duratherm lining (eg La Sportiva Nepal Evos). This is not an uncommon sight on summit night as people pole, pole their way to the very top of Africa!
Interested in Tanzania tours? Are you in the very beginning planning stages of your Tanzania safari? We published an absolutely free travel guide to picking your perfect safari destination. Click below to download!