We were recently visited by our partners in Fiji, from the luxury eco lodge Matava. Located on the remote island of Kadavu, Matava offers privacy, comfort, incredible views, and a wide range of activities for guests. The hotel was designed to blend in with the natural environment of Kadavu and consists of traditional thatched Fijian bures set among the lush tropical rainforest surroundings. Matava Resort is ideal for those looking for a unique insight into the traditional practices and Fijian customs that still play a part in everyday life.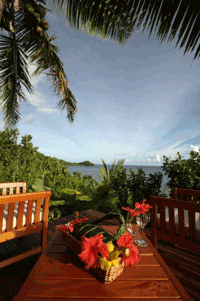 Accommodation and Meals
The traditional thatched Fijian bures have timber floors, louvre windows, timber four post beds, and private decks with superb ocean views. Oceanview bures are located across a stream and offer beautiful panoramas of the Great Astrolabe Reef and surrounding islands. The honeymoon bures are located on the hill behind Matava, ensuring complete privacy and stunning views from the full length windows. Solar power provides the lighting in all of the bures, and hot water is supplied to all the bures by an eco-friendly solar hot water system.
All packages include meals, which is comprised of breakfast, lunch, and a three course dinner. On the menu you'll find local delicacies, fresh produce, and locally grown fruits and vegetables. Matava Resort has an extensive organic garden with fresh vegetables and fruits such as coconut, pineapple, guava, banana, mangos, eggplant, tomatoes, and fresh herbs. Delicious lovo feasts, an authentic Fijian meal steamed in an oven pit over hot stones, are held once a week at Matava. The resort offers vegetarian options and can cater to those with special dietary requirements. Dining takes place on the balcony of the bure levu, one of Fiji's largest traditional structures where guests can gather to enjoy meals such as papaya salad, mango chicken, coconut curries, and fresh fish.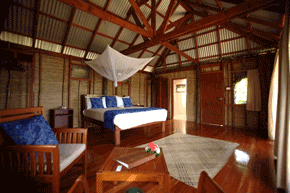 Activities
Matava Resort offers a wide range of activities such as surfing, diving, scuba diving, kayaking, trekking, and bird watching. Located on the South East side of Kadavu Island, the remote resort is only accessible by boat. Trails leading off the resort grounds provide guests with great walks and treks through the lush tropical surroundings. The Great Astrolable barrier reef lies directly in front of the resort protecting if from any swells and creating large calm lagoons great for water activities. Those hoping for waves can easily find them at the 3 nearby passageways through the barrier reef, which offer great reef break surfing. Matava Resort runs surf trips on request during the time of day that offers the best conditions.
The Great Astrolable barrier reef has some of the best scuba diving in the world. Matava Resort caters to all levels of divers, from beginner to advanced, and will escort divers through the incredible barrier reef that has an array of colorful coral and marine life. Big game fishing is another popular activity at Matava Resort. The resort has a tag and release policy on all billfish and a catch and release policy on all other species. However, you can take home fish for dinner and have the cook prepare your catch however you would like! The resort also offers sea kayaking trips that can include lunch in a traditional Fijian village, as well as an overnight stay in a village. Indigenous guides share their local knowledge of the land, sea, and culture.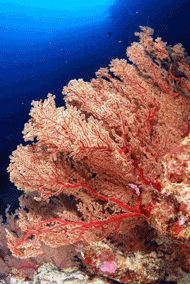 Culture
Unlike the other islands of Fiji, Matava has been left largely untouched by the constantly changing world around it. At Matava Resort they focus on preserving the Fijian culture. A central part of most Fijian ceremonies is yagona, or kava, the traditional drink of Fiji. The drink is made by pounding the root of a specific type of pepper plant and mixing it with water in a traditional bowl called a tanoa. The drink has a minor numbing effect on the tongue and acts as a mild relaxant. At some point in your stay you will probably be offered a cup of this drink, either at the resort or at a nearby village. Try some to experience a popular ceremony in Fijian culture. Additionally, upon request guests can enjoy a traditional dance performance, called a meke, in which local stories and legends are acted out through chanting, drumming, singing, and dancing. The meke is performed by woman and children from the local village. Spend time in the nearby villages on a custom tour and experience the genuine hospitality and culture of the Fijian people.
Ecotourism
Like all of our in country partners Matava Resort is committed to sustainable travel and ecotourism. They have adopted programs to minimize the damaging affects of tourism on the environment, including conservation awareness, waste management including recycling, and helping preserve and support the local communities. More specifically, by working with the nearby village of Kadavu Koro, Matava Resort has established a marine reserve that stretches from the Matava foreshore to the opposite Waya Island. In this area there is no fishing, shell collecting, or reef walking allowed. As mentioned above, upon request the local village will perform a meke for the guests. This is part of the village initiative supported by Matava Resort which strives to keep the local versions of the mekes alive, while raising money for community development projects.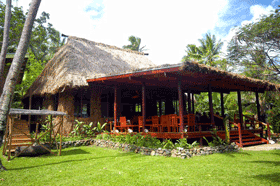 Responsible tourism is an integral component of Matava Resort. Not only do they protect the environment, but they also ensure that the resort is supporting the local communities and economy. They provide employment opportunities for the local people, respect the local culture, help fund local organizations and communities around Matava, and provide guests the opportunity to interact with the locals. The seclusion of the resort, which has a maximum occupancy of 22, means all day trips and activities are done in small groups. This allows the guest to experience the culture first hand, allowing for greater cross-cultural understanding. Every aspect of Matava resort strives to operate such that it conserves the areas visited and brings positive benefits to the local communities.
To experience the local culture and beauty inherent at Matava Resort, start planning your custom tour now. To request a free quote please fill out our custom tours form online or give us a call at (866) 577-2462!