With their notable pink plumage, flamingos flock in great numbers in Kenya and it's a special sight to witness. Tourists come from all over the world to experience this colorful spectacle of shimmering pink birds wading in the shallow waters of Kenya's soda lakes. Unfortunately, the number of flamingos has been decreasing recently, perhaps due to over-tourism, pollution from large-scale farming, or climate change. Seasonal conditions, flooding, and changes in water quality decrease their food supply, so flamingos migrate to different lakes each year. In this blog, we'll explore the best places in Kenya to see these magnificent birds during a Kenya Safari.
Types of Flamingos
There are two types of flamingos found in Kenya. The greater flamingo, true to their name, are bigger and taller in size. The lesser flamingos, however, have a deeper pink color on their feathers, while their beaks are a deep red with a black tip. The greater flamingo beaks are light pink with a black tip. Greater flamingos feed on organisms found in the mud including crustaceans while the lesser flamingo thrives on floating algae in the alkaline lake waters. Both types share the same habitat and live in flocks of between ten individuals to over ten thousand. In addition to their pink color, flamingos are famous for standing on one leg and although there is no definite scientific reason, it has been proposed that this behavior helps with body warmth retention. Flamingos, like penguins, mate for life and the majority of them breed in Lake Natron, a remote soda lake in Tanzania. Then they migrate to Kenya to feed on the alkaline lakes of the Rift Valley.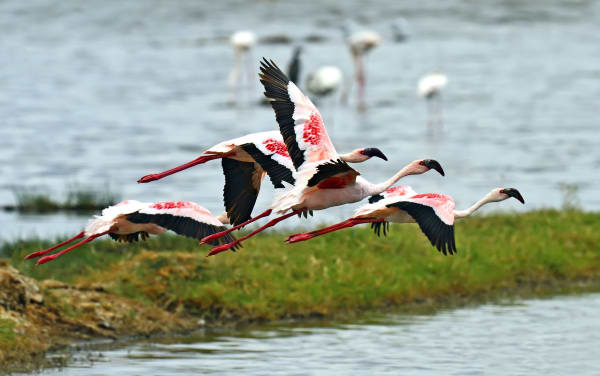 Lake Nakuru
One of Kenya's classic national parks, Lake Nakuru earned its fame for the mirage-like mega-flock of pink flamingos that once covered large parts of its shallow waters. Several decades ago, up to two million lesser flamingos (maybe a third of the world's population) could be seen here gathering in the warm alkaline water to feed on the abundant blue-green algae. However, rising water levels in recent years due to flooding have caused a big drop in salinity, and the flamingos began to flock to other soda lakes. Some returned in 2017, numbering in the thousands, not millions, so if conditions are right, the flamingos may return. Lake Nakuru is home to tens of thousands of other waterfowl, with a species list of more than 400 birds, so even if you miss the flamingos, it's still a genuine paradise for bird-watchers.
A Lake Nakuru safari has a great deal to offer besides its magnificent bird life. Lake Nakuru's woodland is home to a good population of leopards, though they can be difficult to see. The park's black rhinos are usually tucked away in thick bush, too, but the unmistakably large grazing forms of southern white rhinos are very easy to spot on the plains south of the lake. Down here you're also likely to see plenty of buffalo, eland and shaggy waterbuck (nakuru is Swahili for "Place of the Waterbuck"). Rare Rothschild giraffes can be seen on the open plains too, as can the park's few lions. A herd of hippo have their territory in the northern part of the lake.
This good concentration of large mammals, plus the park's convenient location just 143 miles northwest of Nairobi, means Lake Nakuru does see a fair amount of tourists. An affordable group safari option in Kenya is to do a road circuit from Nairobi that combines Lake Nakuru with the Maasai Mara National Reserve. Given the recent lack of flamingo in Lake Nakuru, and to avoid some of those crowds, our Kenya Trails Group Safari starts off with a stay at Lake Elementaita, just a 1.5 hour drive from Nairobi. We stay at an eco-friendly lodge that makes a good home base and visit Lake Nakuru as a day trip.
Lake Elementaita
One of the lesser-known 'soda lakes' or saline lakes in Kenya's Great Rift Valley, Lake Elementaita is one of the main feeding lakes for the Lesser flamingo. This area of breathtaking beauty, also home to many rare species of animals, is just a 30 minute drive to the more famous Lake Nakuru. Much of the lake is part of the private Soysambu Conservancy that serves as a sanctuary for colobus monkeys, endangered Rothschild giraffes, elusive predators, and plains game. Lake Elementaita is also home to the tufted-eared caracal, golden and striped jackals and other smaller predators. More than 450 bird species have been identified in the area. The largest populations are great white pelicans and lesser and greater flamingos. Approximately 90% of all of Kenya's black-necked grebes and cape teals are found at the lake, as well as maccoa duck, the critically threatened great crested grebe, and great egret.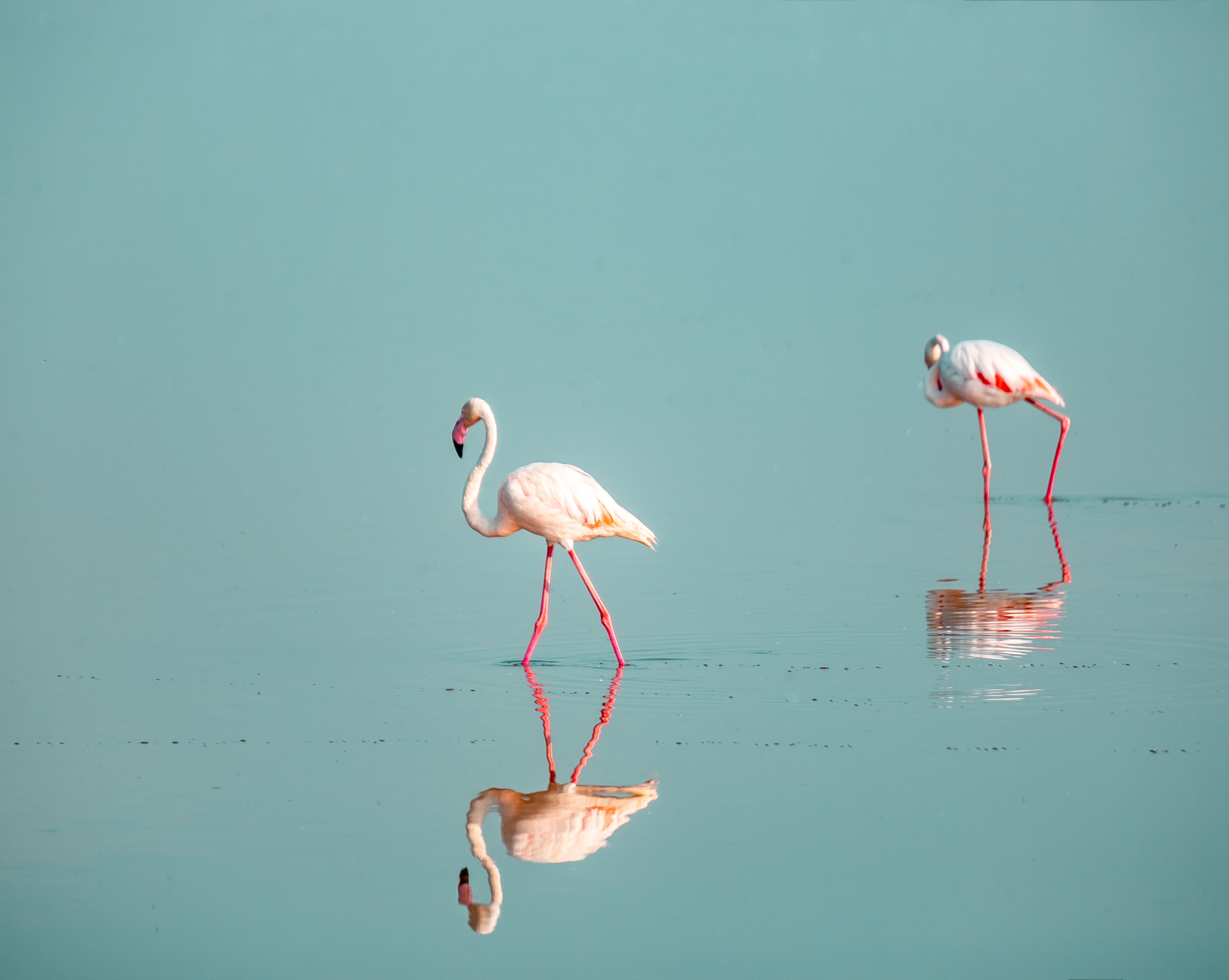 Lake Bogoria
In recent years, this has been the best lake in Kenya to find mega-flocks of flamingos feeding.
In June 2019, for example, over a million flamingos were recorded here. Located in the more isolated northern Rift Valley, further away from Nairobi and the other soda lakes, Bogoria is surrounded by mountains, bubbling hot springs, and steaming geysers. The reserve's main appeal is the scenery and the flamingos and the lack of visitors. Although it is a refuge for greater kudu and a few other mammals, this is not a great destination for wildlife viewing beyond the flamingos. Lake Bogoria is not the most accessible lake, given it's a long drive on the same road in and out and there is no lodging inside the reserve. Most folks add this on as a day trip from Lake Baringo (45 mins) or Lake Nakuru (2-2.5 hrs) or Lake Naivasha (3 hours).
(Lake Baringo and Lake Naivasha are two freshwater lakes, so they don't attract flamingos, but they do have lodging options and other wildlife).
Lake Bogoria, Lake Nakuru and Lake Elementaita in Kenya have been collectively recognized as a UNESCO World Heritage Site, The Kenya Lake System. Lake Nakuru is the most accessible and has the most wildlife, but flamingo mega-flocks are now hit or miss here, depending on water levels. Lake Elementia is a smaller, less-visited lake nearby, which usually has some good flamingo sightings and nesting grounds for great pelicans. Lake Bogoria is a good option for those who don't mind a long drive, enjoy uncrowded and remote landscapes, and are hoping to witness a mega-flock (though even here, water levels from season to season can keep the flamingos away)!
When to Go
The best time for a Kenyan safari and to see flocks of flamingos is during the dry season from June to early March. Our Africa Travel Specialists can help you incorporate 1 or 2 of these lake stops into your custom Kenya Safari itinerary or Kenya and Tanzania Safari itinerary.