Ten years ago, we would often advise our clients to spend as little time as possible in Johannesburg during their South Africa tour. Clients would stay at an airport hotel for one night before moving on to a Kruger National Park safari or the scenic vistas of Cape Town. Some guests interested in history might spend a day visiting the Apartheid Museum or take a Soweto tour, but for the most part, the largest city in South Africa (and the second largest city in Africa), received a bad rap.
Known as the 'City of Gold', Johannesburg was created as a result of the Gold Rush which began in the 19th Century and much of the history and development of the city was due to the discovery of gold on what had been a dry, dusty farm. The city has evolved many times in the last century- from those early beginnings as a tented camp during the Gold Rush, to the city of modern skyscrapers that can be found today. In the last ten years, the city has become revitalized, with a vibrant art and music scene, lots of new culinary options, and fantastic boutique hotels. Eclectic, moving, uplifting, historic, modern and inspiring are just a few of the adjectives that can be used to describe the multi-faceted city of Johannesburg and, in our opinion, a visit to South Africa just isn't complete without spending some time exploring the diversity of what Joburg (or 'Jozi' as called by the locals) has to offer.
Here are some of the unique Johannesburg day tours and experiences we can arrange for clients as part of their custom South Africa tour. Johannesburg is also the gateway to nearby safari destinations such as Botswana, Namibia, Zimbabwe, and Zambia and makes for a great stop-over city.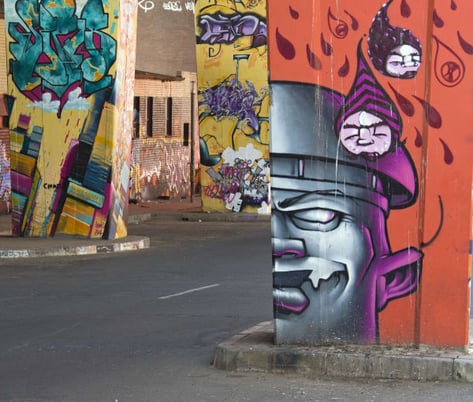 Graffiti Art in streets of Johannesburg.
ART TOURS
Art in the Park Tour
Join your very own Jozi specialist guide for a visit to The Wilds - a historic park located in the midst of the busy Johannesburg suburb of Houghton. This magnificent historic park with its stone-cut paths and water features, and awe-inspiring city views has recently been brought back to life as a public space by the efforts of artist James Delaney and his team of assistants and volunteers. Delaney's artworks, 67 steel laser-cut owls placed in a yellowwood grove to mark Mandela Day 2017 (July 18), were the catalyst for rallying the powerful and the not-so-powerful to restore the park to a place of pride for the city. A little free library marks the park's entrance and you'll spot other artist's works inspired by Delaney's efforts dotted through the park. Paved pathways wind their way through indigenous vegetation and while the walks are fairly hilly, the views of the Johannesburg skyline are definitely worth the climb! You'll then travel to Victoria Yards, a historic warehouse complex which has been converted into artist studios and planted with vegetable gardens. Shop for art and African crafts or simply relax and soak up the vibe at the local coffee shop or craft brewery.
Art in the City Tour
Joburg has a dynamic contemporary art scene with its very own Art Gallery Row in Rosebank, a host of artists studios in areas including Victoria Yards and Maboneng and a wide variety of public art including both street art and graffiti. A day spent exploring the Joburg art scene could include a visit to Arts on Main - a newly redeveloped art and design hub, David Krut Project who do the printing for local artists including William Kentridge, the Wits Art Museum in Braamfontein - home to a collection of contemporary and historical African art, and a variety of top galleries including Everard Read, SMAC Gallery, Gallery MOMO and the Stevenson Gallery. Led by a specialist art guide, this day can be curated around individual art interests and preferences.
Jozi's Street & Graffiti Art Tour
This walking tour is a fantastic way to discover the inner city with a focus on the wonderful array of public art that can be found in downtown neighbourhoods like Braamfontein, Newtown and Maboneng, where wall paintings by local and international artists enliven spaces, create reasons to pause along busy streets and add colour to the concrete cityscape!
Malapa Origins of Life & Modern Art Tour
Those who wish to delve into the origins of humankind, will be able to explore two world famous fossil sites, Gladysvale and Malapa (which form the core of the UNESCO designated Cradle of Humankind) under the guidance of a specialist guide who is an expert in geology, paleo-anthropology and history. After a thrilling morning spent exploring this ancient landscape clients will enjoy lunch locally, before continuing with an afternoon of art exploration at either the Nirox Sculpture Park (which offers 15 hectares of landscaped gardens and waterways which showcase a selection of sculptures against a backdrop of tranquillity and natural beauty) or by exploring the dynamic and contemporary art scenes in Rosebank and Parkwood including visiting the exciting and vibrant spaces located in and around the Keyes Art Mile.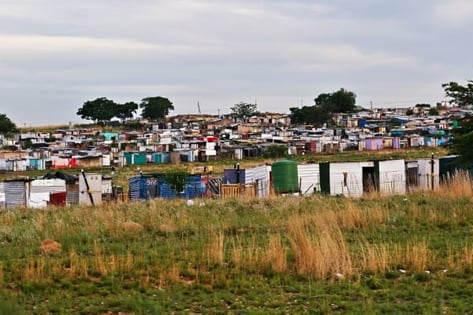 Soweto Landscape
CULTURAL TOURS
Soweto by Bicycle Tour
Experience a 2-hour eco-friendly bicycling adventure around the Soweto township, getting to know the different communities and its history. Your cycle route will take you past places such as a former migrant workers' hostel for men, before you continue to Meadowlands- famous for the forced removals from Sophiatown in the 1950's. Cycle through historical landmarks of the 1976 student uprisings and visit the memorial site of Hector Pieterson. You will also cycle down Vilakazi Street where Nelson Mandela used to live and where Bishop Desmond Tutu has his home. Lunch is included at a local venue- a delicious traditional African stew, cooked over a fire and served with a chunk of white bread- a Sowetan 'bunny chow'.
Taste of Soweto Tour
This tour will give you an opportunity to take in some of the history of Soweto, experience the hospitality of its residents and taste some of its food. The tour includes a visit to a private residence in the Orlando West township where you will enjoy tea and scones with Ma Sheila and chat with her about her family and life in Soweto. Then visit the site of the Hector Pieterson Museum, which memorializes the events of June 16, 1976, when student protests erupted over the government's policy to enforce education in Afrikaans instead of native languages. You'll also visit the Regina Mundi Catholic Church to hear about the role that this church had to play in the Soweto uprisings, before ending with a visit to the Kliptown Youth Programme (an after school tutoring and personal development program for the disadvantaged youth from the area).
Storytelling Dinners
Enjoy an epic secret storytelling dinner, in which local storyteller Charlie Moyo, delves into the history of Johannesburg and the multiple and overlapping waves of migration that have been happening since the city was founded 133 years ago. Dinners are held in one of Jozi's most hidden and historical gems- a 115-year-old underground bank vault (housed in Gandhi Square) in a building originally named Somerset House and today is known as "the Thunder Walker". In the underground restaurant and bar, Zwipi Underground, visitors can enjoy a variety of migrant-inspired food dishes, prepared by in-house chef, Princess Bulelwa Mbonambi. Themes alternate between the Migrant Cuisine Storytelling Dinner and the Secret Underground Storytelling Dinner. The migrant cuisine experience involves the history and stories of the migrant communities of Joburg and their foods. It is a casual eating experience with six migrant-inspired dishes, appealing to the adventurous foodie. The Secret Underground Storytelling Dinner involves a more formal, 3-course dinner with exceptional Global-Afro fusion cuisine and storytelling focusing on the history and development of Johannesburg.
WHERE TO STAY
Johannesburg has a variety of accommodation options ranging from quirky, boutique hotels such as Pablo House, Home* Suite Hotels The Bristol, and The Winston in trendy suburbs like Melville and Rosebank, to upmarket and elegant properties including The Peech, Athol Place, The Residence, and The Saxon in the leafy suburbs of Sandton. Together with a range of larger airport hotels close to OR Tambo International Airport, Johannesburg certainly offers travelers a wider range of choice than ever before.
To see how you can visit Johannesburg during your custom South Africa tour, view some of our sample itineraries on our South Africa Safari page or contact one of our sales specialists in South Africa tour planning. Johannesburg tourism deserves a second look!