Sweet Tooth is a series where our travel specialists focus on their favorite candies, treats, and sweets a particular region has to offer and where you can go to try them out for yourself. Our first installment of the series comes from our resident Japan expert, Laura Hagler.
Japan's cuisine is world renowned; famous chefs, insta-foodies, and everyday appreciators of the delicious all flock to the country to taste it firsthand. It can be daunting to decide which foods to focus on during your visit as there is such a wide range of options, not to mention variations of certain dishes in nearly every prefecture and even from city to city.
While sushi, soba, sukiyaki, and more are waiting to be devoured during our Japan tours, I want to delve into one branch of culinary delights that are accessible to just about everyone, sweets!
Some desserts have their roots in ancient Japan, such as traditional wagashi (和菓子) that you can enjoy served as part of a tea ceremony. Others are quirky or even a bit challenging, like wasabi soft cream (soft serve ice cream) or caramel flavored dried squid. I am here to share a few of my favorites to help whet your appetite.
While there are many wonderful confections to discover, I have highlighted desserts that include classic Japanese flavors like:
matcha (抹茶, fine powdered green tea)
kinako (黄粉, sweet roasted soybean flour)
kurogoma (黒ゴマ, black sesame)
adzuki (小豆, red mung bean) commonly known as anko.
Mochi (餅)
This cake made from pounded glutinous rice has gained worldwide attention.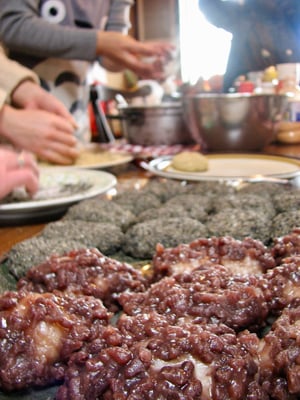 You may already be familiar with ice cream mochi, which can be found in many western grocery stores. But Japan's more traditional mochi offerings typically rely on local ingredients and flavors and are made with less sugar.
Mochi is prepared by pounding rice with a wooden mallet in a large mortar, and is a fun activity sometimes seen at festivals and local gatherings. Once the rice has reached the correct soft and somewhat sticky consistency, it is formed into balls and stuffed with a filling like anko or shiroan
(白餡 - sweet white bean paste). They are often rolled in toppings such as sesame seeds, kinako, or seaweed.
For a taste specific to Japan, I recommend yomogi mochi (蓬, mugwort mochi). Yomogi leaves are pounded with the rice which imbues a gentle taste and green color. If you are in Japan during strawberry season, keep an eye out for ichigo daifuku (苺大福, strawberry mochi), which swaths a whole strawberry in a layer anko or shiroan, followed by a thin layer of mochi. I am partial to the shiroan style as the berry flavor is the real highlight rather than being overpowered by the sweetness of anko.
Warabimochi (蕨餅)
Gelatine-like in consistency and made from warabizoku (ワラビ属, bracken starch) instead of glutinous rice, these delightfully jiggly cubes are enjoyed in warmer months and served chilled. The mochi itself has little flavor and acts as a conveyance for kinako and other powders like matcha or kurogoma. Some regions drizzle kuromitsu (黒蜜, brown sugar syrup) on top for extra sweetness.
You can pick up a pack of warabimochi at convenience stores or outdoor markets like Tsukiji in Tokyo or Nishiki Market in Kyoto from June through August. Warabizoku and kinako make an excellent souvenir and you can try making your own warabimochi at home!
Kakigōri (かき氷)
Japan has elevated your everyday shaved ice or snow cone. Some specialty sugar syrup flavors available, based on location, are sweet plum, Hokkaido melon, fig, ginger, and matcha. If shaved ice is too blasé for your tastebuds, you have the option to add condensed milk, mochi, seasonal fruits, yōkan (羊羹, soft adzuki-bean jelly), or more for a dessert within a dessert!
Kakigori can be found nationwide during the summer at festivals, parks, and seasonal stalls, but some specialty shops serve it year round like Kooriya Peace (氷屋ぴぃす) in Tokyo. I look forward to trying their salted caramel kakigori made with condensed milk, whipped cream, and salted caramel sauce.
Taiyaki (鯛焼き)
Tai is Japanese for sea bream/red snapper. With a direct translation of "grilled sea bream," it is easy to be confused by the name of this dessert! Taiyaki's origins date back to the Meiji Period, and it gets its name from the shape of the iron used to cook this fish-free snack. The cake, similar to an American pancake, is traditionally filled with anko. Other popular flavors include shiroan, custard, and chocolate. Seasonal flavors can sometimes be found like mint chocolate and sakura (桜, cherry blossom). A few shops have recently begun selling taiyaki cones for soft cream as well.
Some believe your personality can be determined by your first bite of taiyaki:
First bite from the head = optimistic and a bit stubborn
From the tail = romantic and somewhat insensitive
From the back = sensitive and delicate
From the stomach = popular and reliable
You may want to try taiyaki at Naniwaya Sohonten in Tokyo, the originators of this now famous treat.
Mont Blanc
The Japanese take on this French classic is given new life using the traditional chestnut in addition to regional ingredients like beni-imo (紅芋, Okinawan purple sweet potato), pumpkin, matcha, and more. This delicate pastry is a sponge cake base layered with chestnut paste, whipped cream, whipped chestnut cream, and topped with a sweetened roasted chestnut.
I highly recommend the matcha Mont Blanc offered at Jugetsudō Ginza Kabukiza. The staff are lovely, and the cafe is perfectly located for a relaxing break in sightseeing or shopping in Tokyo's Ginza District.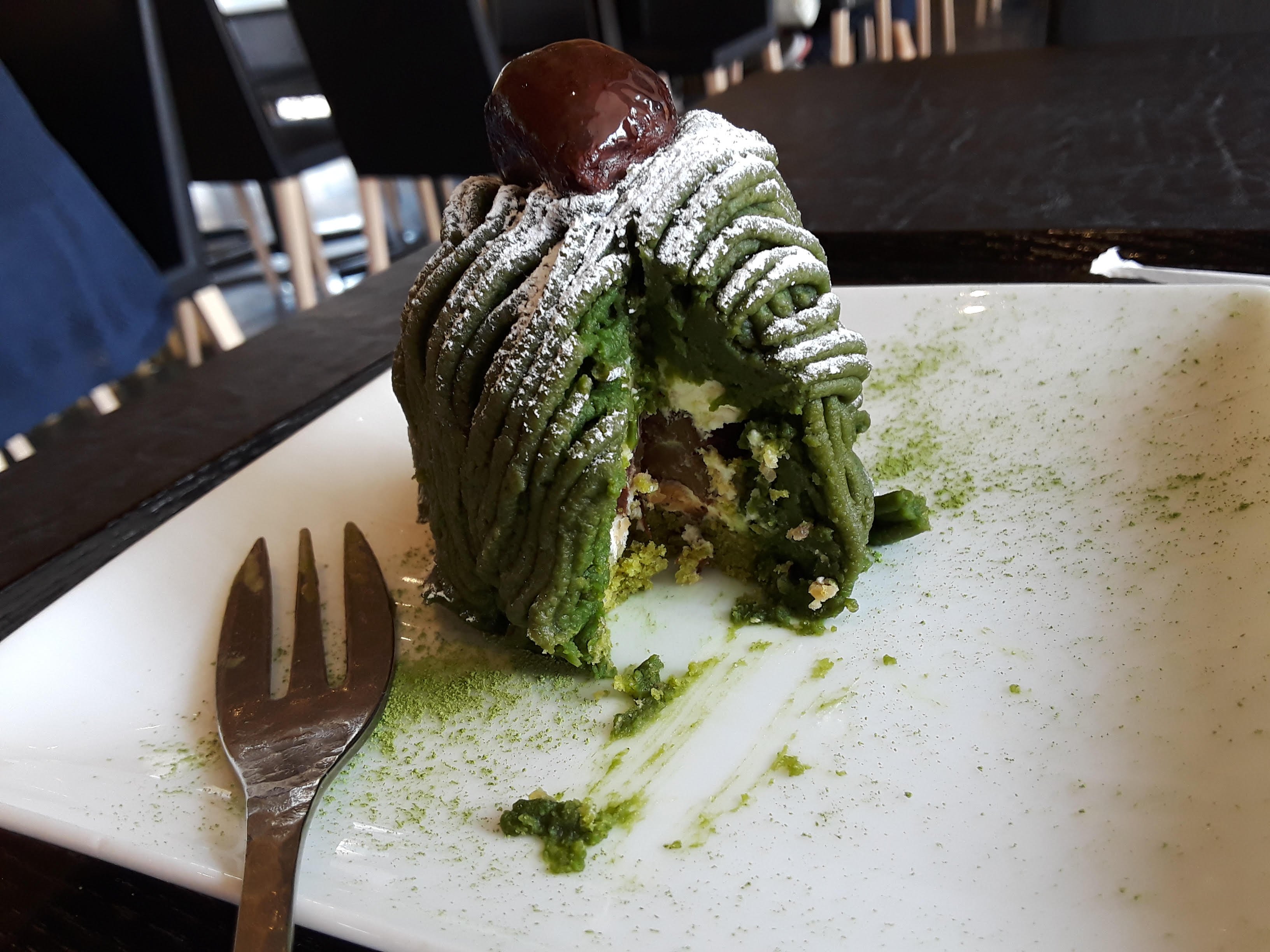 Matcha Mont Blanc at the Jugetsudo Ginza Kabukiza cafe in the Tokyo. Photo by Laura Hagler.
Those interested in luxury Japan travel may wish to learn how to make wagashi with a confectionery expert as an exclusive hands-on experience. Alternatively, small group or private Japan food tours can be arranged in several cities to help you locate the best taiyaki, dessert crepes, cat tail inspired donuts, and much more!
Here is a quick list of popular treats in major cities throughout Japan. Please enjoy some of these delectable sweets on your next trip:
Tokyo - Meronpan/Melonpan (メロンパン, melon flavored sweet bun)
Kyoto - Nama yatsuhashi (生八ツ橋, thin soft mochi triangles stuffed with anko or other fillings)
Osaka - Okoshi (おこし, pressed bars of puffed and rice syrup)
Okinawa - Zenzai (ぜんざい, anko porridge) kakigori, zenzai served over shaved ice with mochi and condensed milk
Miyajima & Hiroshima - Momiji manju (もみじ饅頭, buckwheat and rice cake filled with anko and shaped like a maple leaf)
Okayama - Hakuto Zeri (白桃ゼリー, gelatine made of local hakuto peaches and spring water)
Nagasaki - Kasutera/Castella (カステラ, sponge cake inspired by Portuguese cake)
Sendai - Zunda (ずんだ, sweet soybean paste) is used as a topping or filling for many traditional desserts
Fukuoka - Hiyoko manju (ひよこ饅頭, soft buns with wheat flour crust filled with sweet bean paste and shaped like a baby chick)
Is your mouth watering yet? If you're ready to taste some of these delectable treats for yourself, you can start planning your future Japan tour with one of the travel specialists today!