India is an expansive and brightly colorful country, encompassing so many different natural environments, cultures, traditions, and amazing wildlife opportunities. If you were to truly see it all, you would need a year! From the deserts and temples of the North, the laid back, gorgeous beaches of the West, the tiger reserves and colonial style of the South, the tea estates and iconic green hills of the Northeast, to the Bodhi trees and cultural melange of the Central states, India is truly a life changing, eye opening experience you will never forget. One crucial component to any India tour is a culinary exploration of the incredible diversity of food. Each region has its own unique style of cooking, and food is a deeply embedded, important, and delicious cultural ritual!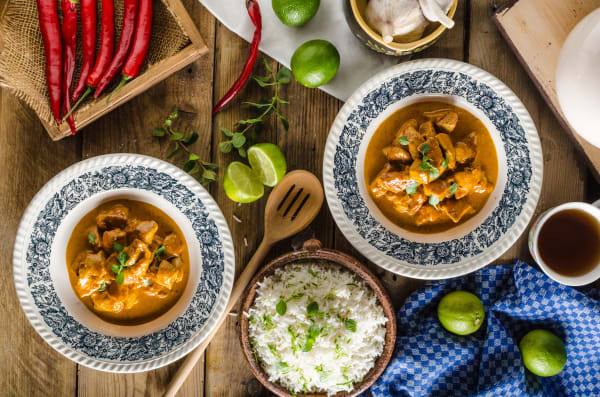 The North
The North is most famous for the Taj Mahal - but there is so much more. From Agra, to the pink city of Jaipur, the camel rides and sand dunes of Rajasthan and Pachewar, and the treks and snow leopards in the Himalayas, North India is a beloved and enrapturing destination. The food in this region is richer, owing to the colder climate, with emphasis on different breads such as tandoori, chapati, and naan as opposed to rice, and curries stewed in many spices. Dairy plays a large role in this part of India - full fat yogurt, paneer cheeses, and of course ghee are used generously. These curry sauces are thick and creamy - common meats are chicken, beef, and mutton. Leafy greens are uncommon, but peas, okra, carrots, onions, potatoes, and many different beans feature in most of the dishes. North India is also very famous for its barbecued meats - most common, Tandoori chicken. This chicken is marinated in spices and yogurt, then roasted in a clay oven. Most famous though is Butter Chicken - a rich and creamy curry served with naan or rice. While there are a lot of ingredients, this is a pretty easy dish to make, and it will be very popular!
North Indian Butter Chicken Recipe
Ingredients
2 ¼ pounds boneless chicken thighs
Juice of 1 lemon or lime
Salt to taste
Red Chili Powder to taste
1 cup fresh unsweetened yogurt
2 tsp ground coriander
1 tsp ground cumin
¼ tsp ground turmeric
6 cloves
10 peppercorns
1 inch cinnamon stick
2 bay leaves
10 almonds
3 cardamom seeds
3 Tbsp vegetable oil
2 onions, finely chopped
2 tsp garlic paste
2 tsp ginger paste
1 box of chopped tomatoes, blended
2 cups chicken stock
3 Tbsp butter
Instructions
To begin, mix the chicken, lime juice, salt, and red chili powder in a large bowl for marinating - one hour. Next, heat a pan to medium and gently roast the cloves, peppercorns, cinnamon, bay leaves, and almonds until slightly darkened. Cool and add the cardamom seeds. Grind the spice mix into a coarse powder - you can use a coffee grinder (if cleaned!). Now, mix the yogurt, the spice powder you just made, ground coriander, cumin, and turmeric and add to the chicken. Marinate the chicken for one hour while you prep your vegetables. Once ready, heat the oil in a deep heavy-bottomed pot over medium heat. Add the onions, frying until golden brown and then add the ginger and garlic pastes, frying for another minute. Add the chicken and keep the rest of the marinade. Fry until the chicken is opaque, then add the ground tomatoes, chicken stock, and the reserved yogurt-spice marinade to the pot. Cook until the chicken is tender and the gravy is reduced by half. Finally, melt the butter in a small saucepan and then pour it over the chicken! Serve with naan or rice.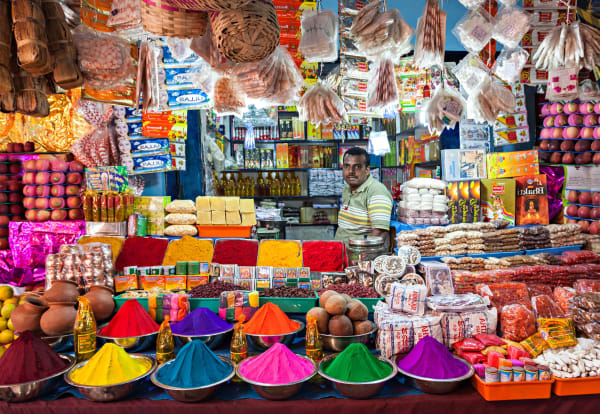 West India
West India is most famous for Goa's scenic beaches, tranquil atmosphere, and wellness focus. Apart from beach lounging and doing yoga, there are a lot of water sports options such as sailing, windsurfing, and parasailing. The port city to the West is Mumbai (formerly Bombay) - a vibrant, thriving, and chaotic city with an amazing streetfood scene! Other popular attractions in the West include wildlife sanctuaries and national parks, as well as hill stations in lush forests, and Maharashtra's holy temples. Western India has the most diversity in food styles, but generally speaking this area is largely vegetarian, and meals are often eaten family style with as many as 10 dishes to share. One tasty snack from Goa are samosas - a delicious and easy to make dish.
Samosa
Ingredients
1 cup flour
2 tbsp warm oil
Small amount of water to knead the dough
2 large potatoes, boiled, peeled, and mashed
½ cup finely chopped onion
½ tsp ground ginger
½ tsp crushed garlic
2-3 green chilis, crushed
1 tbsp finely chopped cilantro
½ tsp lemon juice
½ tsp turmeric powder
½ tsp curry powder
½ tsp ground coriander
Red chili powder to taste
Salt to taste
Oil for deep frying
Instructions
Make the dough by mixing together the flour, warm oil, salt, and a little water. Mix well until crumbly. Add more water slowly, kneading into a soft dough. Cover with a moist cloth and set aside while you prepare the filling
Heat 3 tbsp of oil and add the ginger, green chili, garlic, and coriander. Stir fry for one minute, then add the onion, sauteing until light brown. Add the cilantro, lemon, turmeric, salt, red chili, chili powder, and stir fry for 2 minutes. Add the potatoes and stir for 2 more minutes. Cool, and set aside.
Knead your dough again, and flatten. Make small 5 inch rounds, and cut in half. Add a teaspoon of the filling, and seal the sides into a cone. Once all the samosas are assembled, place them in hot oil over medium heat (do not fry them on high - they will be soggy) until they are medium to light brown. Drain on a rack or paper towels, and serve with green chutney!

Central India
Central India is the heart of the country, and while it is less explored than other regions, it offers many gorgeous scenes and experiences. Incredible historical monuments and ancient ruins, tiger tracking in national parks, the bustling bazaars of Hyderabad, paleolithic caves of Bhopal, and opportunities to truly connect with rural India make the center of the country a must visit for anyone truly interested in the real India. The cuisine in this hot, dry region is very heavy on spices - designed to keep food from spoiling in the heat, and also cool down the body. One amazing dish from Madhya Pradesh, largely influenced by Mughal cuisine, is Seekh Kebabs. These spicy barbecued kebabs are delicious with rice and fresh shredded cabbage, cucumber slices, and lemon or lime wedges are a must.
Seekh Kebabs
Ingredients
2 tsp peppercorns
1 ½ tsp whole coriander seed
1 tsp whole cumin seed
2 cloves
2 bay leaves
2 tsp paprika
½ tsp cayenne pepper
1 ½ tsp salt
1 medium red onion, roughly chopped
2 cups fresh cilantro leaves
4 cloves garlic, roughly chopped
1 ½ tsp fresh ginger, roughly chopped
1-4 spicy chilis - Thai bird peppers are best, but you can use habanero or serrano
1 ½ tsp sugar
2 pounds ground beef
Instructions
Begin by toasting the peppercorns, coriander, cumin, and cloves in a dry skillet over medium heat for about 1 minute. Grind to a fine powder(you can use a coffee grinder if it's clean). Place the mixture in a food processor. Add the paprika, cayenne, salt, red onion, cilantro, garlic, ginger, chilies, and sugar to the food processor and grind to a fine paste. Use heavy duty, doubled up paper towels or a cheese cloth to extract the liquid - when you are done, it should be dry enough to crumble. Combine the ground beef with the spice blend until completely integrated. Let this marinate for at least an hour (it can marinate up to one whole day). Divide the mixture into 12 even portions of about 3 ounces each, and roll into 6 inch long kebabs. Thread them onto skewers (metal is best). Barbecue the kebabs on high, until well browned on all sides, and serve with fresh salad or cole slaw, and lime wedges.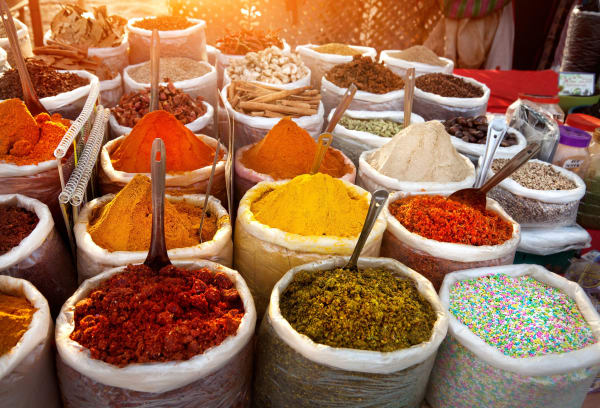 South India
South India is a wonder of sights and sounds, and the extensive rail system can be a great way to see part of it. From the cultural mecca of Mysore with its temples, palaces, and markets full of spices, and silks, not to mention the largest production of incense in India, to the French colonial wonder of Pondicherry, and Chennai's (formerly Madras) ancient Tamil Nadu culture, South India is a must-see on any India tour. South India's climate is hot and humid, with lots of rainfall, and the food is arguably spicier than any other region. Commonly used spices include curry leaves, mustard, tamarind, chilies, and fenugreek seeds. Perhaps the most iconic dish from this region is the Dosa, a crisp savory crepe and a stable food in the region. Typically the batter is made by fermenting rice with daal (lentils) and fenugreek seeds overnight, but we have included a dosa batter mix available online to make life easier!
South Indian Dosa
Ingredients
3 Tbsp vegetable oil
1 tsp mustard seeds
½ tsp cumin seeds
Red chili flakes (to taste)
1 medium onion, diced
½ tsp salt
½ tsp turmeric
1 Tbsp grated ginger
6-8 curry leaves
4 garlic cloves, minced
2 small green chiles, minced
1 ½ pounds yukon gold potatoes, boiled, peeled, and cubed
½ cup roughly chopped cilantro
Instructions
Heat the oil in a wide skillet over medium heat, and add the mustard and cumin seeds when hot for about one minute (they will pop), then add the red chili flakes and onion. Stir constantly until the onions have softened, about 5 minutes, seasoning lightly with salt. Add the turmeric, ginger, curry leaves, garlic, and green chili. Stir to coat and let fry for one minute. Add the potatoes and ½ cup of water. Stir continuously until combined and the liquid has evaporated (5 minutes). Mash the potatoes and season well with salt. Add the cilantro, and set aside. Follow the directions to make the dosas, and stuff with the potato filling.
Northeast India
The Northeast of India is probably the least traveled region, and is comprised of seven tribal states, lovingly referred to as the "Seven Sisters". Wedged between Myanmar, Bhutan, China, and Bangladesh, multiculturalism here is very prominent. Active Himalayan monasteries in Arunachal Pradesh bordering Tibet, stunning mountain vistas, the incredible water palace of Neermahal in Tripura, and Karizanga National Park home to ⅔ of the world's rhino population are just a handful of the wonders here in Northeastern India. Due to the large number of different tribes and cultural influences, food here is extremely varied, so we have decided to finish on a sweet note with these Banana Fritters from Mizoram.
Koat Pittha - Banana Fritters
Ingredients
1 cup rice flour
2 ripe bananas
⅓ cup powdered jaggery **Can substitute dark brown sugar
¼ cup water
Pinch of salt
Oil (to fry)
Instructions
Begin by dissolving the jaggery or brown sugar in water. If using jaggery, pass through a fine mesh sieve. Mash the bananas and add the jaggery water and rice flour with a pinch of salt. Mix the batter until well combined and smooth, then heat a frying pot on medium, spooning small rounds of batter until they are golden brown. Drain on a paper towel, cut them open, fill with the bananas, and serve!
Once you've cooked your way through all these delectable recipes, I'm sure you'll be more than curious to try some of them out in their country of origin. And beyond food, India has so much to offer travelers from incredible cultural sites, unique wildlife viewing opportunities and more. Explore our India Tours to learn more.