Two of Southeast Asia's most intriguing countries, Thailand and Cambodia travel together as a perfect pair of destinations to visit on one trip. Our Cambodia & Thailand Heritage Explorer itinerary is one designed to show you the best of these countries' human and natural history and beauty, and is one we highly recommend!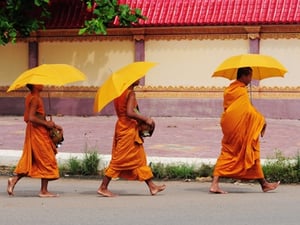 Flying first into Siem Reap, Cambodia, you'll experience this iconic Asian city through a night on the town. Offering an awesome cultural and culinary atmosphere, Siem Reap tours of the Night Market are a travelers dream with arts and crafts, restaurants, and hundreds of other shops and stalls. Observe ancient and renewed Cambodian culture at the exquisitely detailed 12th century Khmer Empire's Angkor Complex and other temple sites and the refugee-founded nonprofit Phare Cambodian Circus.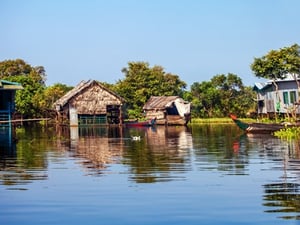 Special times lie ahead as you continue on to Kampong Khleang Floating Village. Global Basecamps is grateful to have supported this fascinating stilted house traditional fishing community with a clean water project that has impacted many lives here. Explore the village with a host family and help install a water filter that will benefit the family for the next five years! Spend the afternoon checking out Beng Mealea, the former Angkor capital temple and Khmer Rouge stronghold, being sure you're equipped for hiking on rugged terrain for this adventure.
After wrapping up your Cambodia adventure tour, the next leg of your journey takes you to Bangkok, capital of Thailand and one of Asia megacities with 11 million citizens. Partake in a City Highlights tour including the Grand Palace, Wat Po temple (headquarters for the traditional Thai medicine practitioners of Bangkok), and a longtail boat water taxi ride to Wat Arun, the Temple of the Dawn. You'll quickly understand why Bangkok's canal system water transport has landed it the moniker of "Venice Of The East"!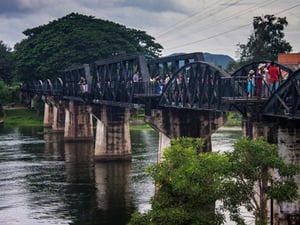 Onward lies the naturally and historically significant Kanchanaburi, arriving via the old fishing port of Samut Songkram featuring its amazing railway market. Board the train and enjoy sites of architectural and historic significance, as well as beautiful forest and river surroundings that grace rest of your time in the Kanchanaburi. Excursions and activities like waterfalls and river time, elephant conservation camps and Thai massage can be on the list! Speak with one of our expert travel specialists, and start planning today.