There are many ways to visit the famous ruins at the Machu Picchu Sanctuary in Peru. Trekkers can hike and camp along the full 25-mile Inca Trail that leads into the Sanctuary. Those who enjoy hiking, but don't want to camp, can do just the final stretch of the Inca Trail as a one day hike. And non-hikers can visit the Machu Picchu Sanctuary by train and shuttle bus. Machu Picchu is the name of the Incan archaeological complex that sits on a hill above the Urubamba river and the small town of Machu Picchu Pueblo (previously called Aguas Calientes). The town lies at an altitude of 6700 feet above sea level, and the Machu Picchu ruins are perched at 7972 feet. The ruins are nestled between two peaks, Huayna Picchu Mountain and Machu Picchu Mountain, and both peaks can be climbed by visitors if you have the required hiking permits in advance. In this blog post, we'll share some tips on how to choose between these two spectacular Machu Picchu hikes, if you'd like to include one during your Machu Picchu Tour.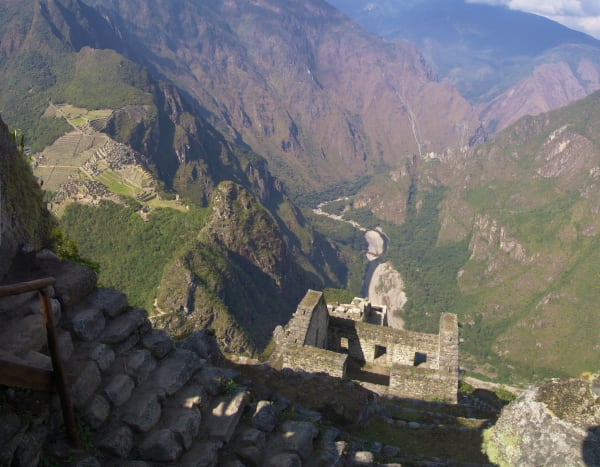 Huayna Picchu Hike
Huayna Picchu Mountain is the peak that rises behind the ruins in every classic photo of Machu Picchu. Huayna Picchu is thought by historians to have been a place used by Incan priests for ceremonial reasons. As they worshipped the sun, being slightly higher than the citadel would have brought them closer to their deity. Also on the side of the peak are some Inca ceremonial buildings- the Temple of the Moon and the Great Cave. Once you've trekked the mountain's steep terrain and walked its cliff-hugging narrow trails yourself, you'll acquire a newfound admiration for the Incan high priests. Today, we have the luxury of handrails and ropes to cling on to for support as we ascend and descend the mountain's near vertical face. That being said, we do not recommend this Machu Picchu hike for those suffering from vertigo or who have a severe fear of heights.
Huayna Picchu's elevation is at 8924 feet, but you only have to climb 951 feet above the Machu Picchu citadel.Many choose to climb Huayna Picchu because of the extra challenge it offers, plus the great views over the citadel. It takes most people 1.5 to 2 hours to do the hike round-trip.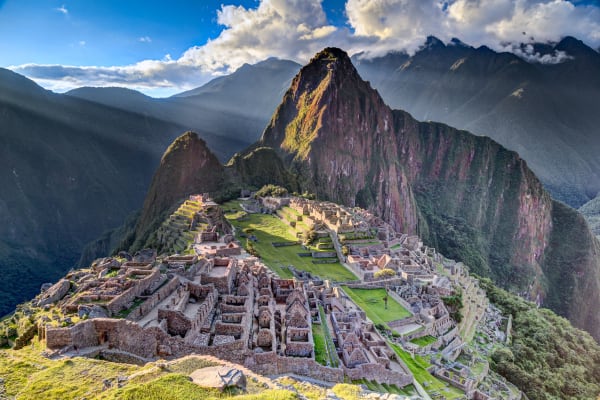 Machu Picchu Mountain Hike
Machu Picchu Mountain is the often overlooked Machu Picchu hiking option and the trek you'll most likely find still has permits available the day before your Machu Picchu tour. Its scenic trail zigzags through high cloud forest and the occasional patch of orchids, begonias, and ferns. The first hour of the ascent is a gradual climb that steepens, narrows, and grows increasingly more challenging as you near the final ascent to the summit. As the tallest mountain around, the view from the top is unparalleled. Think 360-degree panoramic views of Machu Picchu, Huayna Picchu, and the surrounding Putucusi Mountains, with the mighty Urubamba River just a squiggly line far below.
Machu Picchu Mountain has an elevation of 10,010 feet. It does not have as much Inca stonework on it as Huayna Picchu. It is also a tougher trek, taking almost twice as long as the Huayna Picchu hike (3-4 hours round-trip). While not quite as steep, it is still very exposed in places. However, the attraction is you climb even higher than Huayna Picchu and you will see fewer people on the trail.
Do I Need a Permit in Advance?
To hike Huayna Picchu or hike Machu Picchu Mountain, you must buy a hiking permit in advance at the same time you book your Machu Picchu citadel entrance ticket or Inca Trail permit. There are no stand-alone tickets. You can either buy a Machu Picchu citadel only entrance ticket or a Machu Picchu plus Huayna Picchu ticket. Or a Machu Picchu citadel plus Machu Picchu Mountain ticket. There is a limit of 400 permits per day for each hike and now there are 3 designated time slots when you can begin the hike. This was implemented to better stagger the number of hikers on each trail and improve safety. So there are 3 starting time slots to choose from, 6AM, 7AM, or 8AM. The first two time slots allow for 100 permits or hikers each, and then the 8AM time slot allows for 200 permits/hikers each. These combined tickets last 6 hours from start time. A standard ticket for Machu Picchu citadel only lasts 4 hours.
Since both hiking permits do sell out weeks or even months in advance (especially the Huayna Picchu hike), we usually ask you when you book your Peru Tour if you want to include one of these hikes.
Do I Need a Guide?
You do not need a guide for either hike, though we can hire one to join you if you prefer. Both routes are easy to follow and well-signed. However, you can only visit the Machu Picchu citadel with a licensed guide. Unless you are visiting for the second consecutive day, in which case your second entrance to Machu Picchu does not require a guide. We often recommend a second day at Machu Picchu, especially if you want to do one of these hikes, so you have time to tour the citadel ruins with a guide one day for 4 hours, then go back the second day on your own to climb Huayna Picchu or Machu Picchu Mountain. And if you are doing the Inca Trail, most folks will not feel like climbing another mountain the same day they arrive through the Sun Gate to the citadel, so we recommend staying overnight in town and going back the next day to do one of these add-on hikes.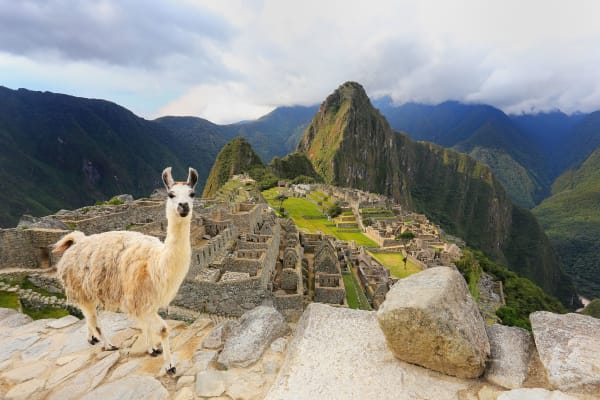 Can you hike both Huayna Picchu and Machu Picchu Mountain?
Technically yes, you can hike both Huayna Picchu and Machu Picchu Mountain, but only if you buy 2 separate tickets on 2 separate days. We do not recommend it. The 2 hikes are too similar to make it worth your while.
Which one should I choose?
Check out our table to compare the two options:
| | | |
| --- | --- | --- |
| | Huayna Picchu | Machu Picchu Mountain |
| Availability | Sells out most days. 400 permits available per day | 400 permits per day but generally always available |
| Total time up and back | 1.5 to 2 hours | 3 to 4 hours |
| Difficulty | Steep, and in places you do have to use your hands for balance. There are handrail wires in places to hold onto in a few sections. However it is not rock climbing, the hands are for balance and only needed in a few places. | Less use of hands, but a much longer climb (hike). Not as steep on the whole. |
| Exposure | Very exposed in places with big drops. The top can get crowded which can be a bit unnerving if you do not like heights, as people jostle about. | Very exposed in places. Some narrow stone staircases sticking out of the rock, with nothing on the outer side |
| Elevation | 8924 feet | 10,010 feet |
| Elevation gained | 951 feet | 2037 feet |
| View | You look down over Machu Picchu ruins and the Urubamba river | Even better, you look down over Machu Picchu ruins and Huayna Picchu and the Urubamba river |
| Pros | Faster. More Inca stonework on it. | Less crowded. Better views. Less steep. Sells out less quickly. |
For more information about trekking Machu Picchu's many mountains and viewpoints, or to plan your custom Peru Tour, get in touch with one of our Peru Travel Specialists today!