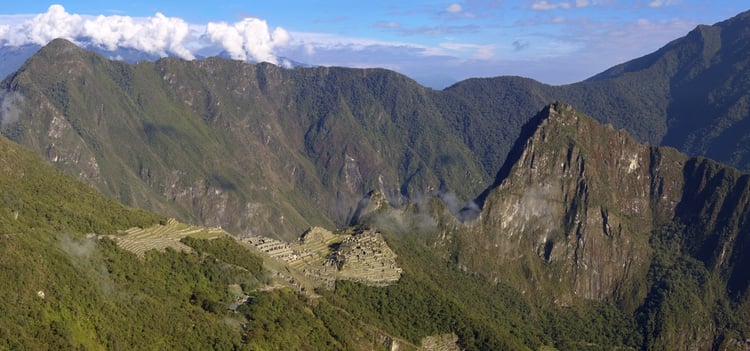 Thousands of people take Machu Picchu tours every day, and get there a couple of different ways.
Train
A train line runs directly from the city of Cusco, through the Sacred Valley. It makes a stop in the town of Ollantaytambo, and continues through mountain passes to Machu Picchu Village, the end of the line. There are a few different train companies that operate on this line, which vary from budget, to mid-range, and luxury cabins. The ride is gorgeous regardless of train used, but we usually recommend at least booking the mid-range Vistadome train in order to enjoy the larger windows. The vistas on the way are worth it!
From the train station in Machu Picchu Village, if you've booked a tour with Global Basecamps, a local guide will be holding a sign with your name on it. Otherwise, if you'd like to go straight to the site of Machu Picchu, a short walk will take you to a line of buses. These buses routinely shuttle tourists up the nearby mountain to Machu Picchu. Alternatively, you can skip the buses, and enjoy about an hour trek straight up the mountain to the site.
This method, including the train and buses, is how the vast majority of travelers reach Machu Picchu. Even trekkers on the Lares and Salkantay routes eventually board a train in the Sacred Valley to reach the final destination. Which brings us to the one other way people get there…
The Inca Trail
The famous Inca Trail remains the only way to walk on your own two feet into Machu Picchu, through the Sun Gate. In order to preserve the Trail, the Peruvian government limits the number of people that can hike use this route. Limited permits are sold every day, which are sold out months in advance every year.