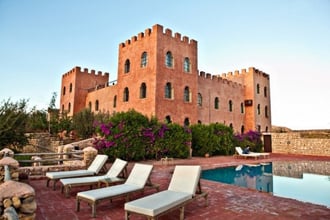 If "Morocco" does not evoke thoughts of green-living and eco-travel, if the the arid hills of Northern Africa are not on your list of destinations for your around the world tour, and if you don't think a traditional Moroccan kasbah somewhere between the Atlas Mountains and coastal Agadir can teach us how to live our lives more harmoniously with our environment, let Atlas Kasbah Ecolodge change your perspective. When the travel specialists here at Global Basecamps were researching travel opportunities in Morocco, we were giddy to find a local property that so closely matched our company ethos of sustainable travel.
When it opened in 2009, the Atlas Kasbah was the first ecolodge in the Argan Biosphere Reserve. The dreamchild of a married couple with two Master's Degrees in Sustainable Development between them, this beautiful hotel has garnered recognition and awards from the Ministry of Tourism of Morocco, the King Mohammed VI Foundation for the Environment, the International Network of Responsible Tourism, and Aujourd'hui le Maroc in its short history. Referring to the endeavor of running this lodge as a "project" more than a "business," the owners' goals for three years have been respecting the environment, use of traditional architectural techniques and, above all, the strengthening of local Berber communities.
For many travelers with limited time on their Morocco tours, a trip to this African country will include more moving around than staying in one place, reserving multi-night stops for the Imperial Cities such as Marrakech and Fez, but Atlas Kasbah is a destination that calls for a long, relaxing respite from the extremes of Morocco. Bustling medinas, scorching deserts, and long travel times take a backseat here, as hands-on cooking classes, lessons in permaculture, steam-baths, massages, and even surf sessions take the wheel.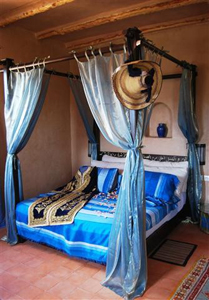 Right about now you must be asking yourself: What exactly makes this an "ecolodge?" There are seven key areas in which Atlas Kasbah strives to maintain eco-friendliness: water, energy, waste, permaculture, its buying policy, its respect of the landscape and area and awareness of the heritage of the staff and guests. Management takes measures to limit the use of water in all facets of the hotel from its plumbing to educating its guests on the best water-conservation practices and recycling water for use in landscaping. From the solar panels that heat 80% of the lodge, to the energy efficient light bulbs and kitchen equipment, to the bioclimatic architecture, there is something we can all learn about this lodge's efficient use of energy. The lodge plants local plants, employs local men and women, buys local products, and encourages guests to do the same during their stay. For eco-conscious travelers, their Morocco tours must include a truly educational few days at this wonderful lodge.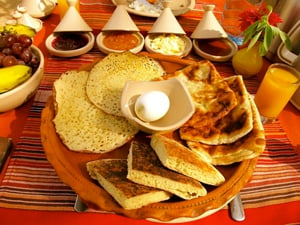 Agadir, the coastal city 20 minutes from Atlas Kasbah, boasts 320 days of sun every year. Much like Egypt's Sharm el-Sheikh, Agadir is quickly becoming one of Europe and North Africa's beach destinations. The constant sunshine and the long beaches make it an ideal destination on a Sahara Ecotour. Hiking, swimming, surfing and relaxing are the name of the game here.
We have searched for and found ecolodges like this one in Morocco and all over the world. With a variety of destinations to choose from, our Morocco tours are fully customizable and ready to be booked today!