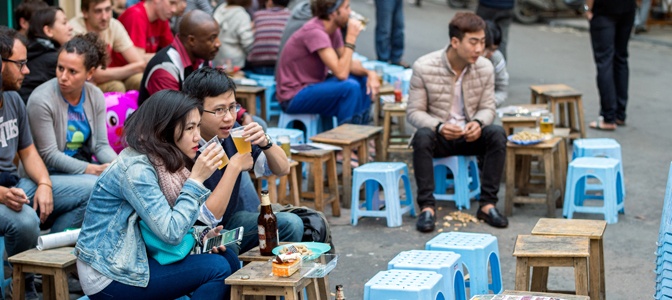 We all know the feeling well, almost too well. You got carried away last night in your favorite new Old Quarter bar in Hanoi… Bars close early in Hanoi, so it's 7am and you're already awake. A small dragon is clawing its way out of your head. Time for breakfast.
Two Words: Street. Food.
If you're a local in Hanoi, you very likely start your day by sitting on a plastic stool at one of the hundreds of breakfast booths lining the streets. We recommend you follow the locals. Last night probably started and ended with a little street food, and there's no reason to buck this great Vietnam tours trend.
The best part about this option is you won't have to look far for it. Stumble out of your hotel and you're likely to run into a crowded eatery before you walk a block. Street food is a real part of Hanoi's culture, and the city is internationally known for it.
Pho is the choice of many locals, and we'll categorize all the noodle soups alongside this option. Snail noodle soup, crab noodle soup, eel, fish… We'll stop there. For something with a little more volume, find some sticky rice or a Vietnamese sandwich, which usually go with a sausage, eggs, pork, butter, and/or various delicious sauces.
Cafe Nola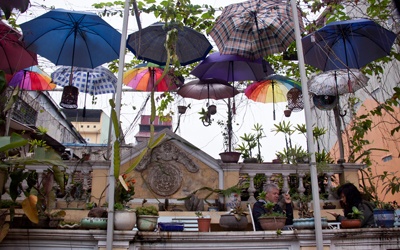 Maybe the streets are just too hectic for your hurting head this morning. You need some tranquility, removed from the Old Quarter hustle. Cafe Nola is so well-hidden up an alley, that you might not even know it was there if you aren't looking for it.
This quirky cafe is known for its banana bread and other pastries. The drink menu is varied, and offers mixed drinks, fruit smoothies, coffee options, and a few cocktails. In fact, Cafe Nola is open late as a bar, and is usually just as peaceful in the night hours if you're looking for a cocktail without the crowds.
Whatever Cafe Nola is, it's not authentic Vietnam. Authentic Vietnam is outside at the street food booths every day. Cafe Nola is a western breakfast option perfect for reading a book, typing up a blog post, or just relaxing in quiet reflection with your coffee. But for those things, it's perfect.
The Hanoi Social Club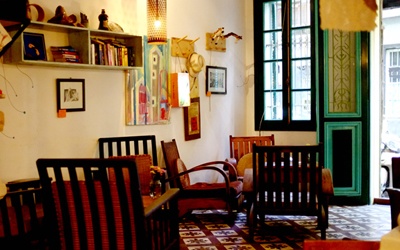 Opened by an Australian looking for a home away from home, The Hanoi Social Club has been providing Australian style breakfasts, lunches and dinners for about three years now. In that time, it's grown into a popular spot for backpackers to meet at any time of day, and hosts live music performances regularly. Its decor is rustic, eclectic, and just a little hipster. The interior is smoke-free, a rarity in Hanoi.
Prices here are above what you're used to paying for a meal in Hanoi, but you're also paying for a spot to charge your phone, connect with other travelers, and maybe enjoy a show. The menu is also vegetarian-friendly, another rarity in Hanoi.