Mt. Kilimanjaro is a highlight of most Tanzania tours. With its diverse ecosystems and breathtaking views, it is an unforgettable experience. The climb is great for seasoned trekkers and for well prepared and fit first-timers. Below you'll find some practical information to start planning your Mt. Kilimanjaro trek.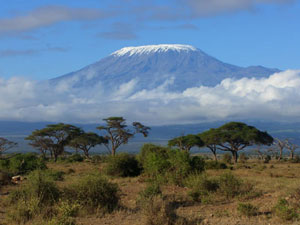 When to Visit
It is possible to climb Mt. Kilimanjaro year round, though some seasons are better than others. Going during rainy season can be dangerous and lower your chances of reaching the summit. The weather can be somewhat unpredictable, but usually the best months to trek Mt. Kilimanjaro are mid-December through February. Mid June through September is also a good time. During mid February, late September, or early October climbers can enjoy good conditions and moderate crowds.
Peak seasons occur around Christmas and New Years and during summer time in the northern hemisphere. It can be very crowded during these times. From mid March to mid June there is heavy rain and sometimes snow. These are very difficult and dangerous climbing conditions, and travelers should avoid this time of year.
Mt. Kilimanjaro's weather can change rapidly and drastically within a short amount of time. Often the mountain is surrounded by clouds during the day, and much clearer in the morning. Be prepared with rain gear, even during the dry season. It is not unusual for the first 2-3 days of the trek to be in rain, and the rest of the time trekkers will be above the clouds.
What to Pack
Your Kilimanjaro climb will be accompanied by a group of porters, who in addition to carrying the tents, cooking supplies, food, and equipment, will carry much of your gear as well. You will carry a small daypack. You will need to bring personal gear like clothes, rain gear, sleeping bags, toiletries, a water bottle, camera, etc. If you don't own proper trekking equipment, many hotels and tour operators allow you to rent it. If you have extra stuff that you won't need on the climb it is generally easy for you to store it at the hotel you stay at prior to the trek.
Routes
There are many different routes to get to the summit of Mt. Kilimanjaro, some more popular than others.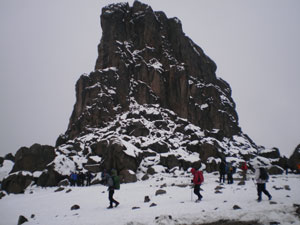 Machame Route
This route can be in 6, 7, or 8 days and is considered by many to be the most beautiful and scenic route. Since altitude is gained early in the climb, this route allows climbers more time to acclimate before summit day.
Marangu Route
The Marangu route is typically done in 5 or 6 days. It is often called the Coca Cola route because it is the only trek where climbers can buy soft drinks and snacks at each camp site. The scenery is not as striking as other routes.
Rongai Route
Rongai route begins on the northern side of the mountain. It can be done in 6 days and begins in heavily-wooded areas. The final two days are the same as the Marangu route.
Umbwe Route
This route is shorter, but also more difficult. Umbwe route is known for its caves, which will be visited during the trek.
Londorossi Route
The Londorossi route is one of the longest routes. It is a less crowded trail with a more isolated feeling.
Our in country partner in Tanzania, Maasai Wanderings, has designed their mountain treks to give climbers the best chance of reaching the summits, while allowing for spectacular scenery and wildlife along the way. The local guides and staff are all mountain experts and treated fairly. Maasai Wanderings has many ecotourism initiatives in place to protect the region and ensure tourism benefits reach the local people and community.
The biggest challenge trekkers face climbing Kilimanjaro is altitude sickness. Often times travelers do not acclimatize properly; rarely is lack of fitness the problem. Most of our travelers use the Machame route, as it is longer than the Marangu ascent giving 2 more days on the mountain. Additionally, the Machame route is typically less crowded, an easier climb, and very scenic. For the Machame route you do not need to be extremely fit, though you should try to go on some longer hikes prior to climbing Mt. Kilimanjaro. Having a basic level of fitness will make the trek much more enjoyable.
Umbwe is the shortest trek, followed by Marangu, Rongai, Machame, and then Londorossi via Shira Plateau. Keep in mind a short route does not mean it is the easiest, as acclimatization is an extremely important factor. Londorossi, which can be 8, 9, or even 10 days, gives travelers the best acclimatization, as you will be up around 4,000m for a long period or time. Machame is next in terms of the longest time allowed to acclimatize; our most common Machme trek is 7 days with 4 days up high and a climb high sleep low routine on the summit circuit. The remaining routes give more direct access but are very steep, which makes them harder in terms of exertion.
Marangu is the only route with huts, where climbers sleep in cabins with bunk beds, making for a much different experience than the other treks that require camping. Marangu may seem like the best route however, climbers are not allowed to stay at Kibo (4,700m) for two or more nights as there is not enough accomodation and bottlenecks would form; therefore acclimatization day is at Horombo (3,700m), which is often times not adequate or high enough to be beneficial. Marangu is also very crowded, and only about 23% of climbers make it to the summit on this route.
In regards to scenery, Londorossi/Shira is probably the best as the first 3 days of the trek are in a remote area with a hike across the Shira Plateau. Then this route joins the Machame route around the summit circuit and skirting the spectacular Western Breach. Machame is perhaps the second best route in terms of scenic beauty. Marangu route has great views of Mawenzi, but you can also see that from Barafu on the Machme route.
Preparation
Anyone can get altitude sickness, it is not dependent on how physically fit you are. However, you should prepare by getting in the best physical shape you can before climbing Kilimanjaro. This will help improve your chances of reaching the summit, and make the trek more enjoyable overall. A few other tips to help improve your chances of success are: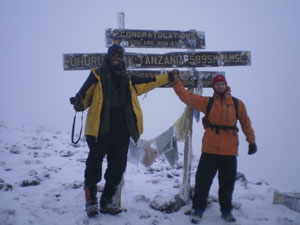 Go slowly
Drink plenty of water
Walk high, sleep low- If possible do a short walk to higher altitude and then return to camp to sleep at lower altitude.
Climb as light as possible- Carrying extra weight will slow you down and make breathing more difficult. Only bring what you need.
Entry Documents
You will need a visa to be admitted to Tanzania. We advise you get it in advance, but it can be obtained upon arrival. For US passport holders, it is $100 for a 3 month multiple entry visa. For all other countries, it is $50 for a 2 month single entry visa.
Tipping
You cannot use credit cards in Moshi or on your climb, so you will need to get cash out before departing. As a guideline a tip of 10% of the total cost of the trek should be divided between the guides and porters. Your tip will depend on the quality of your experience but we recommend the following for tipping the staff:
Chief Guide and Cook: US $75-100 each
Assistant Guides and Camp Assistant: US $50-$60 each
Porters: US $30 each
A Kilimanjaro trek is a great addition to Tanzania tours itineraries. Call us at (866) 577-2462 to begin planning your Tanzania custom tour! Which route would you take?