Antigua
Just an hour's drive from Guatemala's international airport, Antigua is usually the first stop for all custom Guatemala Tours. Antigua is among the world's best conserved colonial cities in the Americas. It is a magical and captivating small town that makes you feel time might have stopped 300 years ago. Declared a UNESCO World Heritage site in 1979, Antigua is a safe and very walkable city. Strolling the cobblestone streets, with its colonial architecture, terracotta roof tiles, and beautiful volcano surroundings, is a real treat! Explore the many local markets and shops selling fine arts, ceramics, wooden sculptures, and a great variety of traditional costumes and weavings. The numerous plazas, coffee shops, restaurants, and art galleries make Antigua the perfect place to sit, relax, and people-watch.
Surrounding the city you can explore quaint Mayan villages, colorful local markets, sweet smelling coffee farms and the climbable – and still active – Pacaya volcano. We can arrange a variety of special interactive cultural experiences during your stay in Antigua, from community cooking, street food tours, visiting a small coffee farm or avocado farm, to making chocolate and even a peanut butter workshop!
A two hour drive heading west from Antigua leads through the central highlands, dotted with colorful traditional villages to the stunning Lake Atitlán. It is in this highlands area that we find the most interesting and authentic Guatemalan markets. Markets are an important part of many Guatemalan communities. In small towns especially, the market is the principal source of commercial and social exchange-- families travel from surrounding areas to exchange goods, eat food, and visit friends. Here are some of our favorites:
San Juan Comalapa Market
About an hour outside of Antigua, travelling through the stunning scenery of the highlands passing by local communities farming their land using traditional methods, you will find San Juan Comalapa. This is a wonderful authentic market town that is less-visited by tourists. On market days (Tuesdays, Fridays, Sundays), the area is crowded with people buying and selling fresh produce, colorful flowers, woven goods and all kinds of manufactured items, from clothing to cassette tapes.The town is very well known for its primitive folk paintings (or naif paintings) which is considered men's work. Local artists display their work in household galleries and they will open their doors for visitors to see their colorful artwork.
The largest and most notable example of San Juan Comalapa's artwork can be seen upon arrival in town as you drive past the colorful cemetery which has a mural painted by local artists running along its outer wall. The mural depicts major events in the history of Guatemala including the Maya creation story, the Spanish conquest and Guatemala's civil war. This was painted by a collaboration of local artists but the town really gained its reputation by the work of Andrés Curuchich who rose to fame for his paintings depicting local village life and whose work has been displayed in galleries in New York.
San Juan Comalapa is also known for its many "panaderias" or bakeries that bake biscuits used in local celebrations all over Guatemala. Our private guide will be able to arrange for you to visit a local family so that you can see how the biscuits (roscas) are made and taste them, too!
San Juan Cotzal Market
San Juan Cotzal, in the Quiche region north of Antigua, is one of the most authentic and beautiful markets in Guatemala. Market days are Wednesdays and Saturdays. Cotzal was the Ixil Triangle's largest town until the road to Nebaj was built in the 1940s. It's now rather small, though its setting is gorgeous, surrounded by the imposing Cuchumatanes mountain chain. The weavings here are some of the finest in Central America and we will introduce you to Tejidos Cotzal, a cooperative with 30 local weavers who retain the traditional Mayan methods of weaving using natural dyes and back strap looms. The town also has a church, the Iglesia San Juan, which fronts a pretty plaza that has been remodeled and festooned with flowers and benches.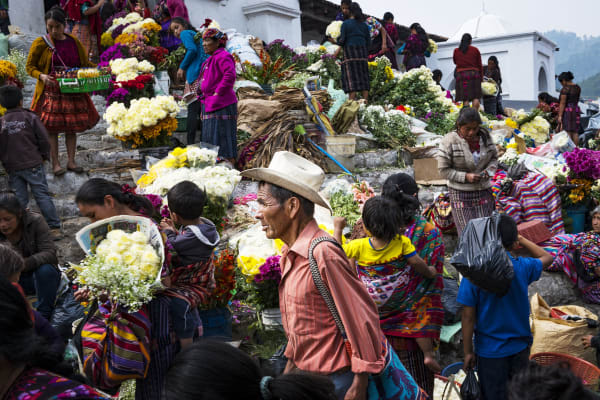 Chichicastenango Market
Also located in the central highlands, Chichicastenango Market is one of the most colorful native markets in Latin America and the most famous one in Guatemala. Market days are Sundays and Thursdays, and draw not only the K'iche' Maya of the surrounding region, but vendors from all over Guatemala, representing many of Guatemala's linguistic groups such as Mam, Ixil, Kaqchikel and others, each hawking his or her products in a riotous cacophony of color, dialects and costumes, smoke, and smells. This market is important because it's the meeting point between Quiches, Tzutuhiles and Kackchikeles where they practice the Catholic and Mayan religion and a phenomenon called 'syncretism'; the blend of the two religions. It is a 3 hour drive from Antigua or a 1 hour drive from Lake Atitlan, and your private guide will help you explore the market and the town, including a visit to the St.Thomas Church and discover its mystic secrets of syncretism. At the market itself, you may find everything from vegetables, fruit, masks, colorful textiles, handbags, and beautiful pottery. Another option is to hike up a hill to the Pascaul Abaj ritual site to see if any of the local shaman are performing rituals.
Solola Market
Solola is the largest city in the plateau above Lake Atitlan and has its market held every Tuesday and Friday. It is one of the few towns where both men and women routinely wear their traditional Mayan dress and are known for their use of red stripes in their daily attire. Women often wear ribbons in their hair or may use a small tzute to shade their face from the sun. Weaving is of major importance. Most women weave to provide clothes for their families and to obtain income. Women weave on the back strap loom and make fabric for shirts, trousers, huipils, tzutes, caps for babies and sashes. The fabric for skirts is made by men on a treadle loom. You won't find any stalls selling the usual tourist masks and crafts though, only goods needed by the locals such as food, shoes, tools and traditional clothing. This is a truly authentic market and the views across Lake Atitlan to the surrounding volcanoes are worth the visit.
Santa Catarina Palopo
Santa Catalina Palopó is a quaint little town on the shores of Lake Atitlan whose residents are indigenous descendants of the Kaqchikel Maya. Some townspeople still wear traditional clothing, the most noticeable of which is the "huipil", a blue blouse worn by the women in the community. The Kaqchikel language is spoken here as well.The village itself is primarily made up of adobe houses that rise from the lakeshore into the surrounding hillsides. The handicrafts and textiles made here are good quality and can be purchased along one of the town's main roads every day. Santa Catarina Palopó is currently being transformed into a community-based art project called the "Pintando Santa Catarina." The houses in the village are being painted one-by-one in traditional Mayan patterns using vivid, eco-friendly limestone paint. Local artists designed the patterns, and our clients can join local families for a day and paint their house together, for a truly rewarding intercultural exchange.
Exploring one of Guatemala's traditional markets is one of the best ways to experience the country's vibrant culture. It's also a good excuse to buy handcrafted souvenirs, take photos of colorful stalls, or try a tasty local treat. Contact one of our Latin America Travel Specialists and find out how to include the markets of Guatemala into your custom Guatemala Tour.