With the holiday and vacation season in full swing, we're sure you've already been contemplating what kind of products can not only make a great gift for a loved one (or even ourselves), but also which ones are great for travel and the environment, too! Part of working to live and travel more sustainably means making better choices about the things we buy, use in our daily lives, and take with us when we travel.
Sustainable product design has many components including:
Having been made of durable, recycled or recyclable materials
Being produced by a company with a meaningful social mission
Serving a purpose that eliminates the need of creating future waste
These ideas and more are featured in the products that are below in this mini gift guide. If you're looking for some perfect sustainable travel gifts, scroll down for some of our top picks.
1. Mizu Life Global Water Bottle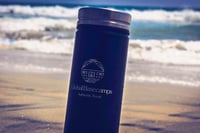 We're proud to have teamed up with Mizu Life in 2019 and created these awesome, 22oz stainless steel water bottles with our fresh Global Basecamps logo. These vacuum sealed bottles are great for hot or cold beverages, and help us live out our and our partner Travelers Against Plastic's mission of promote sustainable tourism by reducing plastic pollution.
2. Eagle Creek "Caldera Collection" of Recycled Nylon Luggage
We're cheering on the legendary travel luggage and accessory company Eagle Creek as they release their Caldera Collection of bags, featuring Cordura ECO Fabric. Made of 100% post consumer plastic, these bags are "the most sustainable" the company, arguably one of the biggest travel luggage manufacturers in the world and in business for over 40 years, has ever made. Made without PVCs, carrying an awesome warranty and bluesign® sustainable textile certified, these bags are top of the line when it comes to responsibly made luggage.
3. To-Go Ware Bamboo Classic Utensil Set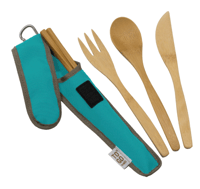 Wherever we go in the world, the unfortunate reality is that disposable cutlery is still pretty much everywhere. Cutting down on your plastic footprint by bringing your own knife, fork and spoon is a great way to go, and bamboo is one of the most sustainable materials to exist anywhere in the world. The To-Go Ware Bamboo Utensil Set is a perfect way to take a small but important step towards making your dining experience, at home or while traveling, a bit less impactful!
4. Sawyer MINI Water Filtration System
Global basecamps is proud to partner with Sawyer and Waves For Water on clean water projects, including for Kampong Khleang village community near Tonle Sap Lake, Cambodia. Sawyer's MINI Water Filtration System is perfect for both wilderness backpacking as well as having as a backup for international travel, ensuring that clean water is always close at hand. Sawyer products are used extensively around the world in philanthropic clean water projects, improving the lives of numerous rural communities.
5. reVessel Adventure Kit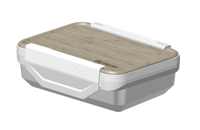 Are you ready to take your culinary sustainability to the next level, at home and on the road? Southern California-based reVessel's Adventure Kit is a brand new product set to hit the market at the end of 2019, and features a unique food storage system. The Adventure Kit keeps food separated, organized and fresh as can be, all while eliminating the need for wasteful to-go containers that end up any of several places, all of the bad: our beaches, open spaces, or landfills. Having absolutely demolished their Kickastarter goal, it's clear that reVessel is going to be a hit!
6. Patagonia Products
The quintessential social and sustainable business, Patagonia's products are produced for adventurers, always with the company's mission in mind: create the best product, do no unnecessary harm. From clothing and luggage to wet-suits and accessories, all for outdoor and travel pursuits ranging from surfing to mountaineering, all Patagonia is considered to be a leader in theory and practice on social and environmental responsibility in the business sector. Their line of books, as well as their new line of Patagonia Provisions foods, make great gifts!
7. Leatherman Travel-friendly Multi-Tools
Having a handy tool available to do minor repairs and other modest miracles can be a lifesaver. While Leatherman makes plier-based multitools that have enough gadgets and gizmos to boggle the mind, they also make simpler ones without the blades so you can pack in a carry-on without worrying about breaking TSA rules. Leatherman has you covered though, featuring a selection of small multitools that are A-OK, and will get you out of gear jams like nothing else will.
There's a lot of awesome gear out there to make for an awesome gifting season, and therebey an awesome upcoming trip as well. Happy shopping, happy traveling, happy holidays! Get in touch with us today to start planning your trip!