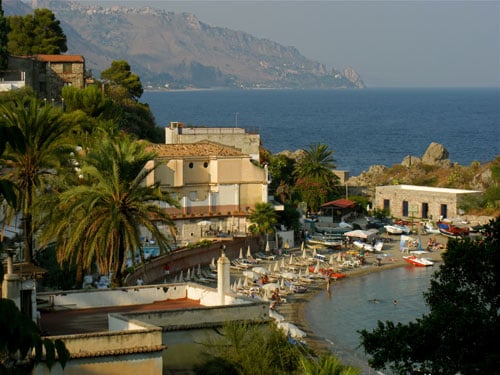 Photo By Shanti Zinzi September 2011
"This is a view from the streets of Taormina, Sicily, adjacent to the gorgeous pebbly beach of Isola Bella, a marine reserve known as 'The Pearl of the Ionian Sea'. Snorkelers and divers will find Isola Bella's clear waters home to moray eels, starfish, sea horses, octopus, stonefish and several other small, colorful sea creatures. A little over an hour's drive from Catania's airport, Taormina is a wonderful, hip town offering the best of Sicilian culture, boasting a medieval quarter, trendy boutiques, spectacular cuisine, and the Teatro Greco, (constructed in 300 BC) which offers cinema, music concerts and opera performances. Cafes, bars, and shops line the bustling main street Corso Umberto, where you will find a byzantine fountain at the Piazza del Duomo and pink marble columns at the fortress cathedral. The town is noted for it glorious views of the clear blue sea and the slightly ominous, but stunning view of 3300 meter Mt Etna, which is the tallest active volcano in Europe. Along Taormina's neighboring towns, you will find herds of goats or sheep along the sharp twists of elevating roads, wine vineyards, citrus tree groves, and orchards for grape, tomatoes, mulberries, artichokes, almonds, pistachios, and olives trees amongst other culinary delights- all harvested in the rich, fertile soil of this Mediterranean island. The gorgeous blend of architecture and rich history mimic the warm and vibrant Sicilians with their fierce pride and brewing passion. A truly inundated and uniquely saturated culture, true Sicilian language reveals not only the dominant Italian but Arabic, Greek, Catalan and Norman-French influences. They are a warm and vibrant people and are as rich and varied as their spirited history."
Have any great travel photos you would like Global Basecamps to post? Add them to the Global Basecamps group on Flickr, or post them on our Facebook page, and you'll be entered into our monthly photo contest. The winner will receive a t-shirt and will be given credit on the Global Basecamps blog.