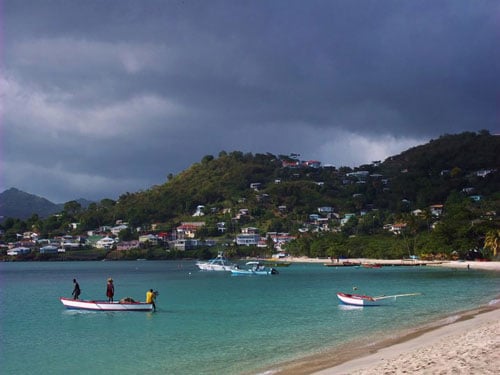 Photo By Leti Pallozzi May 2011
"The picture I uploaded was the view of a typical day on the bay from Grand Anse Beach, on the island of Grenada. Grand Anse is one of the island's most popular beaches, and features a variety of dive shops from where to explore the island's beautiful marine life. Opportunities for sailing and fishing also abound. Here, local fishermen are coming in with the morning's catch, eyeing the impending showers that feed the lush mountainside."
Grenada is one of the Caribbean's best-kept secrets. The diverse landscape includes forested mountains, lush rainforests, coastal mangroves and pristine beaches. Global Basecamps Granada ecotourism options include incredible snorkeling and diving opportunities along the coral reefs and old shipwrecks and hiking among the mountains and dense rainforest. Explore the beauty of Granada with unique eco lodge options, including La Luna Resort located in St Georges and La Sagesse, which combines the charm of an English country house with the tropical climate. To request a free quote fill out our custom tours form or give us a call at (866) 577-2462.