This Blog was written by one of our travel specialists, Allison Tucker. You can learn more about Allison and the rest of our team here.
Costa Rica is the perfect destination for any family's first trip together, for kids of all ages - from toddlers to teenagers. Deemed "the Switzerland of Central America", Costa Rica has some of the friendliest locals on earth and is a country where English is commonly spoken, making it an accessible place to start your family on a lifetime of world adventures. With five distinct microclimates, an abundance of exotic wildlife and well developed conservation programs, outdoor adventure activities galore, and some of the most beautiful beaches on earth, Costa Rica is a place you could spend months of your life and never get bored. With all the amazing environmental education opportunities, Costa Rica is the perfect place to inspire kids and adults alike to care for our beautiful planet, and come away with a truly meaningful and life-changing travel experience. Below I break down some of my must-see regions of this fun-filled country.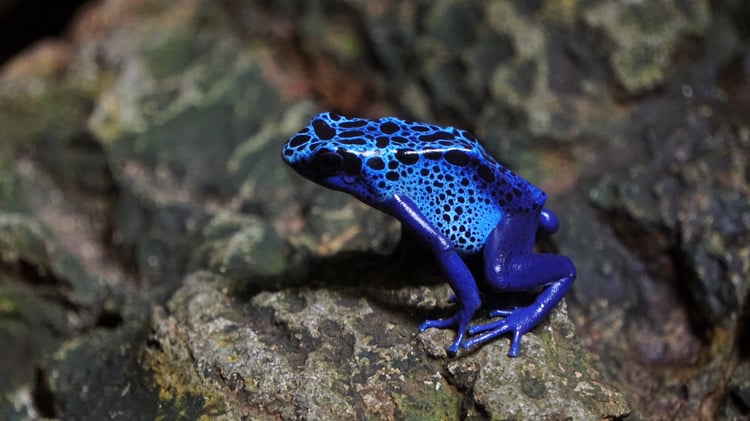 Poison Dart Frog. This adorable ( yet poisonous amphibian can be found camouflaging in the foliage of Monteverde's Cloud Forest.
Monteverde
Most family tours in Costa Rica start in the biodiverse Cloud Forest Reserves of Monteverde, home to an incredible 2500 species of plants, over 400 of which are orchids. Here's a quick look at what animals call this region home. 400 species of birds call Monteverde home, including the resplendent Quetzal, toucans, 30 species of hummingbirds, and numerous endangered species as well. Over 100 species of mammals, including jaguar, ocelots, agouti, pumas, deer, tapirs, sloths, howler, spider, and capuchin monkeys. 1200 species of amphibians and reptiles inhabit the park, including the famous Poison Dart Frogs.
Throughout the reserve, you'll find myriad well-maintained trails, suspension bridges, canopy tours, and zip-lining options. With so many ways to enjoy this lush forest and wildlife, it promises a wonderful experience - just remember that it's extremely important to have a local guide. These guides have grown up in the reserves all their lives, and have uncanny ability to spot animals camouflaging in the foliage.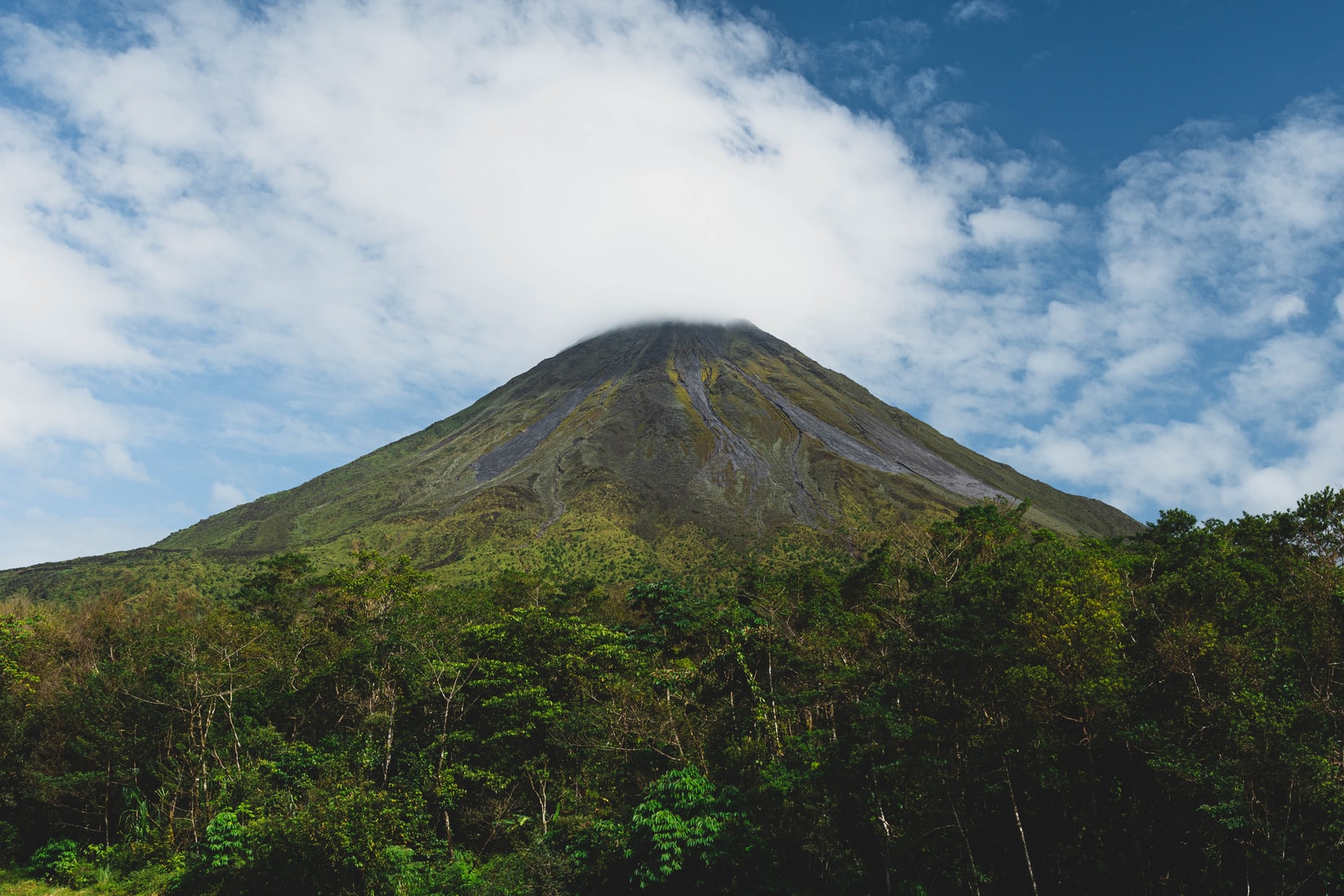 Arenal Volcano which last erupted in 1968.
Arenal
In the neighboring volcanic Arenal National Park, you'll find a similarly impressive coterie of wildlife to Monteverde. So if you missed Monteverde on this trip, rest assured you will have similar options to zipline and take canopy tours of the reserve with your guide. The grand distinguishing feature is the active Arenal Volcano. The last major eruption was in 1968, and since then the eruptions have largely been calm - you may find yourself in a natural hot spring, watching the lava gently flow down the volcano against the night sky - a truly magnificent sight! About an hour away from Arenal proper is Tenorio National Park - another great wildlife viewing and hiking opportunity, most famous for Rio Celeste. This river glows turquoise, due to a combination of aluminum mixed with silicon and oxygen. When the sunlight bounces off the water, a beautiful natural phenomenon occurs, an optical illusion that makes the water appear brighter and bluer than normal.
Apart from wildlife tours and natural hot springs, hiking up to incredible view points, countryside horseback riding, white water rafting, and of course just relaxing in a hammock, listening to the monkeys and cicadas and watching the stars of the night sky are all wonderful options to experience this gorgeous and dynamic area.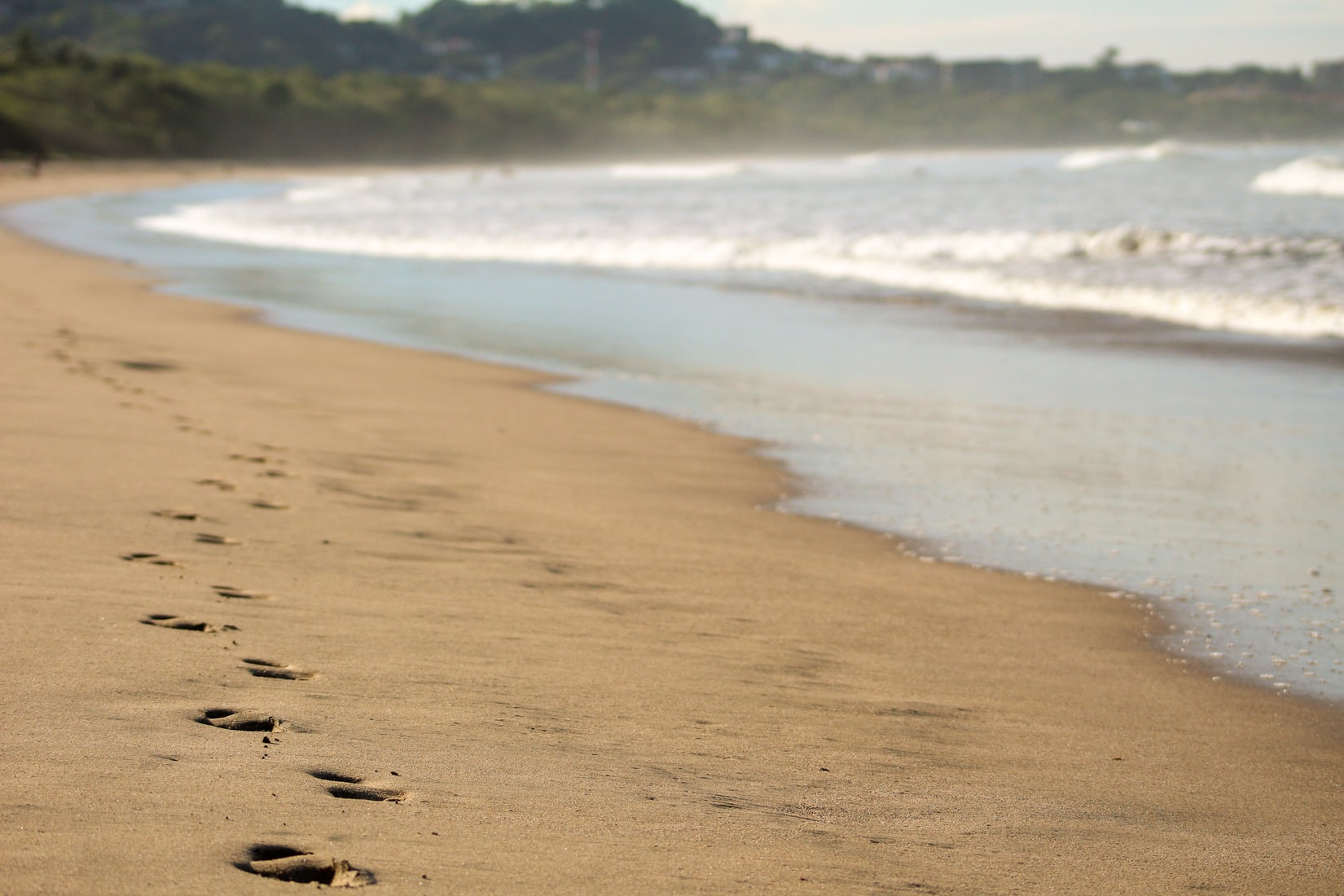 Playa Grande in Costa Rica's Guanacaste region which is known for surfing and beach culture.
Guanacaste
Moving away from the central mountain highlands and out to the beach, there are an abundance of wonderful options. If it's big surf you're looking for, then the pacific coast in Guanacaste region will be the best bet for you. This area is massive from north to south, and consists of lush jungle, charming expat outposts, hidden (albeit muddy) trails and hikes out to capes, options to head out by boat to small islands, and of course, ubiquitous surf culture. If you've had a busy week in Arenal and Monteverde and are looking for a 5 star resort to put your feet up and take advantage of the waves and gourmet food options, this is the choice for you.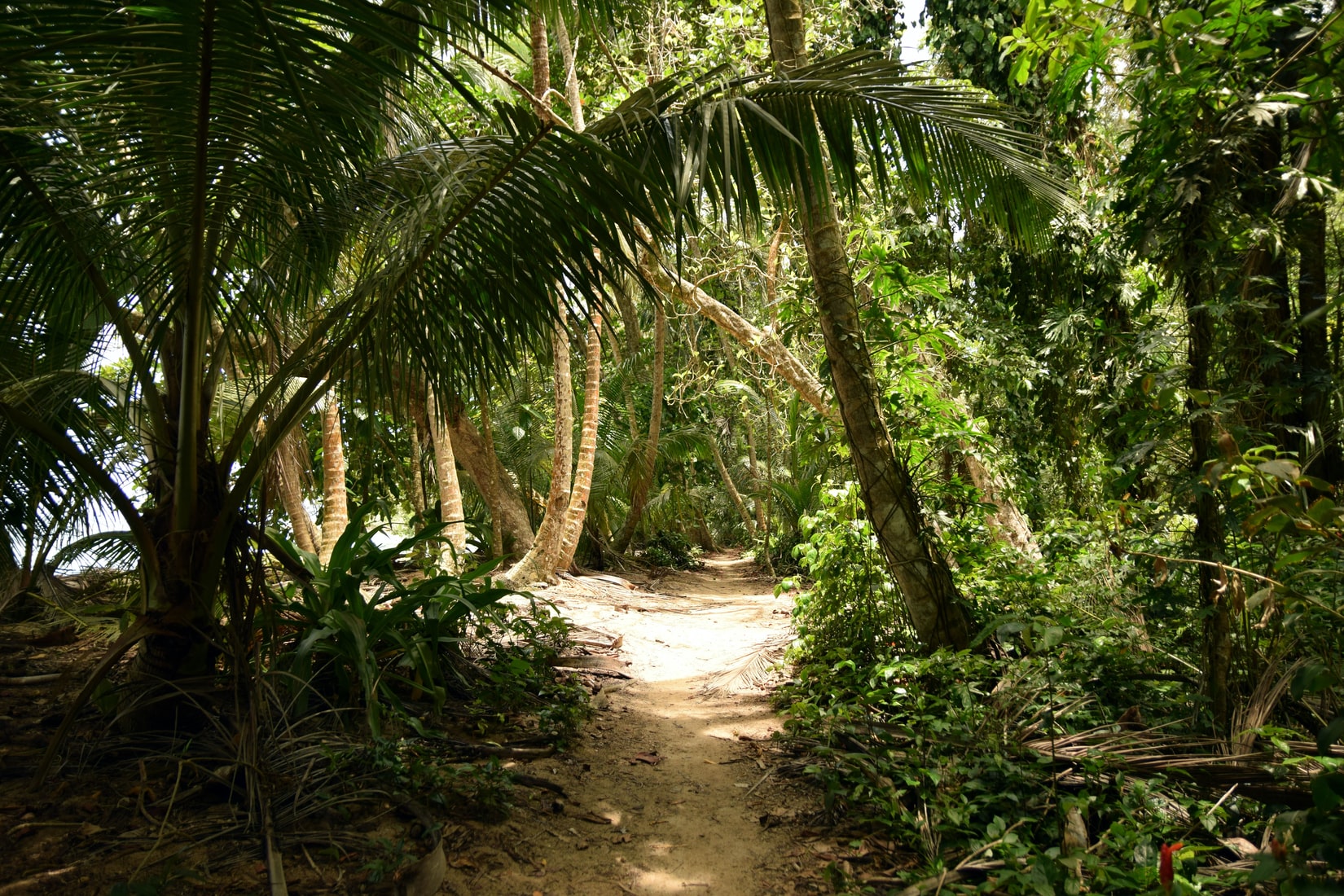 Trail in Tortuguero National Park
Tortuguero
If you haven't had enough wildlife yet, you may consider a trip out to Tortuguero. Located in a remote area of the Caribbean wetlands, Tortuguero National Park hosts a variety of habitats, including rainforest, beaches, lagoons, and mangroves, and is one of the world's foremost turtle conservation areas. With over 20 miles of coastline in the protected area, turtles are free to lay their eggs, and those hatchlings eventually will make their brave first steps into the ocean, without threat of human intervention. On a typical Tortuguero tour, you'll head out late at night during nesting season with your guide, silently walking in the dark towards the beach. Here, you may be lucky enough to witness the magical sight of a 300 pound turtle, laboriously making her way up to the beach, then digging patiently before laying her eggs, and returning back into the ocean. I had this transformative experience with my father when I was 9 years old, and I can truly say that it is one of the most cherished memories of my lifetime.
While the turtles are the main draw to Tortuguero, you shouldn't miss the chance to jump in a canoe with your guide and take a wildlife safari through the mangrove and lagoon conduits. From this vantage point, your guide will point out all the exotic wildlife, comfortably at home in this protected area. Ziplining is also available here, and visits to the Mariposario and Ranario (butterfly and frog gardens, respectively) are definitely in order. Here, you'll be surrounded by many different species of butterflies and frogs. If you haven't yet seen the famous Blue Jeans and Red-Eyed Tree Frogs in the wild, this is your chance!
Puerto Viejo de Limon
If you're ready for some laid back beach time after all your adventures in Tortuguero, look no further than the small hamlet of Puerto Viejo de Limon. South of Tortuguero on the Caribbean coast, Puerto Viejo is a charming Afro-Caribbean influenced town boasting gorgeous beaches and very warm water. This is a great choice for families traveling with small children because the water is totally calm, as compared to the West coast with it's famously large and consistent waves. Apart from relaxing and enjoying the beautiful surroundings, Puerto Viejo has a Jaguar Rescue Center where you may see jaguars, sloths, and toucans. The nearby Cahuita National Park protects a large and healthy coral reef, and has a shipwreck dive site - a wonderful place to snorkel for the day.
No matter where you choose to go in Costa Rica on your family trip, you can be sure to come away from it having experienced amazing and beautiful scenery and wildlife, the beautiful and inspiring way in which the locals love and protect their environment, thrilling outdoor adventures, and ultimate relaxation!